LOVE the ROCK: 10 Fun Valentines Gifts from Round Rock
 Valentine's Day is quickly approaching. Here are 10 Valentines Gifts from Round Rock for you to easily get for your sweetie! 
Happy Valentine's Day Round Rockers!! In honor of the month of LOVE, I wanted to show you some businesses and places that deserve some LOVE this month. Check out these fun Valentine's Day specials and consider LOVING the ROCK this Valentine's Day by supporting local businesses and restaurants.
You have heard the saying, "Shop Local – Support Local" but what does it really mean to you? It feels good to support local businesses, but do you actually think of a local shop or restaurant first? Do you take the time to look for something at a local shop before going online?
We have so many great businesses and restaurants here in Round Rock that we should think of first. Here's a few great ideas for Valentine's Day:
10 Fun Valentine's Gifts from Round Rock:
1. Round Rock Express K-9 Valentine Delivery:  How cool is this? The Express Street Team and their mascot, Spike, will be driving all throughout the Round Rock area delivering K-9 Valentine Packages!  Spike will hand deliver your date a package at their home or workplace and completely surprise them with an awesome gift. You can also just order the special packages to be mailed to your home. Click here for more details.
2. Spa Gift Certificates: You don't have to go down to Austin to have a relaxing massage or facial.  We have a fantastic spa right here in Round Rock! Spasocial gift certificates are ideal for both him & her.
These specials are available for the Valentine's holiday or also on gift card to be redeemed at a later date:
The Perfect Day- Perfect for Her
60-minute full body massage
Signature Facial
Spa Manicure & Spa Pedicure
3.5 Hours of Service
$249
His & Hers Couple's Retreat
60-minute Couple's Aromatherapy Massage- in the beautiful couples room with seamless glass walk-in shower
Pedicure retreat- pedicures for each in our private nail retreat
2 Hours of Service
$349
Galentine's Day- Book with friends for a spa party
60-minute full body massage
30-minute Express Signature Facial
VIP Manicure with Gel Polish
VIP Pedicure
Blowout
$295
3. URBAN eat.drink Certificates: One of our favorite date spots in Round Rock is hosting a fun Valentine's Day meal. Check out this yumminess and surprise your sweetie by taking them out for a date night on Tuesday!
4. His & Her's Gifts from Mays Street Boutique: One of the cutest clothing boutiques in town has the best jewelry – a piece from Kendra Scott id the perfect Valentine's gift. And ladies, take a look at the Yeti line for your man and they are having a big sale – Up to 50% off mens clothing and 20% off Yeti coolers.  For ladies –  Up to 40% off select clothing items, up to 30% off select Kendra Scott.  Or better yet, just pick up a Mays Street Boutique gift card for them to shop!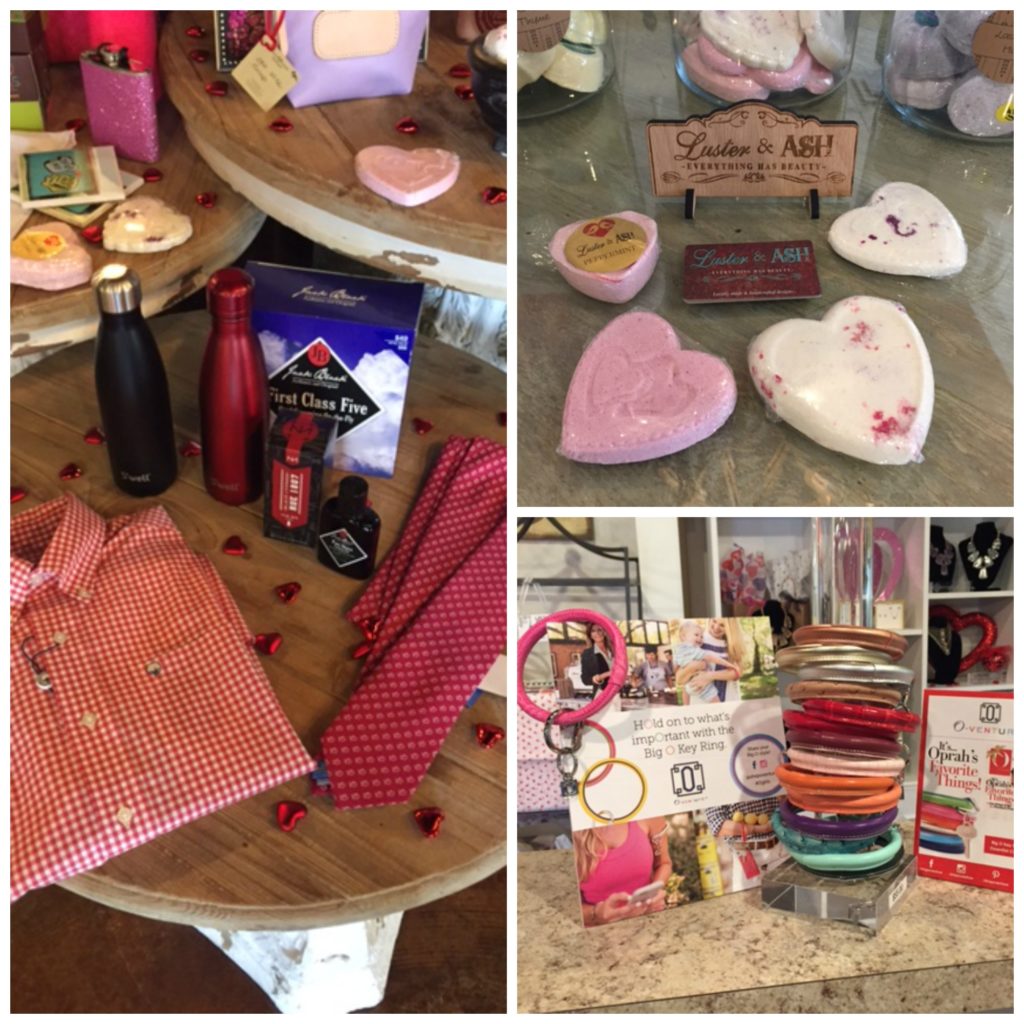 5. Something new for your Garden from Round Rock Gardens:  The weather has been gorgeous here lately, which encourages us to get out and clear the front gardens.  Why not pick up a beautiful new flower, shrub, or even tree to plant in honor of your love?  Round Rock Gardens can help you pick just the right one for you.

6. Golf Lessons at Forest Creek Golf Club: If you have a loved one who loves the game, why not support it with a lesson or two? Forest Creek Golf Club has a variety of instruction to choose from – Ladies 101 to private lessons.
7. A Game from Kaleidoscope Toys: The best toy store in town has gift ideas for every age!  LEGOs, Puzzles, Crafts, Books, and more for the kids.  And don't think you can't find something for the adults too! They have a HUGE selection of games as well!  Kaleidoscope Toys has lots of ideas to help you!  
8. LolleePop Gourmet Popcorn & Treats: We were so excited to see this new sweet shop open this past fall!! Take a look at the yummy ideas they have for Valentine's Day!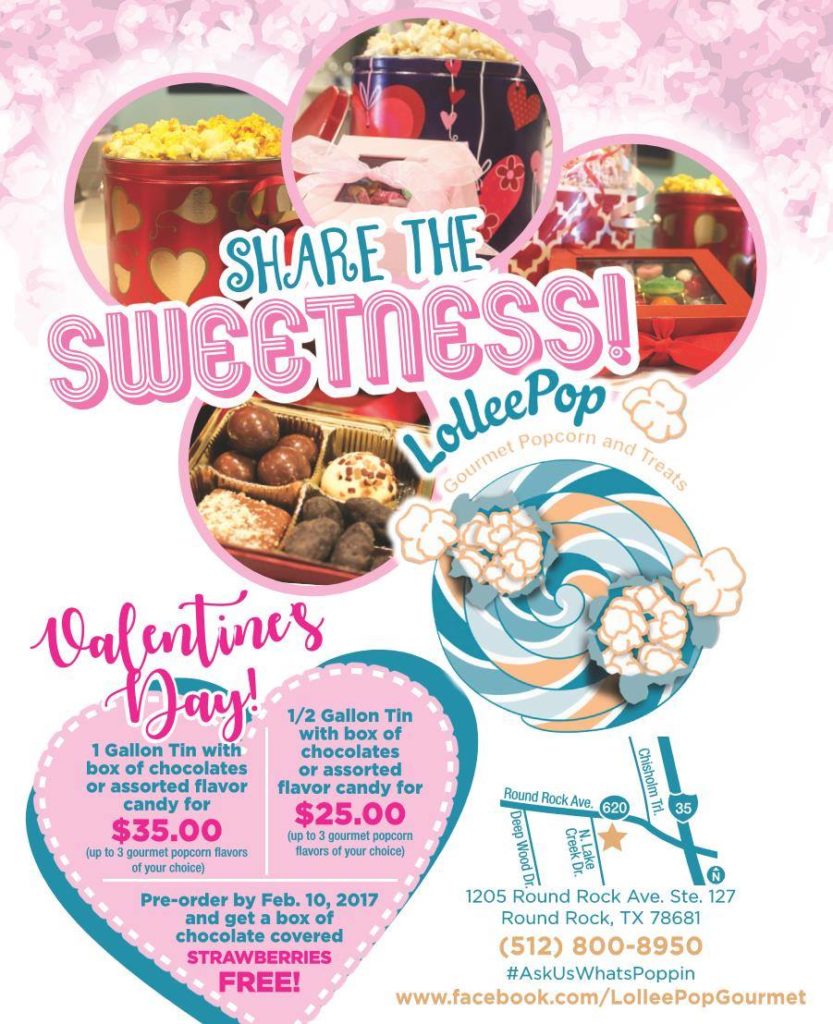 9. Wine Club Membership from Wine Sensation: Round Rock's newest Wine Bar has Wine club Memberships that includes their monthly wine pickup event (the 2nd Tues & Wed of each month) includes a tasting of 3 wines for 2, a light dinner for 2 and special wine discounts. You choose 2 bottles from the 3 wines that you get tastings of at the club event to take home. They also have a 3-course Valentine's Dinner to take your sweetie to!
10. Haute Tots Gifts: Another one of my favorite shops in town, Haute Tots, has lots of great Valentine gift ideas – personalized cups, Valentine's Day shirts, jewelry, and more. I LOVE these heart chokers! But if you can't choose, the lovely ladies will help you pick a great gift or just grab a gift certificate!
So there you go Round Rockers!  Ten very easy but fun ideas for your sweetie (ladies, feel free to share this with your man….to give him a few ideas…..)