9 Reasons to Go to the Round Rock Chalk Walk
One of the most highly anticipated events on the fall calendar in Round Rock, is the Chalk Walk.  The Round Rock Chalk Walk and Arts Festival will be held at Centennial Plaza on October 5th & 6th, 2018.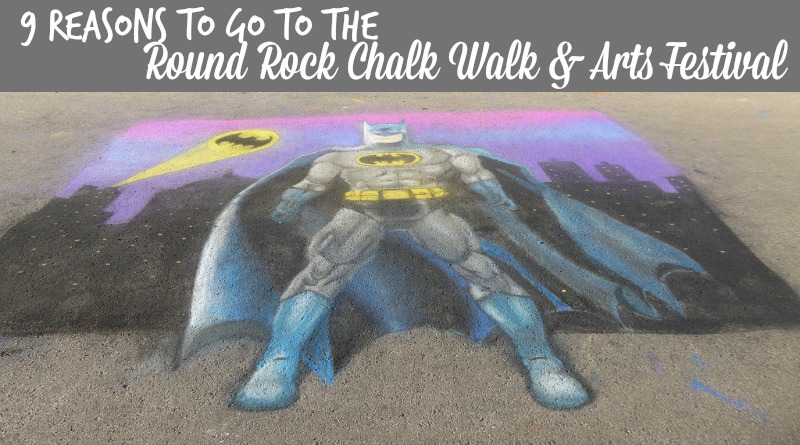 This is such a fun event for the whole family and we really are so lucky to have such a unique event in our town.  If you haven't been before, I'm giving you ample reasons why you should go this year:
9 Reasons You Must Go to the Round Rock Chalk Walk & Arts Festival
Watch the Creation of Something Amazing – see professional fine artists create their works before your eyes on the streets of downtown Round Rock.  We have been the last 7 years and it's incredible what can be made out of chalk.  Years ago, when we traveled to Italy, it was fun to see this happening in all the squares.  I love that our Arts Council has brought it here to Round Rock for all of us to enjoy.
Make Your Own Chalk Creation – You can buy a square of asphalt for the weekend as an individual, family or just for your kids, and create your own masterpieces!
Enjoy Live Music & Performances –  Live music and performances will be going on all day on 3 stages. Don't miss our very own  Round Rock Community Choir, & Round Rock Ballet Folklorico.  And check out the many local dance, cheer, and choir groups performing on the 2 other stages.
2 Concerts on the School of Rock Stage – This year, there will be TWO evening headliner concerts – The South Austin Moonlighters on Friday and Vallejo on Saturday.
Kids Activities – This year, they are providing more activities for families to do with jugglers, pony rides, a petting zoo, a train, street performers, and special activity areas for children and families. 
 
Food Vendors -Various food vendors will have all kinds of food ranging from festival food favorites (kettle corn, shaved ice, deep fried candy bars, corn dogs) to street tacos, Elsie's Egg Rolls food truck, cheessteak sandwiches, empanadas, fried ravioli…and more!

Go Both Days – The best way to enjoy the Chalk Walk Festival is to go early on Friday afternoon to see all the artists begin their work and then head back on Saturday to see the finished works.  You will be amazed at what can be created in this short of time.
3rd Annual Chalk Walk High School Food Truck Battle Teams of culinary students from area high schools and the Art Institute of Austin will team up for the battle of ultimate flavor supremacy. Winning dishes will be determined by votes from festival attendees, with the winning student team receiving a scholarship prize.
Support a Local Event – Events like the Round Rock Chalk Walk & Arts Festival are put on by hard working, local individuals within the City of Round Rock and the Round Rock Area Arts Council for you, the local Round Rocker, to come out and enjoy for free.  I am always overwhelmed by what great events our great city puts on for the citizens.  The best way you can say Thank You to them is to come on out an enjoy it!
Round Rock Chalk Walk & Arts Festival
Friday, October 5, 2018 – 5:00 – 9:30 PM
Saturday, October 6, 2018 – 9:00 AM – 9:30 PM
Centennial Plaza, 301 W. Bagdad, Round Rock
http://roundrockarts.org/chalk-walk/