Fall Events in Round Rock
Happy Fall Y'all! We love all the Fall Events in Round Rock. We have found pumpkin patches, fall festivals, and tons of fun Halloween events happening in Round Rock!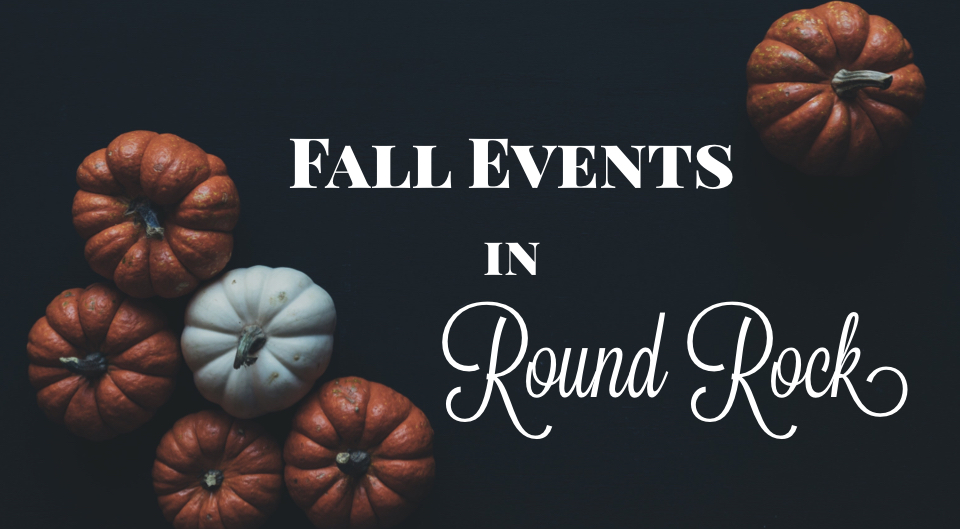 Check out these fun Fall events in Round Rock – Fall Festivals, Pumpkin Patches, & Halloween Events!
Fall Events in Round Rock  

Oktoberfest at Bluebonnet Beer Co.
October 8, 2017 from 12- 6 pm
1700 Bryant Dr., Ste. 107
This is a family friendly event with Live Music, Bounce Houses, games, face painting, vendor booths, Traditional German food and Beers. Tickets include a .5L beer mug and 2 beverage tickets and entry into the Oktoberfest. More details here.
---
Palm Valley Lutheran Fall Fair
September 30, 2017 10 am – 3 pm
2500 E. Palm Valley Blvd.
Event features live music, a classic car show, bingo, crafts-baked goods-plant sales, games, pony rides, concessions, "magic with a twist" from The Great American Side Show and much more! In lieu of admission, donations of non-perishable food items for the Round Rock Serving Center will be accepted. For additional info, please contact [email protected] More details here.
---
Round Rock Chalk Walk
October 6 & 7, 2017
Downtown Round Rock
This free festival features chalk drawings, food, music, vendors, and more.  Watch amazing artist create gorgeous chalk art and have the opportunity to make your own!   Here are 9 reasons you need to go!!
---
Community Christian Church Harvest Festival
October 7, 2017 11 am – 2 pm
4300 Sam Bass Rd
This free event features food, games, petting zoo and fun for all ages. More details here. 
---
Hairy Man Festival
October 21, 2017 from 11:00 am – 6:00 pm
Cat Hollow Park
There will be food, arts and crafts fair, children's activities, special performances, and live music! Participate in our costume contest, trick or treating park scavenger hunt, pumpkin decorating, train rides, Halloween themed crafts, scary snacks station, and a Haunted House! And the Annual Hairiest Man Contest!  Free event. More details here
---
Fall Fun Fest: Dr. Seuss!
October 31, 2017 9:00 AM – 11:30 AM
Old Settler's Park
Join Round Rock Parks and Recreation for a Dr. Seuss Fall Fun Festival. Just for preschoolers, this fun festival is an annual tradition put on by the City of Round Rock! It includes Carnival games, Hayrides, Cookies and Punch, Storytime and much more! More details here. 
---
Fall Events in Round Rock: Pumpkin Patches

Benefiting St. Richards Episcopal Church and their charities
Mon-Fri (12-8pm); Saturdays (9am-8pm)
---
Fall Events in Round Rock: Halloween Events


---
RRISD PIE Foundation and Round Rock Police Trunk or Treat
October 14, 2017 from 4:00 – 7:00 pm
Texas State University
The Round Rock ISD Partners in Education (PIE) Foundation has partnered with the Round Rock Police Department (RRPD) will host their third annual Round Rock Operation Blue Santa Trunk or Treat event on Saturday, October 14, 2017. Visitors will have the opportunity to participate in a variety of activities, including face painting, a bounce house, carnival games, concessions and music. Find out more
---
Free Halloween Events at Bass Pro Shops
October 23-31, 2017 
Bass Pro Shops
Bass Pro Shops is hosting FREE, family-friendly Halloween events October 23-31, 2017 featuring the classic Peanuts® characters, Charlie Brown, Snoopy, Linus, Sally and Lucy. The free event features activities including crafts for kids, a Halloween costume parade, trick-or-treating, FREE 4×6 photo with the Peanuts gang and much more at Bass Pro Shops. Find out more
---
Halloween Parties at the Library
October 25-30, 2017
Round Rock Public Library
Hop into your costumes and bring treats to share – the Round Rock Public Library is throwing a Halloween bash!  There will be 3 parties for children ages 18 months and older and one party for babies younger than 18 months.  More details here
---
Book Character Pumpkin Decorating Contest at the Library

October 24 – October 31, 2017
Round Rock Public Library
The Round Rock Public Library is hosting a  Pumpkin Decorating Contest that begins on Tuesday, October 24 and lasts through Tuesday, October 31, 2017. Library staff will vote for the best literary pumpkins on Tuesday, October 31, 2017. The winners will receive a Barnes & Noble Gift card! More details here
---
Monster Mash Escape Room at the Library
October 26 at 4:30 pm
Round Rock Public Library
The Round Rock Public Library will host a Monster Mash themed escape room on Thursday, October 26, 2017 for tweens ages 8-12. Find out more
---
Dia de los Muertos Procession and Festival

October 28, 2017 from 2:00 pm – 10:00 pm
Centennial Plaza
Williamson County Hispanic Heritage Committee, Round Rock Ballet Folklorico, City of Round Rock, Round Rock Arts and Univision will be sponsoring a Dia de los Muertos procession and festival on Saturday, October 28, 2017 from 2 p.m. to 10 p.m. at Centennial Plaza at 301 West Bagdad. Find out more
---
Halloween at the YMCA
October 28, 2017 from 2:00 – 9:00 pm
Dell Diamond
Take your Halloween celebration beyond ordinary at the Annual YMCA of Greater Williamson County at the Dell Diamond in Round Rock on Saturday, October 28th.  This festival, which is one of the largest Halloween events throughout Central Texas, features everything from carnival games to inflatables and rides to climbing walls, FREE Halloween candy, music, prizes, concessions and more.  Find out more
---
Scary Faced Pancakes at IHOP
October 1-30, 2017 
IHOP
October marks the return of an IHOP® favorite that makes everyone smile, but now with even more fun: Scary Face Pancakes are back! Bring the kids to create their own legend—scary or silly—with strawberries, whipped topping, Mini Oreo® cookies and candy corn. More details here.
---
Terror on Two Jacks Haunted House
October 29-31, 2017 7:00 pm – 10:00 pm
7410 Two Jacks Trail Round Rock, TX
Come visit a house that is haunted as it was built on top of the grave of the Hairy Man of Brushy Creek.  Admission is free but they are requesting a donation of either $1 or 1 can of food per person. More details here
---
Hometown Halloween
October 31, 2016 from 2:00 – 5:00 pm
Downtown Round Rock
Downtown Round Rock knows how to put on an event and Halloween is no exception, the Hometown Halloween celebration is a great way to connect with your community, have fun with your family and best of all a stress, scare-free environment. Downtown retail businesses & restaurants will be open to trick-or-treaters. More details here.
---
This 2017 Fall Festivals, Halloween Events & Pumpkin Patches in Round Rock article was sponsored by Bluebonnet Beer Company.