Home Depot Free Kid's Workshop | September 1, 2018
Home Depot stores offer a FREE, hands-on workshop designed for children aged 5 – 12.  It is offered the first Saturday of each month at our local Round Rock Home Depot store between the hours of 9:00 am to 12:00 pm. These workshops are aimed to teach children do-it-yourself skills, tool safety, and instill a sense of pride and accomplishment.  All kids get to keep their craft and receive a free Kids Workshop apron, a commemorative pin and a certificate of completion.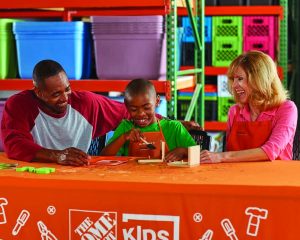 Celebrate your child's devotion to reading in our book lover's hands-on workshop. Together you and your child can build a set of bookworm bookends to add personality, organization and excitement to bookshelves in any playroom, family room or bedroom. Once your bookends construction is complete, you and your child can decorate it with paint and stickers. All Kids Workshop attendees must be accompanied by a parent or adult at all times. All kids get to keep their craft, receive a FREE certificate of achievement, a Workshop Apron, and a commemorative pin while supplies last. Children must be present at the store to participate in the workshop and receive the kit, apron and pin.
9:00 AM – 12:00 PM
Saturday, August 4, 2018
Home Depot Round Rock
2551 S Interstate Hwy 35