5 Tips for the Reindeer Run 5K & Family Fun Run | November 26, 2017
The 8th Annual Reindeer Run 5K and Family Fun Run is coming up on Sunday, November 26, 2017 starting at 4:00 pm at Old Settlers Park.  This is such a fun event!
The Rotary Club of Round Rock Sunrise and the Round Rock Parks and Recreation present the eighth annual Reindeer Run. By participating in a 5K family fun run, you will be helping to raise funds for the maintenance, improvement and expansion of the Play for All Abilities Park in Round Rock for children with cognitive or physical challenges. The Play for All Abilities Park opened in March 2012, and use of the park has been beyond our expectations.
The 8th Annual Round Rock Rotary Reindeer Run 5k and Family Fun Run will be through an all new light show through Old Settlers Park and a grand start and end at the stunning Christmas Town light tunnel at the Old Settlers Association. You will be surrounded by amazing holiday lights and Christmas cheer and enjoy FREE family activities throughout the evening included with your registration.
Holiday family activities include: Candy Cane Reindeer, Holiday Hula Hoops, Candy Cane Limbo, Elf Present Toss, Cookie Walk, Reindeer Food, Christmas Tree Lollipop Pull, Feed the Reindeer, Snowball Toss, Elf Scavenger Hunt, Temporary Holiday Tattoos and of course – Santa photo opportunities!
Come dressed in your holiday best and take part in our Holiday Costume Contest from 4 p.m. to 5:45 p.m.: open to all registered runners and their children.

We have lots of new features to this years event. First, we are introducing a kids 1k, to allow the whole family to participate. Before the race, we are also hosting a wide range of crafts and games, as well as a holiday costume contest.
Also, for our timed runners, we will be offering prizes in each of the following categories:
13-19
20-29
30-39
40-49
50-59
60-69
70+
The 2017 Reindeer Run begins at 4:00pm on Sunday, Nov. 26th at Old Settlers Park.

Ages (13 and over) $25 per participant includes t-shirt (while stocks last)
Timing option: $5
Late fee for registration after 11/19: $5
Ages (12 and under) FREE with parent or guardian-no shirt and no registration required.
Register HERE.

4:00 p.m. Registration Opens and Pre-Race Activities
Holiday costume contest from 4:00pm – 5:45pm

Open to all registered runners and their children
Prizes will be awarded in each of the following categories

Best Group (2+ people)
Best Use of Costume Lighting
Best Individual: Infant / Preschool
Best Individual: Elementary School Student
Best Individual: Middle School Student
Best Individual: High School Student
Best Individual: Adult

Reindeer games, crafts and activities (free for kids of all ages)

Candy Cane Reindeer
Holiday Hula Hoops
Candy Cane Limbo
Elf Present Toss
Cookie Walk
Reindeer Food
Christmas Tree Lollipop Pull
Feed the Reindeer
Snowball Toss
Elf Scavenger Hunt
Temporary Holiday Tattoos
And of course – Santa photo opportunities!
5:00 p.m. Timed 5K Run
5:30 p.m. Kids 1K
6:00 p.m. 5K Family Fun Run/Walk
We ran the race last year and LOVED it. Here are a few tips to know before you go:
1. Bring the WHOLE family!  This is a FUN RUN – all the kids will enjoy this themed run with costumes, games, and lights.  All kids 12 and under can run for FREE!
2. It's a FUN RUN!!  There is a timed race that starts before the fun run, so let those more serious runners go first.  I encourage you to take your time and enjoy the evening, don't feel rushed to get through the race as quickly as you can.  Don't feel rushed and even walk it if you want to.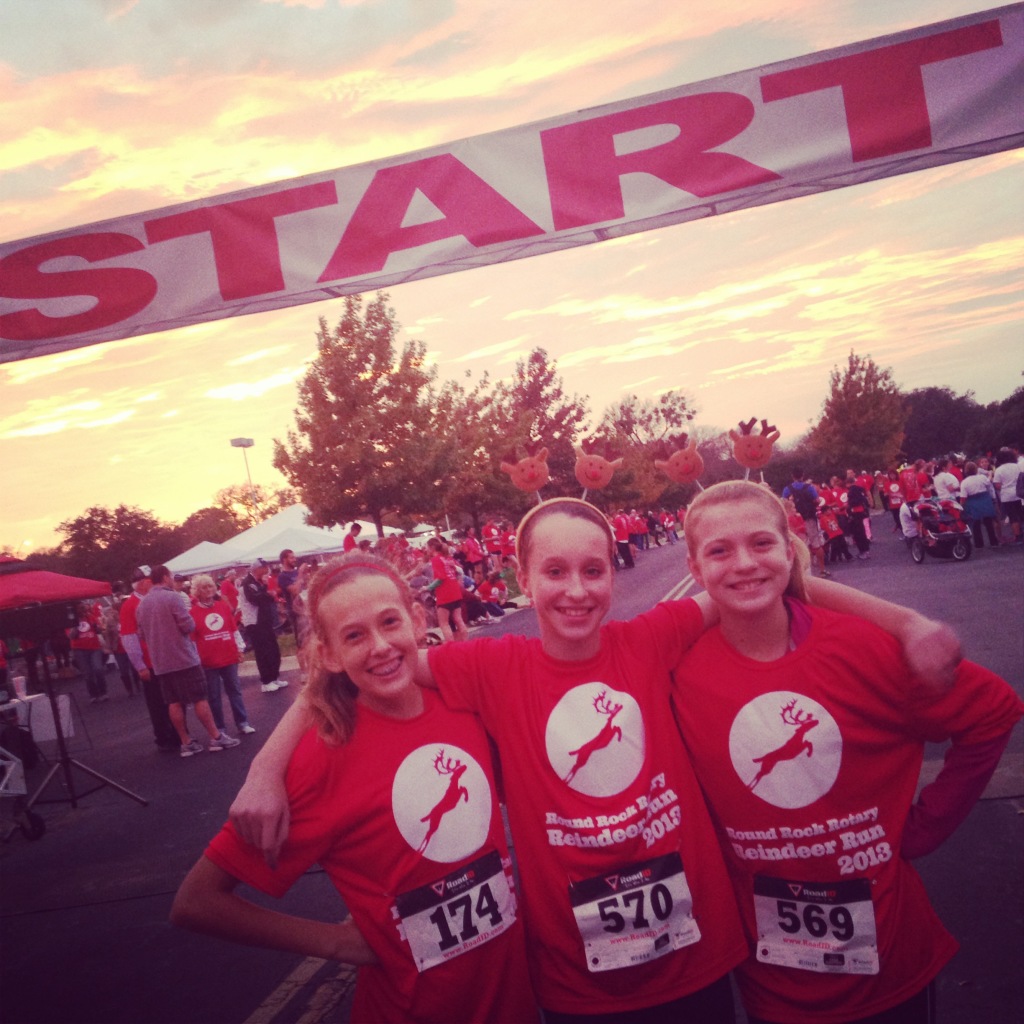 3. Dress Up!! Get festive – put on a fun Holiday shirt, grab some reindeer ears and dress up for this race!
4. Arrive Early!! There are various booths, games, & activities to do with the kids before the race, so make sure you get there early enough to check it out.
5. Go as a Group!!  The more people you have, the more FUN this run will be! Go back to tip #3 and coordinate dressing up together!
Enjoy this great race! It's so much fun!!
Don't miss all the Fun Happening in Round Rock this Holiday Season!
Elfvis & the Kringles Holiday Light Shows 
Round the Rock Holiday Gift Guide for Women
Round the Rock Holiday Gift Guide for Men
Round the Rock Holiday Gift Guide for Children
Round the Rock Holiday Gift Guide for Teachers & Hostesses