Round the Rock Orthodontics Directory | 2017 – 2018
Are you looking for a Orthodontist in Round Rock? Here is our Round Rock Orthodontics Directory for the 2017-2018: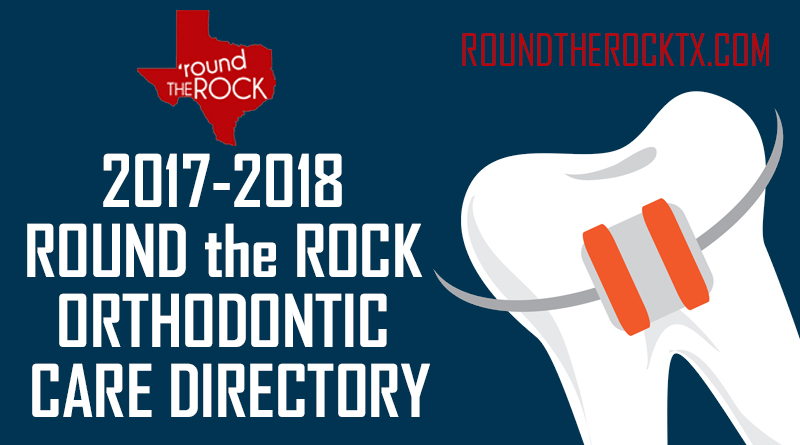 ---
Round Rock Orthodontics Directory
---

Braces for Children & Adults including Invisalign®, Invisalign Teen®, & Clear Braces
Dr. Brian Peters, Dr. Jen Tomblyn, Dr. Steve Snodell
At Austin Family Orthodontics we are working to make orthodontic treatment affordable. It is our goal to be upfront, fair and pressure free about our fees and financing. Treatment is affordable, fun, convenient, and we offer one fair flat fee for your orthodontic treatment of $4680. We also offer a limited time no interest special financing plan requiring only $99 down at $199 per month! Come in and get your free exam consultation with one of our board certified orthodontists to find out what treatment options are for you.
Locations:
Round Rock Location – 893 N Interstate Hwy 35, Suite 110, Round Rock, TX 78664
North Austin Location – 12501 Hymeadow Drive, Suite 1D, Austin, TX 78750
Leander Location – 1395 US-183, Suite 140, Leander, TX 78641
Hutto Location – 120 Ed Schmidt Blvd, Suite C, Hutto, TX 78634
Contact: 512-258-9007 
Web: austinfamilyorthodontics.com
Special Offer: 0% Financing! $99 Down and $199 per month for Braces! Expires 10-3-18
---
 
Clear and metal braces and Invisalign® for all ages
Paul A. Gates, D.D.S.
Dr. Paul Gates is a Board Certified Orthodontist. He offers the highest quality orthodontic care for children and adults. He offers 3D technology, digital impressions and comprehensive treatment planning, resulting in the most beautiful smiles!
Dr. Gates' office is designed with your privacy in mind. Other orthodontic offices treat all their patients in the same room. In Dr. Gates' state of the art facility each patient receives treatment in a private treatment area for every appointment, because your comfort is his priority. Dr. Gates and his team are caring professionals. Contact Dr. Gates for your free consultation!

Location: 503 E. Palm Valley Blvd. Ste. 200 Round Rock, TX 78664
Contact: (512) 244-2644 
Web:  roundrockorthodontics.com
Special Offer: Complimentary orthodontic examination with diagnostic records. (no expiration)
---

Traditional metal braces, clear braces, Invisalign, Invisalign Teen
Alex Zreik, DMD, MS & Kevin DeLane, DDS
Location: 16000 Park Valley Dr, Ste. 100, Round Rock, TX 78681
Contact: 512-733-8308
Web: carusdental.com
---

Traditional, Self-ligating, Invisalign®, Wild Smiles, Accelerate Orthodontics
Dr. Akash 'Doc Ak' Pandya
Our goal here at SmileOn Orthodontics is to provide every patient with optimal orthodontic care through ideal treatment plans, using the best materials and employing state-of-the-art technology. And so, we've created an inviting, fun space and stocked it full of awesome to do just that! We love serving the orthodontic needs of Cedar Park, Leander, Round Rock, N. Austin and its surrounding communities. Let us help you attain that smile you've always wanted using braces or Invisalign®! Please pop in and visit us or give us a call today to schedule a complimentary smile assessment.
Location: 1785 E. Whitestone Blvd., Ste. 200, Cedar Park, TX 78717
Contact: 512-337-2325
Web: SmileOnOrtho.com
Special Offer: FREE consultation & $500 off full orthodontic treatment (applies to usual customary fee only). Expires 9/30/18
---
Ceramic braces, Invisalign®, Invisalign Teen and self-ligating brackets
Dr. Christopher Stansbury, D.D.S, M.S.
Wired Orthodontics is a premier orthodontic practice that takes great pride in building lifelong relationships and delivering the finest results for patients.
Dr. Chris is dedicated to providing patients with the highest quality orthodontic treatment using the latest technology. Paired with his top-notch, experienced team, they are crafting some of the most beautiful smiles in Austin!
Locations: 
North Austin – 10119 Lake Creek Pkwy., Suite 1  Austin, TX 78729
Cedar Park – 1464 E. Whitestone Blvd., Suite 1501  Cedar Park, TX 78613
Four Points- 6611 Sitio Del Rio Blvd. Austin, TX
Contact: 512-258-6979
Web: WiredOrthodontics.com
Special Offer: Mention Round the Rock and receive $1,000 off Invisalign® or $199 monthly payments on braces. This offer must be presented at your new patient exam- Applies to usual customary fee only. Expires 12/31/18
---

Self ligating metal & clear braces, clear aligners, surgical orthodontics. Comprehensive orthodontic treatment for all ages.
Joseph P. Goodson, DMD, MS
For more than 40 years, Dr. Joseph P. Goodson has provided quality orthodontics in Austin and Round Rock, Texas, and surrounding areas. Our office is designed to enhance your comfort, combining personal, courteous care with state-of-the-art orthodontic treatments and technology to help you achieve a beautiful smile and a healthy bite for a lifetime. To ensure excellent results, we are pleased to provide a number of treatment options, including clear aligners, H4 and H4 GO and Damon self-ligating braces, and more. In addition, we have team members who speak both English and Spanish to better accommodate your family's needs. Please call our practice today to learn more about our orthodontic care and schedule your complimentary initial exam with Dr. Goodson. We look forward to meeting you soon!
Locations:
Austin – 13066 N. Highway 183, Austin 78750
Round Rock – 16 Chisholm Trail, Round Rock 78681
Contact: 512-258-6683
Web: goodsonorthodontics.com
Special Offer: $300 off Comprehensive Orthodontic Treatment Fee when you mention this Round the Rock listing (can not be combined with any other discount)
---

Metal Braces, Clear Braces, Lingual Braces, Invisalign® & Invisalign Teen®, and Surgical Orthodontics
Dr. Neker Bernuy DDS. MS.
Dr. Bernuy is one of the few Board Certified Orthodontist in the Round Rock area. We strive to provide comfortable, affordable, state-of-the-art care at Bernuy Orthodontics. We firmly believe that each of our patients should receive personalized care to fit their individual needs. We will not only ensure the proper care is taken for each of our patients, but thoroughly educate them on each facet of their procedure. Complimentary consultations for Orthodontics and Invisialign available daily. Orthodontic care for patients of all ages.
Location: 1821 Westinghouse RD STE 1100 Georgetown, TX 78626
Contact: 512-887-1610
Web: bernuyortho.com
Special Offer: $500 off Full Orthodontic Treatment or $700 off Full Invisialign Treatment. * Certain Exclusion may apply. Offer Expires: Aug 31, 2018.
---
Orthodontic treatment for the entire family utilizing clear, metal brackets, Invisalign and corrective jaw surgery to establish an ideal bite.
Ellen M. Nelson D.D.S., M.S.
At Wyoming Springs Orthodontics, Dr. Ellen Nelson is dedicated to transforming the lives of her patients through a commitment to skill, service, and excellence. Dr. Nelson sees her work as a life-long investment in the future of her patients and community. The goal of Wyoming Springs Orthodontics is to see every patient walk away with a healthy, beautiful smile that lasts a lifetime. Step through the doors of Wyoming Springs Orthodontics and be a part of something much bigger than just an orthodontic office. Let us be a part of creating a masterpiece, your smile.
Dr. Nelson is a Board Certified Orthodontist and a member of the American Association of Orthodontics.
Locations: 7215 Wyoming Springs, Ste. 1000 Round Rock, TX 78681
Contact: 512-255-4444
Web: wyomingspringsorthodontics.com
---
Disclosure: This is a sponsored directory. If you would like to be included in the Round Rock Orthodontics Directory, please contact [email protected] 
Check out our other Directories: