Round Rock Summer Camp Guide 2015
It's here! The listing of Round Rock Summer Camps 2015!

There are some terrific Round Rock Summer Camps in 2015.  Take a look at the list of fun ones we found for your children!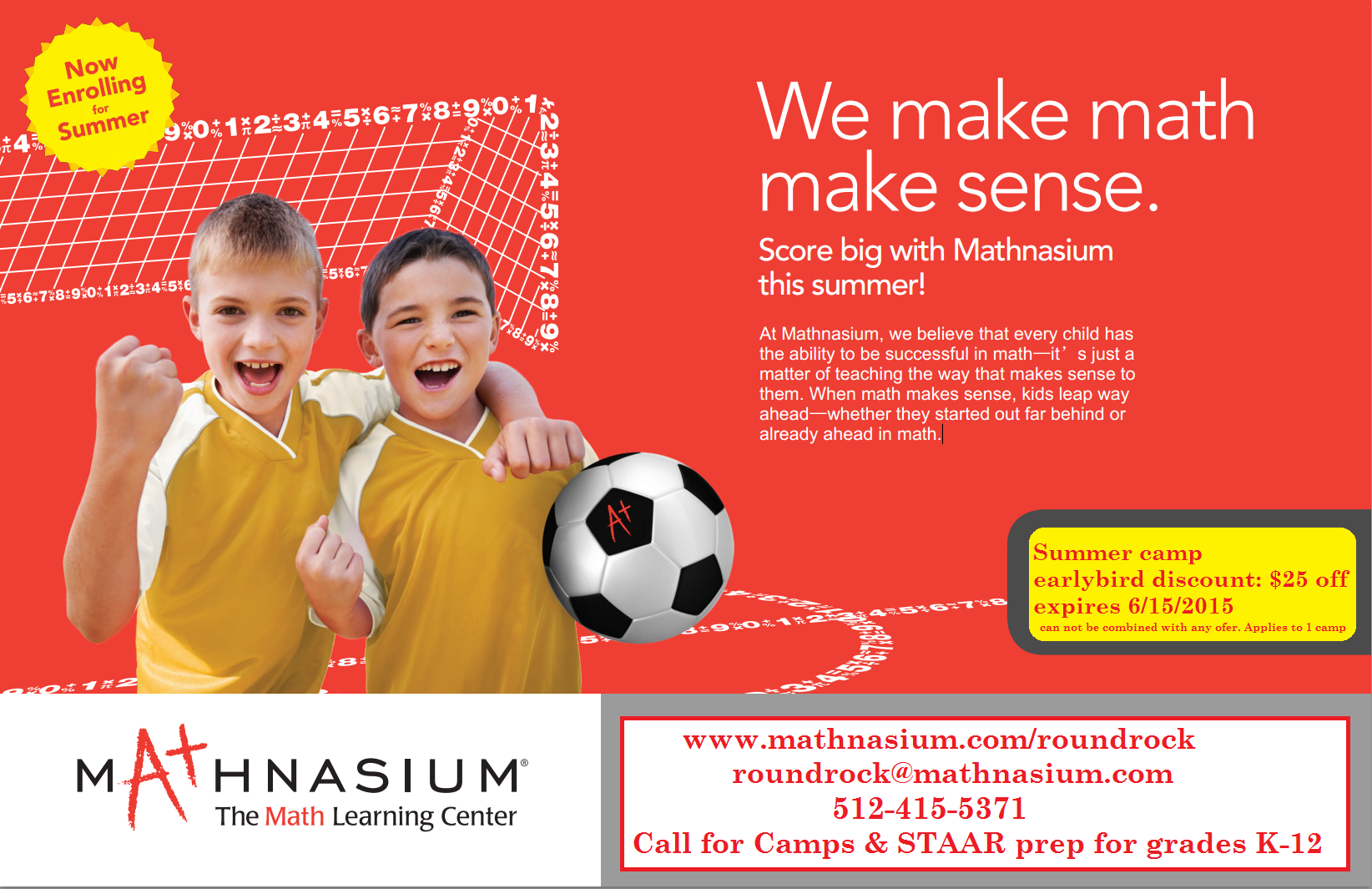 512-415-5371
Mathnasium Summer Camps
Description: Summer learning loss is a phenomenon parents and educators have long acknowledged as a significant setback to academic achievement. Math proficiency is particularly susceptible to the summer learning slide. Most students lose 2 to 2 1/2 months of the math computational skills that they learned during the school year. Our summer programs are designed to prevent summer learning loss, and will give your child the math skills needed to succeed in their upcoming school year.  Enroll now in our Mathnasium summer camps and packages, so you can put your best foot forward in math well before classes begin.

Cost: From $189
Dates: June, July, Aug
Mathnasium of East Round Rock 
Description: We Make Math Make Sense. Available for kids K-12th. Customized Power Math Workouts are available to meet your summer math goals for previews and reviews! Take advantage of previewing your fall math course, or simply brush up on specific math skills. Summer learning & fun at Mathnasium of East Round Rock includes flexible scheduling, learning sessions, and game time. Ask about additional summer class offerings when you call.
Cost: Early Bird Discount of 5% off packages and $25 off registration before April 30. 15% sibling discount available. Power Math Workout Packages start at $550 for 16-visits (45 minutes -1.5 hours of math instruction plus 1 hour of game time). Game passes start at $100 for 16-visits (1 hour each). Visits can be used any time throughout the summer, no scheduling required.
Dates: June 8 – August 21, 2015
Location: Mathnasium of East Round Rock 4500 E. Palm Valley Blvd, Ste 130 Round Rock, TX 78665
Contact: 512-763-PLUS (7587) or [email protected]
www.mathnasium.com/eastroundrock
Acton Academy North ESTEAM Summer Camp
Description: The Acton Academy North ESTEAM Summer Camp features traditional games, food, and fun in an exciting, creative atmosphere. We provide all-day, well-supervised day camp in a FUN infused, alternative to traditional, summer camp. Children attend studio time in the Arts, LEGO Fun and Hands on Academics. Lessons and activities in each session revolve around a theme, so campers who attend will experience something new each session, while those who attend only one session will still receive a rich experience that can stand alone. Each of our sessions culminates with a Friday Family Program in which our students showcase what they have learned and prepared.
6/1 – 6/5 Animal Planet
6/8 – 6/12 Wild Wild West
6/15 – 6/19 Ocean Odyssey
6/22 – 6/26 Wilderness Fun
6/29 – 7/3 Liberty Kids
7/6 – 7/10 Food Factor
7/13 – 7/17 Knights & Damsels
7/20 – 7/24 Space the Final Frontier
7/27 – 7/31 Route 66
8/3 – 8/7 Time Travelers
8/10 – 8/14 Superheroes
Cost:$265 per session
Dates: June 1st – August 14th, 2015
Location: Acton Academy North 22A Chisholm Trial Round Rock 78681
Contact: 512-740-3024
www.actonacademynorth.com
Learning Fun 101 Summer Camps
Description: Want your child to do something unique and absolutely cool this summer? How about having them learn how to build and design Robots using the LEGOs? Students will learn basic robotic engineering, programming principals, and the STEM (Science, Technology, Engineering and Math) concepts while having FUN!
Your child's natural curiosity and ingenuity will help them envision possibilities and develop innovative solutions to difficult technology problems. Learning Fun 101 will challenge your student with authentic, hands-on explorations and then provide support as they engage in:
Questioning • Exploring • Imagining • Designing • Constructing • Inventing • Testing • Observing • Learning • Failing (and trying again)
No prior LEGO or Robotics experience is required. Students will be taught everything they need to know during our camps. Students will work in teams of two/three —friends are welcome to sign up together and can be partners.
Cost:$149 per session
Dates: June 1st – August 14th, 2015 from 9am – 12pm or 1pm – 4pm
Locations: Great Oaks Elementary School, Round Rock ISD Success High School, Brushy Creek Community Center
& ESTEAM at Acton Academy North – Round Rock
Several other camp choices all over Austin
512-740-3024
http://www.learningfun101.com/camps/
Bits, Bytes & Bots Computer Adventures
Description: Bits, Bytes & Bots Computer Adventures offers fun, educational technology camps for ages 6-14 in robotics, game creation, stop-motion animation movie making and Minecraft. Children learn logic, analytical thinking, problem-solving, programming and video production – all while having a blast doing the things they love! Students receive both individual and group instruction from our well-qualified staff, with no more than a 10-to-1 student-to-teacher ratio.
Cost:
 $295 for Monday-Friday (AM or PM session); $25 discount for registration by March 27; 5% discount for multiple sessions
Dates:
 June 8-August 14, 2015
Locations:
 Multiple locations
Phone Number:
(512)415-4120
www.austintx.bitsbytesbots.com
Brandy Perryman Shooting Camp
Description: Shooters are developed, not born. We take great pride in developing campers to their fullest potential. We strive to do this by providing a postive upbeat experience that provides positive competition while promoting self-esteem, repetition, team concepts, self-discipline, and most importantly FUN. We have provided instruction to over 10,000 campers over the past 17 summers and our track record for returning campers and word of mouth publicity has helped us grow each summer. Any boy or girl between the ages of 7 and 16 is eligible for camp. BPSC is perfectly suited for all skill levels from the beginner to the aspiring college basketball player. Each camp is arranged in groups according to age, size, and ability.
Cost: $220 per session before June 1st, after $240
Dates: June 15-18 Stony Point HS
July 6-9 Clay Madsen Rec. Center
Aug 10-13 Brushy Creek Community Center
Several other camps located throughout Austin
Georgetown Palace Theatre Summer Workshops
Description: Full-Day Musical Theatre Workshops in a working theatre! Come and see who YOU will become! Ages 7-teen- Experience the thrill of performance through vocal, dance, acting, and technical theatre classes. Every session is a full mini-musical starring YOU! No experience required, everyone is cast. The Georgetown Palace has been introducing children to theatre for over 12 years through summer workshops and after-school classes. Professional production staff in a working theatre equals a summer you will never forget! Hurry, sessions will sell out! Scholarships available.
Cost: 2 week sessions- $400 (teen sessions 3-4 weeks), every session is a different play. Early/multiple registration discounts. Free Saturday morning performances.
Dates: M-F June 15th-August 21st (Saturday performances) 7:30 am-5:15 pm
Location: 810 S Austin Ave. Georgetown, TX 78626 (just off the Georgetown Square)
www.georgetownpalace.com
Creative Brickbuilders Summer Camp
Description: Create, tinker, build and explore! Creative Brick Builders Studio offers hands-on summer enrichment camps featuring creative building and exploration activities. The Studio is also a host location for Bricks 4 Kidz® summer programs, featuring learning for LEGO® enthusiasts! Students ages 5-14 will learn by exploring: building, electronic circuits, digital media, art, computers and handcrafts and more. Camps feature crafts, games, and plenty of time for creative building, so kids are always having fun, while learning new skills.

Cost: prices based on class
Dates: June 8- August 21st
Champion's Way Tae Kwon Do Summer Camp
Description: For Campers 7 and up, experience Martial Arts with and without weapons. Each Summer Camp sessions is a week long, Monday-Friday that includes fun field trips. The Camp starts each day at 8:30am and ends at 3:30pm. However to accommodate workings moms and dads, we open as early as 7:00am for early drop offs and children can be picked up as late as 6:00pm (we encourage parents to pick up their children as early as possible, and must be done no later than 6:00pm or extra fees may apply). Snacks will be provided; students need to bring a sack lunch, with plenty to drink.
Cost: $150 early-bird by April 30, $160 by May 30, $175 regular (discounts for long-term campers)
Date:  June 1-August 21, 2015
Location: 1401 S. IH 35, #210, Round Rock  78664
Bright Horizons at Round Rock X-Treme Summer Fun
Description:  Bright Horizons at Round Rock's X-Treme Summer Fun program is designed just for kids ages 5 – 12! We have cool activities, in-house field trips, and special guest visitors planned around fun weekly themes like X-Treme Leadership, STEM Happens, and Icky Sticky Science. Kids can also participate in our reading and math challenges and have a blast in our Movement Matters Zone complete with rock-climbing wall. Meals and snacks are included in our weekly/daily tuition and all registered campers will receive a free t-shirt and X-Treme Summer Fun bag!
Cost:  $245 per week or $75 daily drop-in rate (meals included)
Dates: June 8 – August 28, 2015
Location:  Bright Horizons at Round Rock, 7210 Wyoming Springs Drive, Round Rock, TX 78681
(512) 341-0733
http://child-care-preschool.brighthorizons.com/TX/RoundRock/roundrock/
Primrose Schools Summer Adventure Club
Description: At Primrose Summer Adventure Club, we're launching imaginations farther than you ever thought possible. It's a whole new world of discovery at Primrose. We know what it takes to fuel your child's natural curiosity about the world. That's why we provide a fun, hands-on experience including engineering design challenges, outdoor exploration, creative play and much more. It's prime time for active minds to engage, learn and grow. Multiple weekly field trips, exciting in house events and our on-site splash pad make every day awesome. Lunch and snacks included – join us for one week or the whole summer with a different themed adventure every week. Get ready. The countdown to excitement begins soon for children ages 5-10.
Cost: $195 – $210 per week, depending on location
Dates: June 8 – August 21, 2015
Locations:
Primrose School of Round Rock at Forest Creek 3313 Forest Creek Drive (512)828-5777
Primrose School of Round Rock North 4721 Sunrise (512) 310-8033
Primrose School of Round Rock 15925 Great Oaks (512) 733-2020
http://www.primrosesummer.com/
CAMP INVENTION
Description: Camp Invention is where BIG ideas become the next BIG thing! Local educators lead a week of hands-on activities created especially for children entering grades 1-6. Camp Invention gives boys and girls the opportunity to investigate circuits, disassemble household appliances and much more! As they dream, build and make discoveries, they will have a chance to examine science and technology concepts during team-building exercises. Locations throughout your area! Visit www.campinvention.org or call 800.968.4332 for information.
Dates/times/costs: Please visit the website for details.
Ph# 800-968-4332
www.campinvention.org.
Kids R Kids Round Rock/Teravista Summer Camp – Camp Nature Kids
Description: Summer camp includes children from kinder through fifth grade. We are open from 6:30am to 6:30pm Monday through Friday. Student tuition includes our USDA approved breakfast, lunch and afternoon snacks, which is prepared by our school Chef and served to the children in our kid-sized cafeteria. Our school features 10 large classroom suites with tempered glass walls for maximum visibility and safety, a library and computer lab, gymnasium, covered patio, boo-boo room, water/spray park, "Kiss and Go" lane and 4 covered, age-appropriate playgrounds on artificial grass. Families will also have access to our 32 webcams throughout the school so they can become involved in the child's daily activities. Students will go on two off-site field trips a week and also have time built in every day to work on reading and math concepts based on your child's grade level.
Cost: $195 M-F, $140 M-W-F, $120 T-Th
Dates: June 5th – August 21st
Cordovan Art School Summer Camp
Description: Calling all young budding artists—discover a world of inspiration and creativity at Cordovan Summer Art Camp! Our age-appropriate classes are designed to encourage artistic expression, creativity, and imagination for kids ages 5 to 16. The week long camp sessions are taught by experienced artists and instructors. Interact with animals, sculpt with clay, discover new worlds, create works of art, and experiment with printmaking. Over 20 camps to choose from. No previous art-making experience necessary!
Cost: Half day camp $165 + $25 supply fee
Full day camp $255 + $40 supply fee
Dates: June 8th – August 14th
Location: Round Rock and Georgetown locations 512-275-4040
www.cordovanartschool.com
Cedar Park Dance Company Summer Camps
Description: 3-6yr Summer Camps include: ballet, tap, tumbling, creative movement & singing, arts & crafts and theme related activities. Pizza Party & Show on the last day of camp.
June 8-12th: Safari Camp
June 22-26th: Fairytale Wonderland
June 29– July 2nd: American Girl (4 days only)
July 13-17th: Angelina Ballerina
July 20-24th: Splish Splash
August 10-14th: Teddy Bear Adventures
7-10yr Summer Camps include: ballet, jazz, tumbling, creative movement & singing, arts & crafts and theme related activities. Pizza Party & Show on the last day of camp.
June 15-19th: One Direction
June 29-July 2nd: Tumble Mania(4 days only)
July 6-10th: So You Think You Can Dance
July 13-17th: Annie
July 20-24th: Slumber Party Jam
Cost: $175
Dates: See above – 9am – 1pm
Location: Cedar Park Dance Company 200 Buttercup Creek Blvd #104 Cedar Park, TX 78613
(512) 257-9722
cedarparkdance.com
Fun 2 Learn Code Summer Camp
Description: Fun 2 Learn Code offers computer programming summer camps for students ages 7 and older.
Camp options include: Minecraft Mods with Java, Game Development with Python or Unity, Scratch Programming, Web Development, Robotics using Finch and Arduino.  Half-day and full-day camps are available. Unplugged activities are incorporated throughout the day. Many of the camps are designed for absolute beginners with no previous programming experience.
Cost: $180-$250 for half-day camps, $300-$475 for full-day camps
Dates: Throughout the summer, starting June 8
Location: Fun 2 Learn Code (301 Hesters Crossing Rd., Suite 120) and Palm Valley Lutheran Church (2500 E. Palm Valley Blvd.)
512-900-8380; [email protected]
www.fun2learncode.com
Round Rock Express Baseball Camps
Description: The Round Rock Express is offering five summer baseball camps for kids ages 6 and up. Participants will receive instruction in all fundamentals of the game of baseball. The Round Rock Express baseball camps offer big-league quality instruction on the fundamentals of the game of baseball and softball. Express baseball and softball camps range in ages and offer opportunities for all skill levels. We pride ourselves on providing high-level baseball and softball instruction from knowledgeable and experienced coaches. Express camps aim to develop the complete ballplayer by not only focusing on the physical skill sets, but leadership and mental skills as well.
Cost: $200 – $500 (Half-day, full-day, and overnight available)
Dates: June 15 – July 30, 2015
[email protected] or 512.238.2250
Round Rock Express Camps website
All-Star Sports Camp at Austin Sports Arena
Description: All-Star Sports Camp promotes teamwork and sportsmanship through healthy competition via sports and active games. Teaching children basic skills and game rules allows every child the chance to discover new talents and push themselves to refine their natural abilities. Above all, we want to ensure that every kid has fun exploring a variety of sports while making friends and memories along the way! Full-day campers enjoy lunch Monday-Friday. Mornings are 8:30-Noon while afternoons are 1:00-4:30. Sibling discounts available.  Ages 5-14.
Cost: $279 for full day, $179 for half day, mornings or afternoons
Dates: June 8 – Aug 21, 2015
www.austinsportsarena.com
512-251-7500
Stop Motion Animation Film Making Camp
Description: The Theater Place Plus is offering it's super popular stop motion animation camp in Round Rock this year. A perfect blend of education, technology and creativity. Students spend 4 days learning stop motion animation from start to finish. Students create a story board, design sets, build characters, learn the program, shoot, voice and edit their very own stop motion animation shorts. Space is very limited for hands on attention. Kids and teens ages 8 to 15 alike love this camp!!
Cost: $245 for Monday-Thursday 9:00am-3:00pm each day
Dates: June 15-June 18, 2015
Locations: Round Rock Church of Christ
Phone Number: (512)971-8050
Email: [email protected]
www.theaterplaceplus.com 
K9 Summer Camps at Austin Dog Alliance
Description: Camps take place inside our air conditioned training center and outside under the shade trees on our 7 acre property. In addition to learning all about dogs and dog training, camp activities also include nature walks, water games, crafts, and interacting with our pet therapy dogs. One camp includes field trips to a vet's office and dog rehabilitation center. Another camp teaches fun dog activities like agility, lure coursing, and tricks. In our most popular camp, campers bring their own dog from home to join in the fun. (If you don't have a dog, you can use one of ours!)
Cost:Ranges $175 – $425
Dates:All About Puppies Ages 5 – 6; 6/15 – 6/18 only, half day
All About Dogs Ages 7 – 9; Five different half day
Field Trip Camp Ages 11 – 15; 7/20 – 7/24 only, all day
Bring Your Dog to Camp ages 9 – 15; Four different all day camps; Eight half day
Locations: Austin Dog Alliance, 1321 W. New Hope Drive, Cedar Park 78613
Phone Number:512-335-7100
http://austindogalliance.org 
TechShop Design and Build: Innovation Summer Camp
Description: Design and Build: Innovation Camp introduces young innovators to software and provides a chance to bring creations to life using TechShop's laser cutters, vinyl cutter and 3D printers! Designers will start off learning about design programs for use with CNC machines before bringing projects to our laser cutters, vinyl cutter and 3D printers. Campers will also customize their own camp shirts. Students who take and successfully pass this course will be certified to use the laser cutters, vinyl cutter and the 3D printers at TechShop. This TechShop week-long summer camp is for kids ages 8-17, Monday through Friday from 9:30AM – 3:30PM. All campers must bring a sack lunch.
Cost:$600
Dates: June 8 – June 12
June 22 – June 26
July 13 – July 17
August 3 – August 7
Locations: TechShop Round Rock
http://bit.ly/STEAMCamps2015
TechShop Design and Build: Arduino Summer Camp
Description: Design & Build: Arduino camp introduces campers to the all-powerful Educato board, the TechShop Arduino Uno. During this five-day camp, they will learn how to build, program, and experiment with the Educato. Campers will gain access to TechShop's laser cutters to build an interactive project with their Educato board. Projects include basic soldering techniques and soldering electronic "through-hole" components for electronic printed circuit board assembly (PCBs). The second part of each day will be spent guiding each camper through designing a project to be completed by the end of the week using the skills that they have learned. Their imagination determines the limits of their designs! Students who take and successfully pass this course will be certified to use the laser cutters at TechShop. This TechShop week-long summer camp is for kids ages 12-17, Monday through Friday from 9:30AM – 3:30PM. All campers must bring a sack lunch.
Cost:$700 (Discount until April 30)
Dates:
June 15 – June 19
June 29 – July 3
July 20 – July 24
August 10 – August 14
Locations: TechShop Round Rock
http://bit.ly/STEAMCamps2015

American Robotics Academy
Description: American Robotics Academy aims to excite, inspire and motivate children about the importance of robotics technology. Our hands-on classes offer an introduction to the fundamentals of engineering design, helping children understand "how things work." Held in a friendly, sports-like atmosphere, students work in age-appropriate teams and learn how to design, build and test remote-controlled miniature robots. We use simple, motorized machines – all made from LEGO® bricks! – to demonstrate mechanical movements and other effects.
Cost:Full day (9:00 – 4:00) $300.00,
Half day (9:00 – 12:00) $175.00
Dates:From June 8 to August 7
Locations: Good News Methodist Church (Cedar Park), Live Oaks Unitarian Church (Cedar Park), Hope Presbyterian Church (Austin) and several other Austin Locations. Also in partnership with Round Rock ISD at Westwood High School and Old Town Elementary
Phone Number:512-844-2724
http://www.roboticsAcademy.com
Round Rock Parks & Rec Summer Camps
COACH 'EM UP VOLLEYBALL CAMP
Come join COACH 'EM UP for this camp and learn the fundamentals of underhand serving, passing, and swinging hard! Through quick instruction and tons of fun challenges and lead-up games, every camper will have a positive and meaningful learning experience. Coaches will use teaching tools such as music, visual aids, and demonstrations to place emphasis on simplified and efficient movements. Mon. – Thurs. $80-$95
GIRLS HOOP SKILLS CAMP
Girls Hoop Skills Camp is a great way to improve your basketball skills. Each day we practice the fundamentals of basketball: dribbling, passing, shooting and defense, to enable each girl to improve her skills through knowledge & competition. For girls ages 8 to 12 years. Mon.-Fri. $100
SKATEBOARDING CAMPS
Stairs. Ledge. Bowl. Hip. Quarter Pipe. Come out and sign up for the beginning or intermediate clinics. Classes are geared for ages 5-12. Beginners will learn the Hip and Quarter Pipe while the intermediate classes will focus on The Bowl, Ledge and Stairs. Tues. – Thurs. $45-$60
SAND VOLLEYBALL CAMPS
Come out to Old Settlers Park and be trained with an USA Volleyball Certified Instructor! Students will learn the basic sand volleyball fundamentals, game strategy, and they will also have the opportunity to play in sand volleyball tournaments (price not included, optional). We encourage all abilities to come out and try this new and exciting camp! Tuesday & Thursday. $200
DUO QUEST CAMP
Allow your camper to experience two summer camps in one at the Duo Quest Camp! Part one of the camp day will fire up your camper's mind and body, by allowing them to take part in an instructional class. The second part of the camp day will be filled with arts and crafts, sports, group games, field trips, swimming and lots of fun. Ages: 5-12. Mon. – Fri. $150
Creative Action – Lights, Camera, Action!
Creative Action Movie Magic: Lights, camera, action! From storyboards to special effects, go behind the scenes and work together to create and star in your own film! Ages: 6-10. Monday – Friday. $200
Penfold Players Theatre Camp
Come learn what it takes to produce a short play in one week! Students will learn acting and technical theatre skills and vocabulary. They will create costumes, sets, props and learn fun warm-up exercises to get their voices, minds and bodies ready for performing. A performance on the last day of camp will be open to family and friends. Ages 6-13. Monday – Friday. $145
For more Round Rock Parks & Rec Summer Camps: http://www.roundrocktexas.gov/departments/parks-and-recreation/recreation/summer-camps/
Round Rock Parks & Rec Summer Day Camp: http://www.roundrocktexas.gov/main/wp-content/uploads/2015/02/Summer-Camp-2015-Flier4.pdf
Round Rock Parks & Rec Summer Sports Camp: http://www.roundrocktexas.gov/main/wp-content/uploads/2015/02/Summer-Sport-Camp-2015-Flier1.pdf
Lonestar Dance Center Summer Camp: Tutus & Tiaras
Tutus and Tiaras Camp is a joyful, imaginative and active way for your dancers to spend their summer. We will explore the basics of musical theatre and ballet, have story time, music time, and do many arts and crafts. Each day we will be visited by a different princess and have a photo and autograph session with them! We will make scrapbooks for memories of this awesome week, and Friday we have a performance for family and friends at 12:00pm!
July 6-10 and August 3-7 for ages 3-6
Half day camp 9:30am-12:30pm
$160
Lonestar Dance Center
2606 FM 1825 Ste 119
Pflugerville, TX 78660
512-670-0301
www.lonestardance.com
Lonestar Dance Center Summer Camp: Glam Jam
Glam Jam is for the dancer who is fabulous! Join us on a first-class exploration of everything it is to "be a pop star princess!" Each day we will dress up, do our hair, nails and make up and jam out to popular songs from today's pop-music scene. It will be a memorable week full of new experiences, music videos, and fun. Every day we will create a new music video that will be captured on DVD to keep for years to come!
July 27-31 for ages 6-11
Full day camp 9:00am-4:00pm
$240
Lonestar Dance Center
2606 FM 1825 Ste 119
Pflugerville, TX 78660
512-670-0301
www.lonestardance.com
Lonestar Dance Center Summer Camp: Musical Theatre Magic
This camp explores the full range of experiences gained from putting on a musical production. Students will be exposed to set building, dancing, acting, singing, and more. Campers will perform a FULL PLAY on camera composed by our staff. This year we will be performing an adaptation of Cinderella! On Friday we will conclude with a red carpet event with the actors of the movie and have our movie musical debut in front of family and friends at 4pm. Each actor will leave with a memento of their experience in the form a DVD of the completed project.
August 3-7 for ages 6-11
Full day camp 9:00am-4:00pm
$240
Lonestar Dance Center
2606 FM 1825 Ste 119
Pflugerville, TX 78660
512-670-0301
www.lonestardance.com
My Party Palace Summer Camps: Pretty Princess Camp
This year camp will include creating your own princess costume (skirt, shirt, shoes, tiara, wand), crafts, princess manners and etiquette, princess stories, princess games, how to walk and curtsy like a princess, learning a dance and more!! On the last day of camp, parents will be invited for the last hour to watch the princess fashion show. Then you will join your princess refreshments and visit from a royal princess! Cost includes camp activities, a daily snack and drink, and the last day reception. Space will be limited to 12 girls(ages 4-6)
June 15-19 (9:30-1:00pm)
$225 plus tax per camper
My Party Palace 208 West Bagdad Ave. #2 Round Rock, TX 78664
512-964-1012
www.MyPartyPalace.com
My Party Palace Summer Camps: T.G.I.F ( Thank God I'm Fabulous) Diva Camp
TGIF Diva Camp is just what your Diva needs to know that she is beautifully and wonderfully made! Your Diva will be able to find her Diva style while learning how to build true friendships that will last a lifetime. Topics of discussion will be self-esteem, nutrition and hygiene, manners and etiquette and the value of a good friend with team building activities and community service projects! Diva's will also learn a dance and creating a diva-licious costume. The week will end with a TGIF Diva Fashion show and refreshments. Space will be limited to 12 girls ( ages 7-10)
July 13-17 (9:30-1:00)
$225 plus tax per camper
My Party Palace 208 West Bagdad Ave. #2 Round Rock, TX 78664
512-964-1012
www.MyPartyPalace.com
Paul Cates Stable Summer Camps
Our campers spend the day in a variety of activities focused on learning the basics of horseback riding & caring for the horses. Campers will have two horseback lessons daily while learning basic "hands-on" equine grooming, tacking, terminology, feeding and care along with stable safety.  Campers love the time they get to spend with the horses and also the friendships they develop with the other camper.
Weekday camps from June 8th – July 24th
512-565-3886
www.paulcatesstable.com
Challenger Sports British Soccer Camps
Challenger Sports' British Soccer Camp is the most popular soccer camp in the country based upon one of the most innovative approaches to coaching youth soccer in the US and Canada. Our experienced staff study the game at all levels and we have identified the key techniques and skills that your players need to work on and master to reach their true potential. With programs for each age, the curriculums includes a variety of foot skills, technical drills, tactical practices, freestyle soccer, small-sided games, coached scrimmages, and a mini tournament play.
June 8th – 12th, July 20th – 24th, Aug 10th – 14th at San Gabriel Fields
July 3rd – 7th at Old Settlers Park
June 8th – 12th, July 20th – 24th, Aug 17th – 21st at SoccerZone Lakeline
July 27th – 31st at Town & Country Fields
other locations across Austin
Challenger website 
Lone Star Passing Academy
This is the 6th Annual football camp for all Quarterbacks, Wide Receivers, Tight Ends & Defensive Backs interested in advanced training in the fundamentals of each position along with video study. Anyone in grades 4 through 12 is eligible to attend. Camp is from 5:30pm – 8:30pm at Round Rock Cedar Ridge HS. Group discounts available. Register now. Camp space is limited!!
June 23 – June 25, 2015
Round Rock Cedar Ridge High School
512-464-4031
www.lsfootballacademy.com
Safari Champ Summer Camp 
Weekly full time or part time day camp for ages 3 and up. Full time 8 am – 5:30 pm or Part time 8 am – 12 pm or 1 pm to 5 pm. Arts and Crafts, Face Painting, Fun Group Games, Austin Reptile Show, Wild Things Zoofari and much, much more! 
June 8th – August 21st
Camp Rate: $335- 400
512-828-0000
http://safarichamp.com
If you are interested in listing a camp in our 2015 Summer Camp Guide, please contact us! Email [email protected]
Disclosure: This is a sponsored post.