Bass Pro Shops Outdoor World Evening for Conservation | June 10, 2015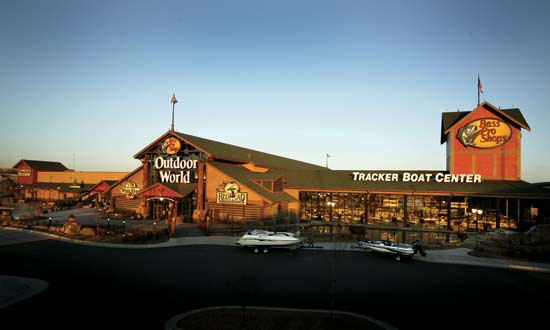 The grand opening of the Bass Pro Shops Outdoor World kicks off Wednesday, June 10, 2015 at 6 p.m.  The event features an all-star cast of celebrities from the world of sports, entertainment and the great outdoors who will join together to help Bass Pro Shops celebrate a spectacular Evening for Conservation.  The grand opening event will continue through Sunday, June 14 with vendor exhibits and giveaways.  The event is free and open to the public.
Celebrities scheduled to appear and sign autographs June 10 from approximately 6:30 p.m. to 8:30 p.m. include:
Turtleman (Ernie Brown, Jr.), host of "Call of the Wildman" television show.
Jay Novacek, former tight end for the Dallas Cowboys 1990-1996; five-time Pro Bowler.
Tony Stewart, driver of Stewart-Haas Racing's 2015 No. 14 Bass Pro Shops/Tracker Boats Chevrolet SS.
Doug Koenig, competitive-shooter; named World's Best All Around Shooter.
Brenda Valentine, First Lady of Hunting and RedHead Pro Hunting team member.
Luke Snyder, former PBR World Finals champion and 2012 PBR Last Cowboy Standing champion.
Rick Clunn, four-time Bassmaster Classic Champion and Bass Pro Shops/NITRO team member.
Edwin Evers, eight-time Bassmaster Elite Series winner and 13-time Bassmaster Classic qualifier.
Ylianna Guerra, 2015 Miss Texas USA.
Jimmy Houston, host of "Jimmy Houston Outdoors" television show, will serve as the event emcee.
Exciting displays throughout the opening include the Stewart-Haas Racing team's No. 14 NASCAR Sprint Cup Series Bass Pro Shops/TRACKER Boats Chevrolet SS, and the RCR team's No. 3 NASCAR Xfinity Series Bass Pro Shops/TRACKER Boats Chevrolet Camaro.
In addition, visitors to Bass Pro Shops Round Rock store on Wednesday, June 10, will be able to get their name on a can of Coke, Diet Coke, or Coke Zero at the Coca-Cola "Share-a-Coke" booth.
Located at 200 Bass Pro Drive in Round Rock, the new 120,000-square-foot Bass Pro Shops Outdoor World will also feature the popular Uncle Buck's Fishbowl and Grill restaurant.  This 20,000-square-foot, one-of-a-kind concept features a unique atmosphere and designed geared for family fun and dining.
The store will officially open its doors for a preview celebration during the fundraising event and ribbon-cutting ceremony Wednesday, June 10 from 6:30 p.m. to 10 p.m.
For every dollar spent during the Evening for Conservation, 50 cents will be donated to the Texas Parks and Wildlife Foundation and America's Wildlife Museum and Aquarium.
Local conservation groups and agencies on hand Wednesday evening will include the National Wildlife Refuge System, Ducks Unlimited, National Rifle Association, The Congressional Sportsmen's Foundation, Rocky Mountain Elk Foundation, International Game Fish Association, the U.S. Army Corps of Engineers, and the Lone Star Chapter of the Mule Deer Foundation.
Bass Pro Shops, named as one of the "Top 10 Hottest Brands in America" by Advertising Age magazine, will continue to celebrate its 73rd store's grand opening Thursday, June 11 through Sunday, June 14. The store will open at 8 a.m. Thursday and at 9 a.m. (normal opening hours) Friday, Saturday, and Sunday.
The celebration includes special exhibits, storewide savings on a huge assortment of products, and fantastic giveaways.  Experts on fishing, hunting, boating and more will be available to talk with customers.  Factory representatives from the industry's top manufacturers will be on hand to answer new product questions.
Co-host for the Outdoor Channel® television shows "Bucks of Tecomate" and "Tecomate Whitetail Nation," Jordan Shipley, will be available Thursday, June 11 for a meet and greet from 6 p.m. to 8 p.m.  Shipley is sponsored by Rocky®.
Thursday, June 11 – First 200 customers 18 years of age or older will receive a Bass Pro Shops gift card ranging in value from $5 to $100 in a logo tin.
Friday, June 12 – First 200 customers will receive a Columbia® white cap.
Saturday, June 13 – First 200 customers will receive a set of Cotton Cordel lures.
Sunday, June 14 – First 200 customers will receive a Bass Pro Shops Tervis Tumbler®.
Other exciting displays include Toyota's interactive display and Maui Jim's "Jimmy Jr." where event attendees can experience a personal sunglass fitting.  Both displays are open Saturday and Sunday, June 13 and 14.  Visitors can also register to win a GOPRO® Hero4 Silver camera with a retail value of $399 to be given away after the event.
The store offers the area's largest selection of quality gear for fishing, hunting, camping, boating and marine.  Bass Pro Shops also offers equipment for hiking, backpacking, outdoor cooking and more.  Shoppers will find outdoor apparel for men, women and children along with a selection of outdoor, casual and athletic footwear.  A gift and nature center includes a wide variety of outdoor-related items from lamps and dishes to bird feeders and furniture.
Known for providing a fun outdoor experience indoors, a typical Bass Pro Shops retail store features more than 3,500 antiques and artifacts, up to 400 trophy fish and wildlife mounts, and many murals depicting local scenes.
Free Bass Pro Shops outdoor skills workshops will be offered throughout the year on a regular basis and will include topics such as outdoor cooking, nature photography, fly fishing, camping, archery and more.  Bass Pro Shops is widely recognized for their efforts in conservation and outdoor education.
Bass Pro Shops will host more than 120 million people visiting their 92 stores and Tracker Marine Centers across America and Canada this year.  The average customer stays 2 ½ hours and drives an average distance of 50 plus miles.