Bass Pro Shops Grand Opening Weekend | June 11-14, 2015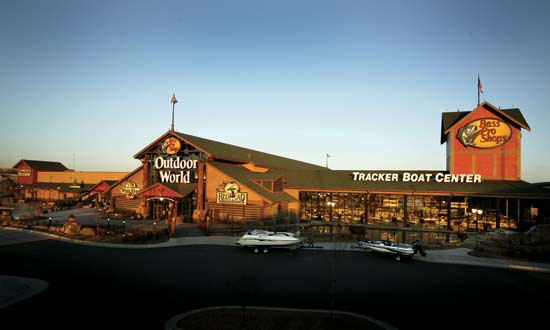 Bass Pro Shops Outdoor World opens it's doors in Round Rock with fun giveaways and festivities starting Thursday, June 11 through Sunday, June 14, 2015.
Bass Pro Shops, named as one of the "Top 10 Hottest Brands in America" by Advertising Age magazine, will continue to celebrate its 73rd store's grand opening Thursday, June 11 through Sunday, June 14. The store will open at 8 a.m. Thursday and at 9 a.m. (normal opening hours) Friday, Saturday, and Sunday.
The celebration includes special exhibits, storewide savings on a huge assortment of products, and fantastic giveaways.  Experts on fishing, hunting, boating and more will be available to talk with customers.  Factory representatives from the industry's top manufacturers will be on hand to answer new product questions.
Co-host for the Outdoor Channel® television shows "Bucks of Tecomate" and "Tecomate Whitetail Nation," Jordan Shipley, will be available Thursday, June 11 for a meet and greet from 6 p.m. to 8 p.m.  Shipley is sponsored by Rocky®.
Thursday, June 11 – First 200 customers 18 years of age or older will receive a Bass Pro Shops gift card ranging in value from $5 to $100 in a logo tin.
Friday, June 12 – First 200 customers will receive a Columbia® white cap.
Saturday, June 13 – First 200 customers will receive a set of Cotton Cordel lures.
Sunday, June 14 – First 200 customers will receive a Bass Pro Shops Tervis Tumbler®.
Other exciting displays include Toyota's interactive display and Maui Jim's "Jimmy Jr." where event attendees can experience a personal sunglass fitting.  Both displays are open Saturday and Sunday, June 13 and 14.  Visitors can also register to win a GOPRO® Hero4 Silver camera with a retail value of $399 to be given away after the event.
The store offers the area's largest selection of quality gear for fishing, hunting, camping, boating and marine.  Bass Pro Shops also offers equipment for hiking, backpacking, outdoor cooking and more.  Shoppers will find outdoor apparel for men, women and children along with a selection of outdoor, casual and athletic footwear.  A gift and nature center includes a wide variety of outdoor-related items from lamps and dishes to bird feeders and furniture.
Known for providing a fun outdoor experience indoors, a typical Bass Pro Shops retail store features more than 3,500 antiques and artifacts, up to 400 trophy fish and wildlife mounts, and many murals depicting local scenes.
Free Bass Pro Shops outdoor skills workshops will be offered throughout the year on a regular basis and will include topics such as outdoor cooking, nature photography, fly fishing, camping, archery and more.  Bass Pro Shops is widely recognized for their efforts in conservation and outdoor education.
Bass Pro Shops will host more than 120 million people visiting their 92 stores and Tracker Marine Centers across America and Canada this year.  The average customer stays 2 ½ hours and drives an average distance of 50 plus miles.