Discover the Dinosaurs UNLEASHED at the Bell County Expo Center | March 4 & 5, 2017
Learn, discover and have fun in this unique hands-on exhibit when Discover the Dinosaurs UNLEASHED roars into the Bell County Expo Center in Belton, TX on Saturday, March 4, 2017 and Sunday, March 5, 2017. Tickets are on sale now.
Venture back to a time when the dinosaurs roamed the earth at the ALL NEW Discover the Dinosaurs UNLEASHED! Experience up-close encounters with a lifelike Stegosaurus, Velociraptor and the king T-Rex in this thrilling walk-through exhibit. Kids can also meet a baby Apatosaurus, take an exciting spin in the Jurassic Jeeps at the Dino Raceway and visit the Kids Adventure Zone filled with themed bouncy houses,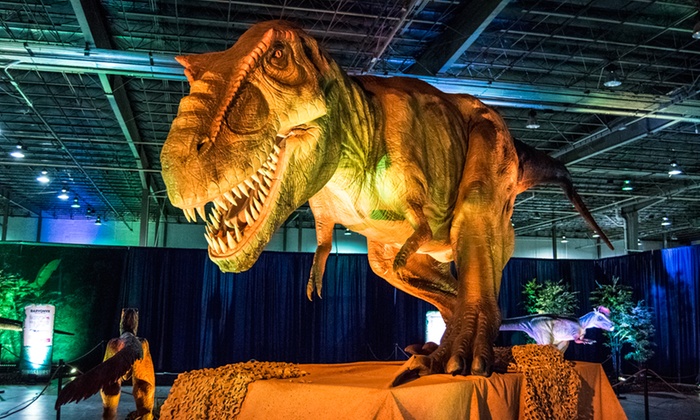 crafts, face painting and more. Parents and kids can test their skills playing an all-new mini golf course, become junior paleontologists while completing the scavenger hunt as they explore the exhibit and dig for fossils in the Valley of the Bones. It's family fun of prehistoric proportions!
What: Discover the Dinosaurs UNLEASHED in Belton!
When: Saturday March 4 10:00 a.m. – 7:00 p.m. & Sunday March 5 10:00 a.m. – 7:00 p.m.
Where: Bell County Expo Center, 301 W. Loop 121, Belton, TX 76513
Tickets: $15 adults, $15 children, $12 seniors. Children under two are free with a paid adult. Child general
admission tickets include the Dinosaur Exhibit and access to attractions (Valley of the Bones, Ride the Dinosaurs, Cretaceous Crafts, Kids Adventure Zone and Scavenger Hunt). T-Rex Tickets (ages 2-12) are available for $48, and include one child general admission ticket, one face paint, one Fossil Find bag, one green screen photo print, a make-and- take T-shirt, one drawstring backpack and one pair of socks for the inflatables.
*For general admission tickets, additional fees apply for face painting, Green Screen Photo Print, make-and- take T-shirt, socks for inflatables, drawstring backpack and Fossil Find bag. These can be purchased at the Souvenir Shop inside the exhibit. Other restrictions and additional fees may apply.
For tickets and more information, please visit www.DiscoverTheDinosaurs.com.