Mellow Mushroom Opens in Round Rock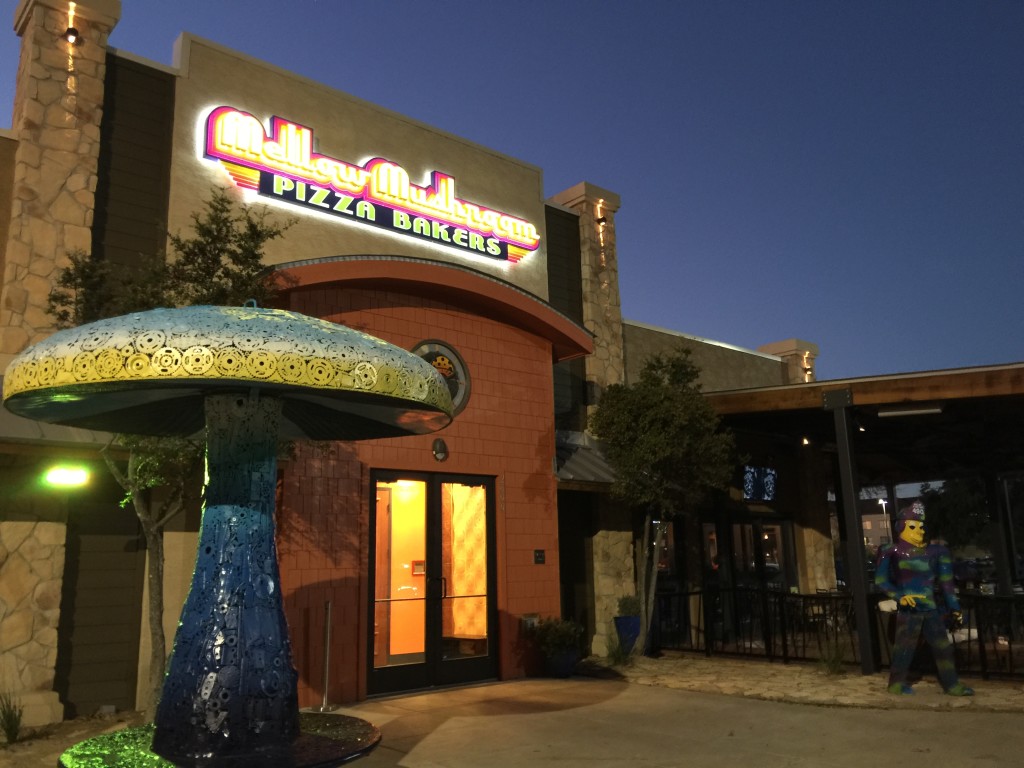 The long awaited pizza joint, Mellow Mushroom, opened quietly in Round Rock this week and we made plans to go as soon as we could.  You see, we have been fans of the restaurant for a few years after we discovered them in Destin, FL.  And there actually was a Mellow Mushroom here in Austin, but it never quite lived up to what we had enjoyed in Florida.  So, we were actually pretty excited to hear one was coming to Round Rock.
Inside Mellow Mushroom
The laid-back, groovy atmosphere of the restaurant makes it a fun addition to Round Rock.  The outside is decorated in giant mushrooms with rotating mood lighting.  The inside is psychedelic and fun.  If you can, try to sit in a corner booth, under a mushroom.  The 'shrooms change colors on you, making everything glow.  And take a peek around the restaurant and check out the mural on the back wall. I love it when restaurants think to add a touch of Round Rock to them.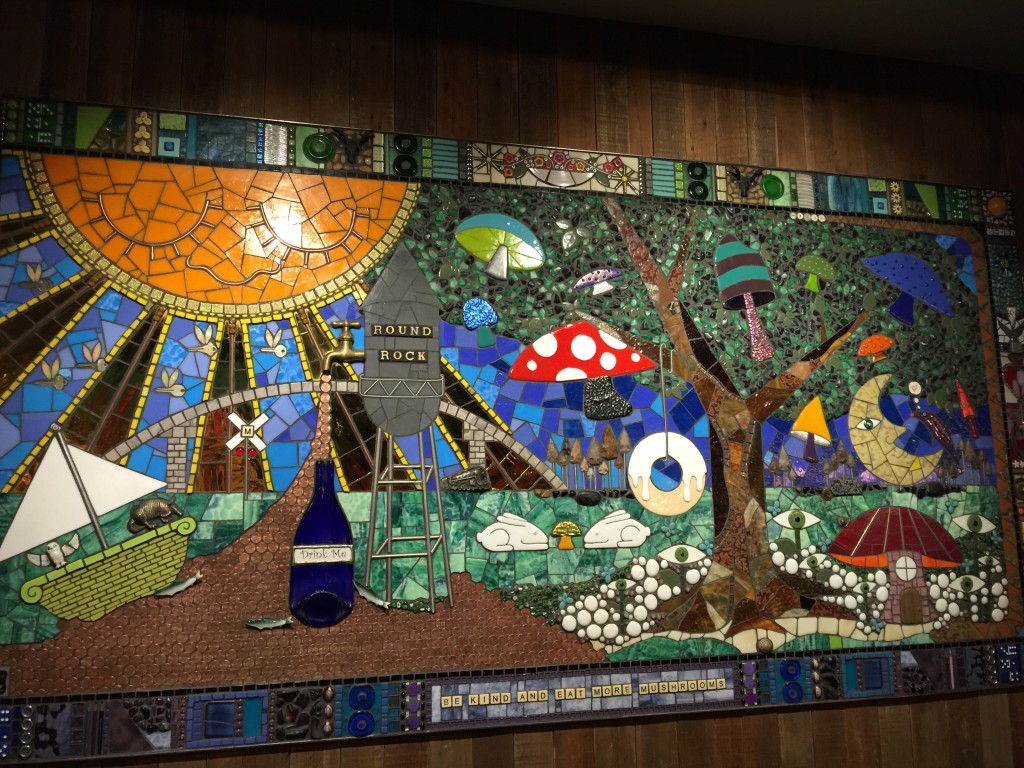 Mellow Mushroom also has a nice-sized bar, outside patio with lots of TVs, and a dedicated area to pick up To Go orders.
On the Mellow Mushroom Menu
Mellow Mushroom has actually be around for over 30 years, starting in Atlanta, GA with a mission to serve "a mouthwatering slice of pie and an ice cold beer." They have crafted a unique & flavorful crust that is doughy and delicious. You can make your own pizzas or enjoy one of their specialty pies. But their menu also has burgers, hoagies, salads, and more.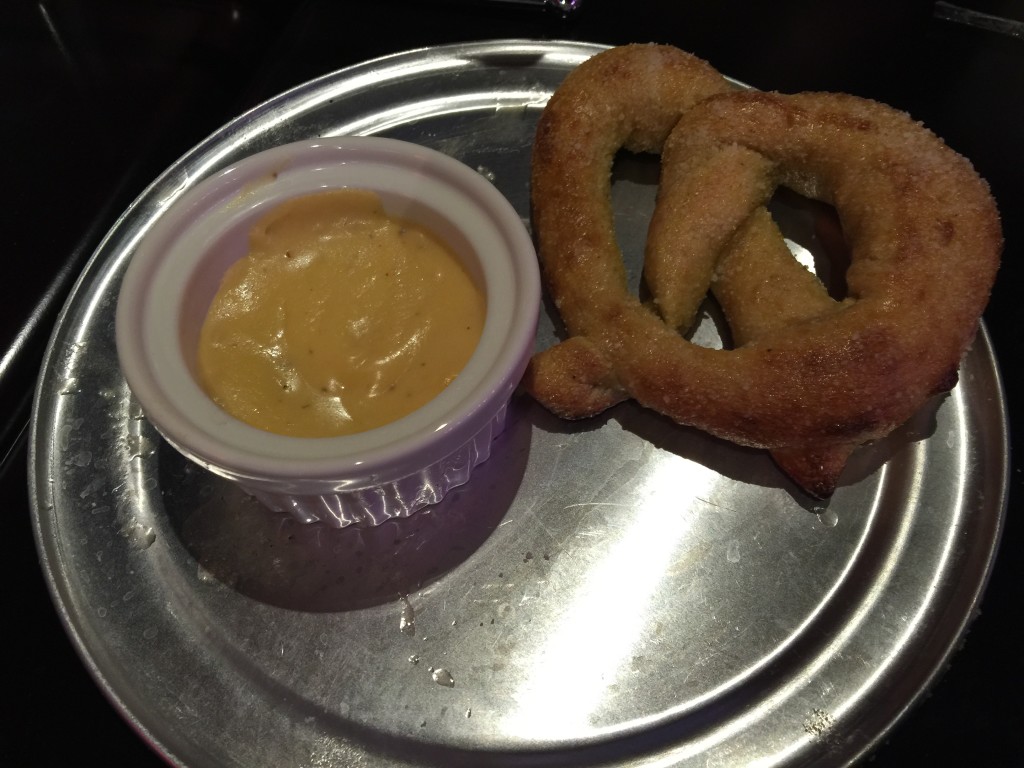 They had a great selection of appetizers to choose from – Bruschetta, Muffuletta Cheese Bread, Spinach Artichoke Dip, and Wings.  But the best appetizer on the menu has to be the pretzels.  Made out of the Mellow Mushroom dough, you must splurge and get the Turbodog Beer Cheese dip to go with them.  And just a friendly heads-up – the pretzels take about 15-20 minutes to bake.  So be patient, they are worth it!
We tried both a specialty pizza and one we made on our own.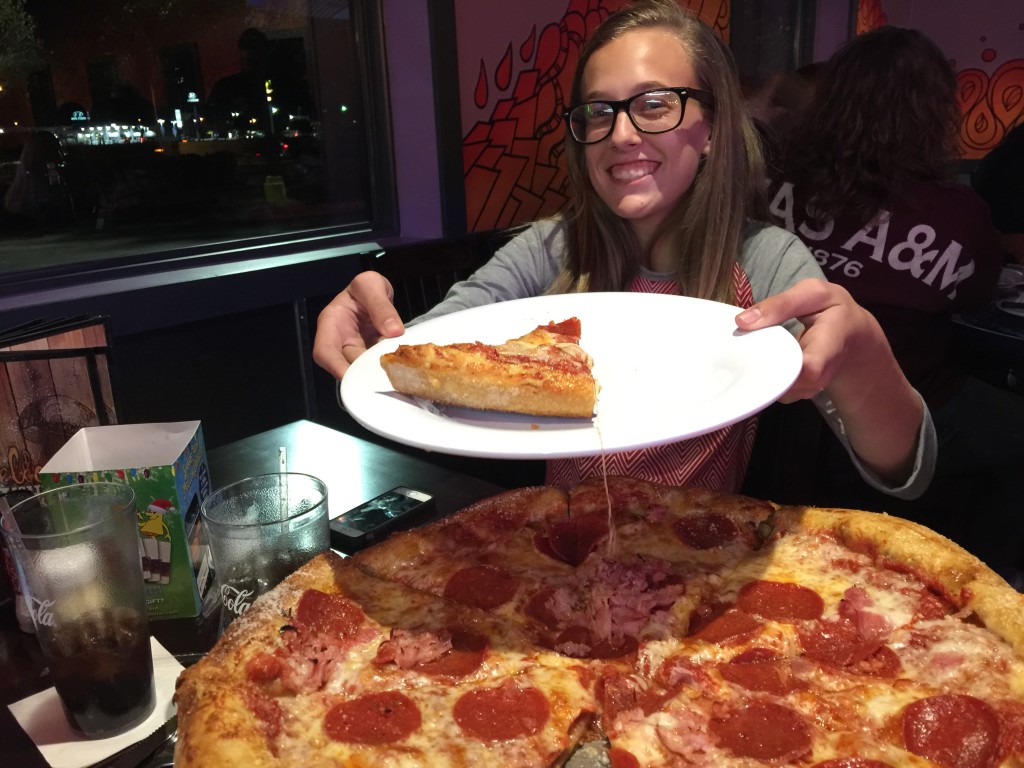 Large Pepperoni & Ham Pizza – This pizza came out hot and loaded with toppings.  My family loved the crust and were filled up easily after 2 slices each.  We still had enough to bring home.  The red sauce is a little on the sweet side and the ham had a slightly smokey taste to it.  My family really enjoyed it.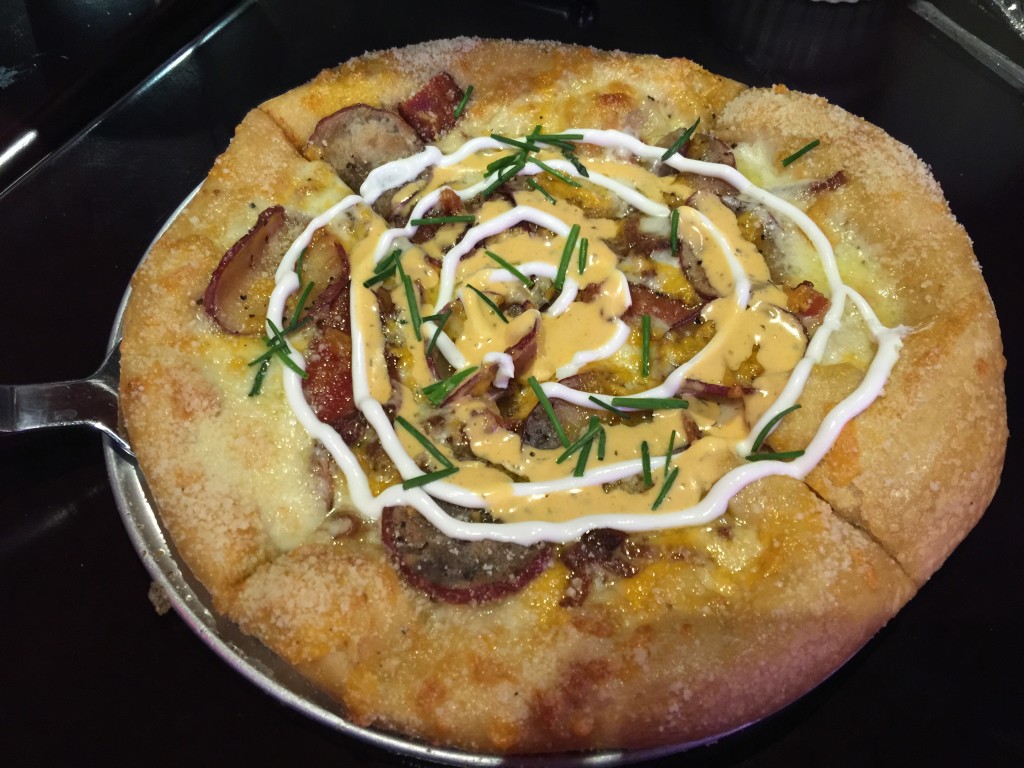 The Red Skin Potato Pie – Olive Oil & garlic base with sliced roasted red potatoes, Applewood smoked bacon, caramelized onions, cheddar & mozzarella cheese. Garnished with chives and then drizzled with sour cream & spicy ranch dressing. This pizza has a ton of flavor.  Since I was the only one in the family to eat it, I chose the smallest 10″ pie and was only able to eat 2 pieces.  Leftovers!
As I mentioned, the menu also offers burgers, hoagies, calzones, and a "Build Your Own Salad" option.  The kid's menu offers french bread pizza, meatballs, mac & cheese, and a pretzel and they come with a drink and your choice of broccoli or apple slices.  And they do offer a whole selection of Gluten-free pizzas as well.
Mellow Mushroom Atmosphere
It's always hard to judge the service of a new restaurant – especially on their 3rd day of business.  However, 2 separate managers working last night came by the table to chat and see how everything was. It wasn't just a cursory "how was dinner?" walk-by. Both managers chatted with my kids, told us a little more about the restaurant and answered any questions we had.  I never mentioned that I would be writing this article –  they were genuinely friendly, as I saw them do this to other tables as well.  I think that is the atmosphere that they might be trying to create for their restaurant – a family-friendly restaurant where you can meet up with your friends, laugh a lot and enjoy great pizza.
I expect it to be busy this weekend as school is out for the Holidays and people are wrapping up their Christmas shopping. So have a little patience, head to the bar for a beer and enjoy the new Mellow Mushroom.
Disclosure: My family & I were invited to try Mellow Mushroom.  I was not paid for this review. All opinions are my own.