New Pizza Place, PS 35, Opens in April in Round Rock
We received the official news today – PS 35, a New York-style pizza restaurant and venue, will open in Round Rock at 1500 Interstate 35 Frontage Rd #35 early this spring!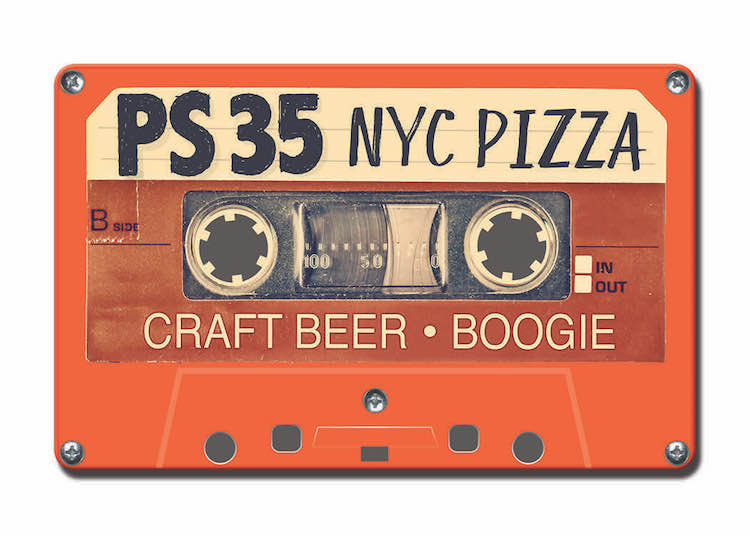 From the press release……
"In New York City, public schools are referred to by a PS number, and since our pies and design are totally a tribute to that city, we took the naming convention and incorporated the 35 from our location off the interstate," said Christian Romero of SMGB.
The 6,000-square-foot space, which seats 170, has been renovated to highlight the industrial style of the 70s era building, featuring nostalgic design elements reminiscent of institutional architecture from that time. Subway tile, cement flooring, blackboards, and a "subway platform" in the central dining area evoke the unmistakable style of iconic New York City public spaces. The restaurant is also looking to bring street artists, muralists, and other creative folks to help create the décor features for the space.
Inside, hand tossed pizza, hot and cold sandwiches on fresh baked bread, a selection of inventive family-style Italian dishes, soft serve gelato, craft beer, and cocktails are served in a lively, family-friendly atmosphere, complete with pinball machines and classic video games. A funky soundtrack of 70s and early 80s tunes, as well as a DJ booth where wax masters will perform on the weekends, are sure to raise the roof and create the ultimate party atmosphere.
Outside, the pizza, beer and boogie spill out into a dog-friendly outdoor pavilion, where live music and yard games will make the 15,000 square feet a community gathering space unique to the area.
The culinary focus will be on fresh, regional and righteous food, sourcing locally and nationally from farmers and specialty purveyors who share SMGB's passion for the highest quality seasonal produce, meats and ingredients. At its core, the menu will execute a fresh approach to classic New York Italian recipes and flavors along with an ever-changing list of inspired specials.
Chef Clint Elmore (formerly of pizza trailer 40 North, named by the Austin American-Statesman as one of the top 10 pizza places in Austin in 2015) has developed classic and creative pizza selections for the PS 35 menu. He studied in Naples and worked at pizza icon Paulie Gee's in Brooklyn before moving to Austin five years ago. To develop the PS 35 menu, Elmore and SMGB partners took off on a pizza-eating tour of New York to gain insight and inspiration for their slices and pies.
"We're thrilled to have Chef Elmore at the helm in the kitchen of PS 35," says Larry Perdido of SMGB. "He is an incredibly talented chef and he has crafted some awesome dishes and signature pizzas that we can't wait to share with Round Rock. We're really looking forward to inviting guests to come experience the food, music and fun at PS 35."
SMGB Hospitality Co. is overseeing PS 35 from conception to completion and will also manage day-to-day operations. SMGB is a newly formed full-service concept development, branding, marketing, and operations firm focused on the creation of forward-thinking culinary concepts in inspiring spaces that offer exceptional hospitality hosted by collegial and collaborative teams.
Hospitality industry veterans Benneth Cachila, Larry Perdido, Christian Romero, and Kip Lewis founded SMGB, while Tony Pollock and Dhal Smith will be serving as directing operations partners. The team resume includes successes like Uchi Restaurants (Austin, Houston, Dallas), Hopdoddy Burger Bar (Texas, California, Arizona, Colorado), Top Knot (Dallas), Root & Bone (NYC), Sarsaparilla Club (Miami Beach), Moonshine Grill (Austin), Whole Foods Market, The Jamaica Tourism Board, and The Miami HEAT.
SMGB opened their first concept, Old Thousand, in December 2016 in East Austin to rave reviews.
A full food and drink menu, hours, and an opening date announcement will be available in the upcoming weeks. For a sneak peek of PS 35, follow them on Facebook, Twitter, and Instagram under @PS35pizza and on their website www.ps35pizza.com.