PetSuites Great Oaks is Turning 1 (or is it 7?!)
PetSuites Great Oaks is celebrating a HUGE birthday, they are turning 1 (or is that 7 in dog years?!) this May! To celebrate they are having a big birthday bash for pets and their pet parents on May 7th, from 2-5pm in their parking lot. They will have snow cones from Kona Ice, a pet caricature artist from Silly Artist, treats, swag, raffles, vendors (including Pawstin Barkery, Frey Collars, Mary Kay Representative Tabatha Garza, & Lara's Mermaid pearls) and much more!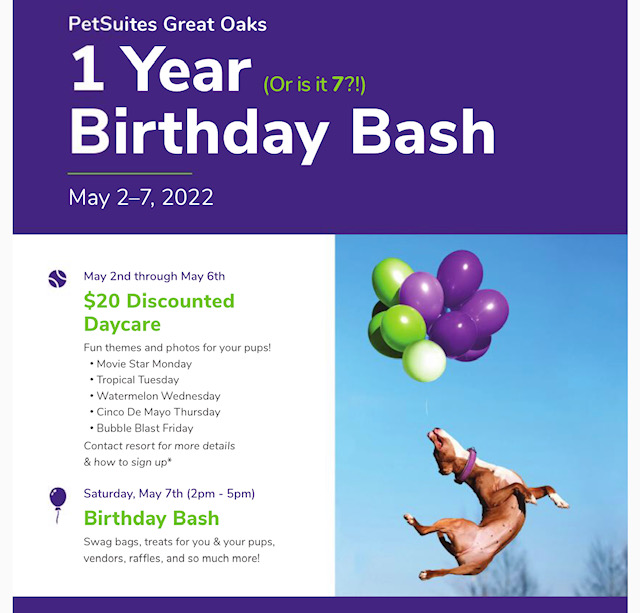 Since they can't contain their birthday excitement until their party, PetSuites is having themed Daycare Days leading up to the big event AND $20 Daily Daycare Discounts.
Themed Days are Movie Star Monday, Tropical Tuesday, Watermelon Wednesday, Cinco De Mayo Thursday and Bubble Blast Friday.
We recently had the privilege to meet with the PetSuites Crew and take a behind the scenes tour of PetSuites Great Oaks. General Manager, Lisa Simons, and Resort Manager, Lindsey Roberts, are all smiles when describing their dog families. They beam with pride over their extremely clean and well-designed facility.
PetSuites Great Oaks provides Daycare, Boarding, Training, Grooming and Veterinary Care (Great Oaks Animal Hospital is steps away across the parking lot. How perfect is that!) They even have Preschool and Kindergarten Manners Classes. Safety and fun go "paw in paw" at PetSuites, with protocols in constant use to ensure your "baby" is having the best day possible until you return.
The location has a neighborhood charm, where the dogs and dog parents are treated like family. Everything seems so lovingly thought out, for example the "townhome" second floor Daycare suites come with their own bed, TV and window (with ample squirrel watching.) And rest assured that there is a step-by-step process for doggy playtime, to make certain that every pup is as happy and stress-free as can be.
The PetSuites Crew truly loves what they do and it shows. They adore the ample outdoor time with their dogs and know each personality type as if they were their own pet. GM Lisa's motto is making sure that every pup is "happy and healthy." And, with the amazing care and incredible love that they heap upon their guests, why wouldn't the dogs be!
PetSuites Great Oaks is located at 15940 Great Oaks Drive in Round Rock, 78681. For more information on all of their services Call 737-263-5787 or go to greatoaks.petsuitesofamerica.com.
See you at their 1st Birthday Bash on May 7th from 2-5pm! All pups and pup parents' welcome!