Round Rock Diwali Festival
---
The festival of Diwali is a 'celebration of light' and all that it encompasses. This includes the triumph of good over evil, knowledge over ignorance, and strength over fear. This holiday has spread across the land.
We, at Round Rock Diwali Festival, bring you the magic of this celebration as a fun fest for all families in the community.
Saturday, October 22, 2022 from 3 PM to 10 PM
Bring out your friends to enjoy beautiful street lights, savory food, music, cultural dance, beautiful Rangoli (Sand Art) and a fashion show! Kids can learn various arts and crafts while others can partake in free Bollywood dance lessons. In such a vibrant atmosphere, local vendors will display colorful arts and crafts, Indian clothing, jewelry and artists will offer Henna temporary tattoos.
At: Centennial Plaza, Round Rock, Tx
301 W. Bagdad Ave, Round Rock, TX 78664
Free entry, free parking and open to all.
Find out more at www.rrdiwalifest.com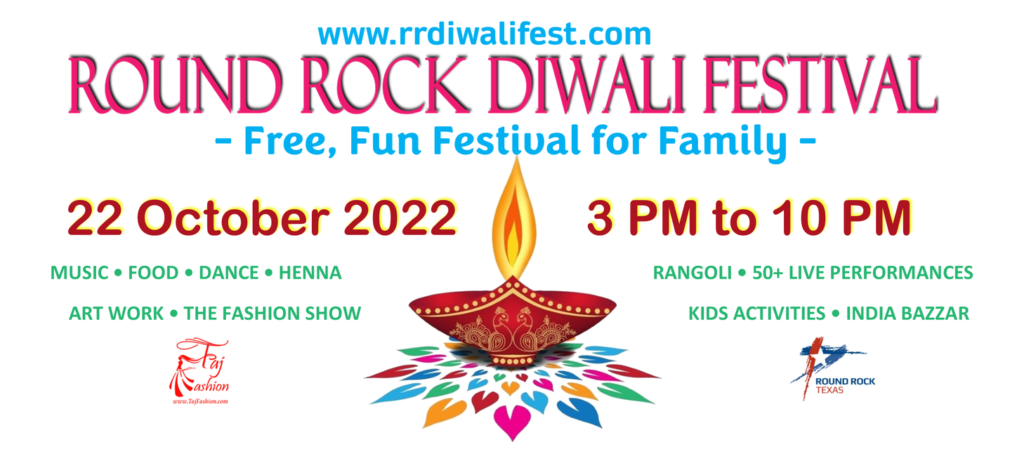 Copy and image courtesy of the Round Rock Diwali Festival