Round Rock ISD's Pre-K Rodeo Registration Events | July 17 & 18, 2018
Do you know a 4-year-old who might be eligible for Pre-K for the 2018-2019 school year? Pre-K Rodeo is being held on Tuesday, July 17, 2018 at at Elsa England Elementary and on Wednesday, July 18, 2018 at Teravista Elementary from  from 9:oo am – 7:00 pm. Check website for eligibility.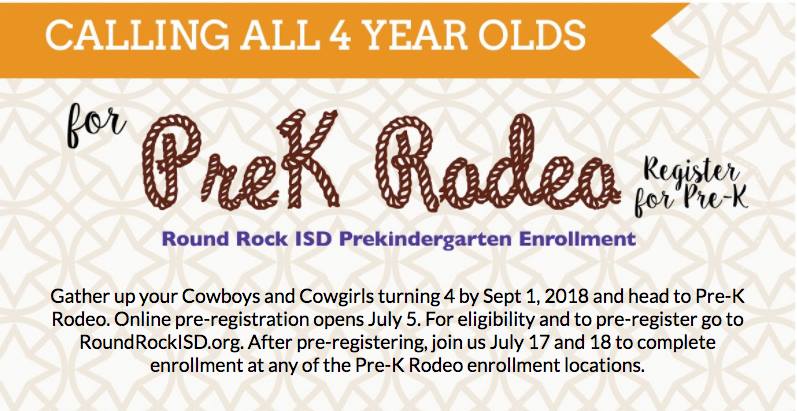 Online pre-registration opens July 5. For eligibility and to pre-register go to RoundRockISD.org. After pre-registering, join us at either PreK Rodeo location.
Round Rock ISD offers a half-day prekindergarten program for children who are four years old on or before September 1, live in the district, and meet at least one of the following criteria:
PreK Requirements:
• is limited in the ability to speak and/or comprehend the English language; or
• is eligible for free or reduced lunch based on the family's income; or
• is homeless, as defined by 42 U.S.C. Section 1143a ; or
• is the child of an active duty member of the armed forces of the United States, including the state military forces or a reserve component of the armed forces, who is ordered to active duty by proper authority; or
• is the child of a member of the armed forces of the United States, including the state military forces or a reserve component of the armed forces, who was injured or killed while serving on active duty; or
• is or has been in the conservatorship of the Department of Family and Protective Services following an adversary hearing held as provided by Section 262.201, Family Code.
• is the child of a person eligible for the Star of Texas Award as:
a peace officer under Section 3106.002, Government Code;
a firefighter under Section 3106.003, Government Code; or an emergency medical first responder under Section 3106.004, Government Code.
Be Prepared:
• Proof of residence within the district (contract on house, lease agreement, actual title to house, current utility bill, or current Round Rock ISD tax statement)
• Child's official birth certificate
• Child's immunization record (see roundrockisd.org/health for a list of required vaccines)
• Child's social security card (preferred, but will not prevent enrollment)
• Proof of income (two most recent pay stubs)
More info at:
roundrockisd.org/PreK-Rodeo