Round the Rock Shopping Passport
In case you haven't heard, we started a magazine!! Yes! Round the Rock is available in PRINT. Starting with the summer issue, we will now be offering a quarterly print publication that is filled with EVEN MORE great reasons to LOVE our city!
Learn more about why we decided to publish a print magazine and read it here.
Shopping Passport: What is it?
Our original magazine was set to publish the first week of April, but due to the pandemic, we decided to delay the first issue. And the timing couldn't have been better for small businesses in Round Rock.
Right now, locally owned businesses are hurting. They are suffering from a loss of business and many are struggling to stay open. We have created the Round the Rock Shopping Passport as a way to help!
We wanted to create a fun activity for everyone to learn all about the small businesses in Round Rock. So the idea of a "passport" was born. Simply put, visit the shop, restaurant or business on the passport, make a purchase, and get a stamp!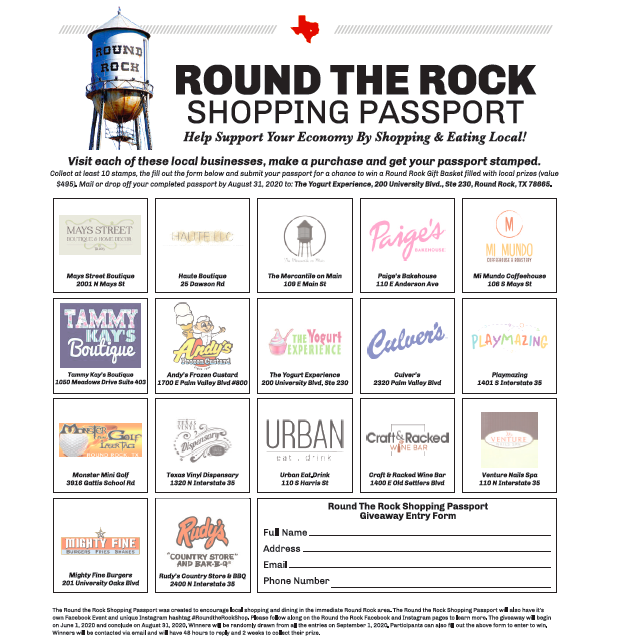 Shopping Passport: How Do I Win?
Once you reach 10 stamps, fill out the form and mail it in to the address provided for your change to win a Round Rock gift basket filled with prizes and gift cards to places all over Round Rock! We will have a First, Second and Third tier of prizes!
And if we get a lot participating, we may give EVERYONE a prize!
But honestly, it's more than just winning a prize, it's about helping community – our community – who needs the support of our loving community!
Shopping Passport: Who is Participating?
The following businesses are participating in the Shopping Passport and have contributed a prize:
Mays Street Boutique
2001 N Mays St
https://maysstreet.com
Haute Boutique
25 Dawson Rd
https://www.hautellc.com
The Mercantile on Main
109 E Main St
https://www.hautellc.com
The Yogurt Experience
200 University Blvd. Ste 230
http://yogurtexperience.com
Culver's
2320 Palm Valley Blvd
https://www.culvers.com/restaurants/round-rock-tx-palm-valley-blvd
Paige's Bakehouse
110 E Anderson Ave
http://www.paigesbakehouse.com
Mi Mundo Coffeehouse & Roastery
106 S Mays St
https://www.mimundocoffee.com
Mighty Fine Burgers
201 University Oaks Blvd
https://mightyfineburgers.com
Rudy's Country Store & Bar-B-Q
2400 N Interstate 35
https://rudysbbq.com
Tammy Kay's Boutique
1050 Meadows Drive Ste 403
https://tammykaysboutique.com
Andy's Frozen Custard
1700 E Palm Valley Blvd #800
https://locations.eatandys.com/ll/US/TX/Round-Rock/1700-E-Palm-Valley-Blvd
Playmazing
1401 S Interstate 35
https://www.playmazing.fun
Monster Mini Golf & Laser Tag
3916 Gattis School Road
https://www.facebook.com/MonsterMiniGolfRoundRock/
Texas Vinyl Dispensary
1320 N Interstate 35
http://texasvinyldispensary.com
URBAN eat.drink
110 S Harris St
https://www.urbaneatdrink.com
Craft & Racked Wine Bar
1400 E Old Settlers Blvd
http://www.craftandracked.com
Venture Nails Spa
110 N Interstate 35