RRISD Future Readiness Parent Seminar: Career Exploration | November 7, 2018
Round Rock ISD is hosting a Future Readiness Parent Seminar entitled "What Does Your Future Look Like:  Career Exploration" for parents with their 8th – 12th graders on Wednesday, November 7, 2018 from 6:00 pm – 8:00 pm at the RRISD Tool Box at Round Rock High School at 700 N. Lake Creek Drive.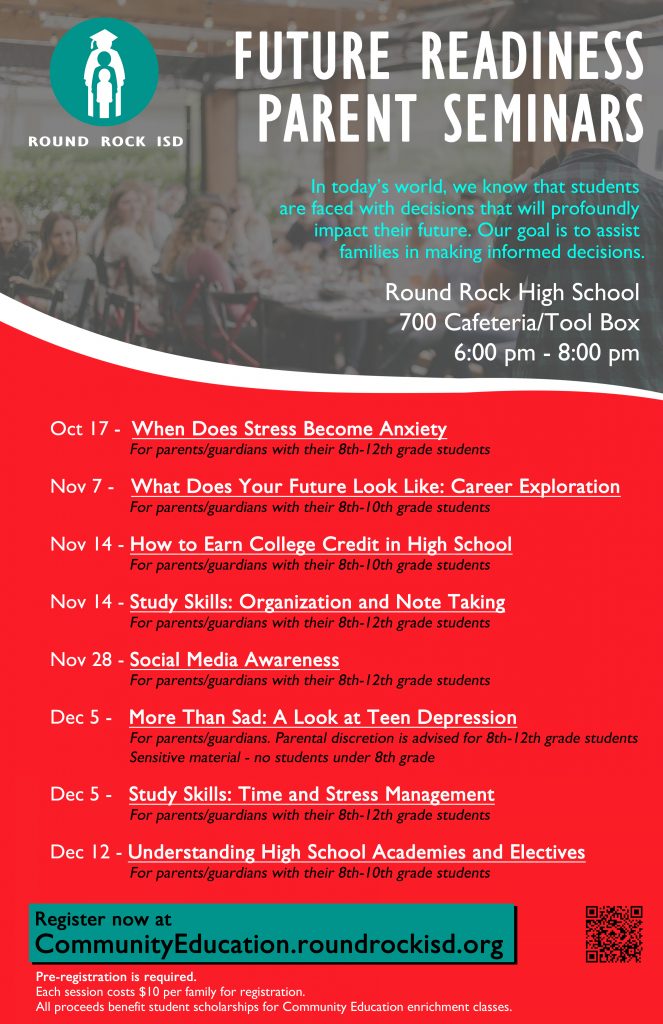 Pre-registration is required. Seminar fee: $10.00 per family, per seminar. Fees collected are donated to student scholarships.
Do you know what the hot jobs of the future are? Learn about careers with the potential to grow at a faster-than-average rate, new occupations in growing industries and the post-secondary pathways towards those careers and occupations. Discover career exploration tools and review resources that aid with planning for future success beyond high school.
Fee: $10 per family.  REGISTER
Audience: Parents/Guardians with their student(s) grades 8-10
Presenter(s):  Lisa Greinert, director, Round Rock ISD Community Education; Peggy Mica, coordinator, Round Rock ISD Career and Technical Education
Lisa Greinert has been a teacher and middle and high school administrator. Her passion lies in ensuring parents and students recognize the importance of preparing early for future success. Greinert has been an eductor with the District for 18 years.
Peggy Mica has 32 years of experience as an educator. After more than 22 years as a high school teacher, Mica spent over three years as a campus instructional technology specialist. Currently, Mica coordinates the students and the Career and Technical Education program for the District.
Greinert and Mica  have a combined experience of 50 years with the Round Rock Independent School District.
The Future Readiness Parent Seminars are made available by Round Rock ISD Community Education and inspired by frequently requested information from our student's parents/guardians. Future Readiness Parent Seminars provide valuable information focused on the needs of students as they move through their academic careers and help guide parents and guardians as they consider the important choices that make students future ready.