Summer Moon Grand Opening this Saturday
Summer Moon Coffee, the beloved coffee shop known for its wood-fired, oak-roasted coffee, is expanding its footprint with a second location in Round Rock.
The new location will be in the Diamond Oaks Retail Center at 3800 E. Palm Valley Boulevard.
The Grand Opening Event is Saturday, April 22nd from 7 AM to 12PM. https://www.facebook.com/events/742006700802830/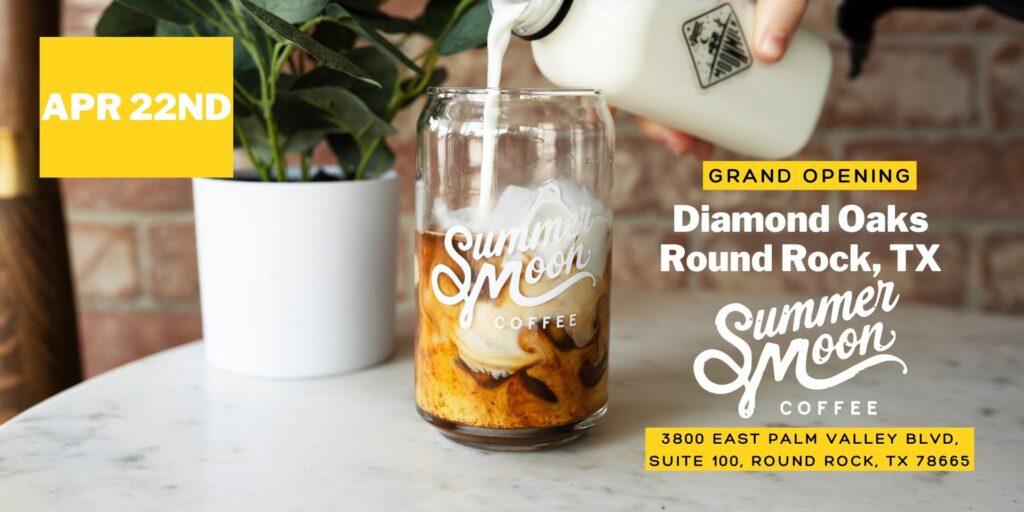 Summer Moon Coffee was founded in 2002 in Austin, Texas, with a commitment to sourcing high-quality beans and roasting them to perfection using a unique wood-fired process.
The success of the original Summer Moon Coffee location led to expansion plans, and the second location in Round Rock will offer the same great coffee and cozy atmosphere that customers have come to love.
In addition to the signature wood-fired coffee, Summer Moon Coffee also offers a variety of pastries, breakfast tacos, and sandwiches, making it the perfect spot for a quick breakfast or lunch on the go. The Round Rock location will also feature a drive-thru window, making it even more convenient for customers to grab their favorite drinks and treats.
Check out the full menu online here: https://summermooncoffee.com/
Copy and images courtesy of Summer Moon and the City of Round Rock