2nd Annual Love the Rock: A Valentine's Day Contest
Happy Valentine's Day Round Rockers!! In honor of the month of LOVE, I wanted to give to you something VERY special.  I wanted to show you 11 businesses here in Round Rock that I LOVE!  And offer you a chance to LOVE them too – with a fun giveaway!!
Each business that I LOVE has offered to giveaway something VERY special to my readers!!  Let me tell you all about these incredible businesses and why I LOVE them so much!
Mays Street Boutique
This precious gift shop recently opened last fall and I am in love with all that they carry!  Sandy, the owner, has a heart for featuring local artisans and y'all know how much I love supporting local!  She has adorable baby gifts, handcrafted olive oil, amazing painted wine glasses, luxurious bath items and more.  What draws me every time I shop here??? Her amazing Kendra Scott displays.  Y'all, it's breathtaking!!  And they are giving away this gorgeous Kendra Scott necklace to one lucky reader!!
Greenhouse Craft Food
Farm to table is very popular and you can see why – the unique dishes and amazing flavor that comes from one of our newest restaurants in Round Rock can't be duplicated.  Greenhouse Craft Food also opened last fall and they have quickly become one of my favorite places in town.  Everything is handcrafted from locally grown farms and ranches and is so delicious.  The decor is charming and I really love the hometown feel of it.  I have tried their sandwiches & their salads, but I go back for their featured dishes.  Follow them on facebook to see what they are featuring each day and tell me your mouth doesn't water when you see their pictures.  One winner will receive a $50 gift certificate from them in our giveaway!
Art By the Glass Studio
I am not an artist, nor do I have much creativity.  But I was totally impressed with how easily I was able to paint this beach scene last Spring at Art By the Glass Studio.  Not only was it relatively easy, but so much fun! I took a class with a group of girlfriends and we had so much fun together.  This studio also offers hair bow design and photography classes and recently they made some pretty cool wall art.  You should totally consider planning a girls night or ever a date night here!  Art By the Glass Studio is giving away a $25 gift certificate and a painting of your choice in our giveaway!
Austin Moonwalks
There are lots of choices when it comes to moonwalk & party supply rentals in the area, but I have never come across one that has such good customer service as Austin Moonwalks. I have used this company for several years now – long before I started this website and have always been pleased.  Their selection is great, their products are in great shape, and again, their customer service is top-notch with follow-up emails, reminder calls, and polite set-up technicians.  Austin Moonwalks is giving away a 4-hour moonwalk rental ($139 value) to one of my readers!
Kaleidoscope Toys
The ONLY place in Round Rock to buy unique, quality toys (in my opinion), Kaleidoscope Toys is another favorite of my families'.  They always have great gift suggestions and they will wrap the present for you – perfect if you are a last minute gift shopper like me!!  Our game closet is filled with amazing games that Terry, the owner, and her staff have recommended to us. And I love all the fun activities they plan for the community – LEGO days, Rainbow Loom Classes, and theme parties.  Just wait until summer rolls around – they offer so much for our kiddos to do!!  They are giving away a $50 gift certificate to a lucky reader!
Action Pack Dog Center
One of the most passionate dog lovers I have ever met is Jana, owner of Action Pack Dog Center.  She lovingly designed a place for dog boarding, daycare, grooming, training, and even swimming!!! Action Pack Dog Center has so much fun – even celebrating birthdays and throwing parities for dogs.  It just looks like the place YOU want to hang out with your pet!   Follow them over on Instagram and see what I'm talking about!  Action Pack Dog Center is perfect for active, social dogs and they are giving away a $100 gift certificate to try them out!
Krave Wine Bar & Bistro
I love love love that our downtown has such a cool, hip vibe to it and I think that has developed thanks in big part to Krave.  Krave Wine Bar & Bistro is a fantastic place to grab a quick lunch (they have amazing sandwiches and salads) or a leisurely dinner with a friend (they have daily specials look are delicious!).  I personally love to go with a group of friends and spend a few hours over a Krave board and a few bottles of wine.  Their decor is warm and inviting and everyone is so friendly!  And in honor of the month of Love, Krave is giving away a $100 gift certificate for dinner for 2 in our giveaway!
Round Rock Express
Baseball season starts in less than 2 months!!!  I LOVE having a minor league baseball team call Round Rock home.  We have SO much fun at the games over the Spring & Summer as a family!  The organization provides a great family environment to spend an evening together – with themed nights and fun activities at every game.  Not to mention the amazing playscape, rock wall, pool, and more – did I say were were going for the ball game??  Just kidding!  We love the organization and the fun spirit they bring to Round Rock.  They are offering a Flex Plan Package – 9 ticket vouchers to use at any game this season – for the giveaway!
Flix Brewhouse
Flix Brewhouse is not your typical movie theater. Yes, they show all the newest releases but they do it in style – with a fun bar in the lobby and a great menu to order a meal from – it's the perfect place for date night.  I love how comfortable the theaters are as well. To be honest, it's the only place my kids want to watch a movie at.  And we totally love their fun themed nights – Chick Flixs, Guys Night Out, LMAO Dinner Theatre, and the one my kids love – a monthly Pajama Party that shows classic family movies!!  They are giving away a $50 gift certificate and 2 movie tickets to a lucky winner!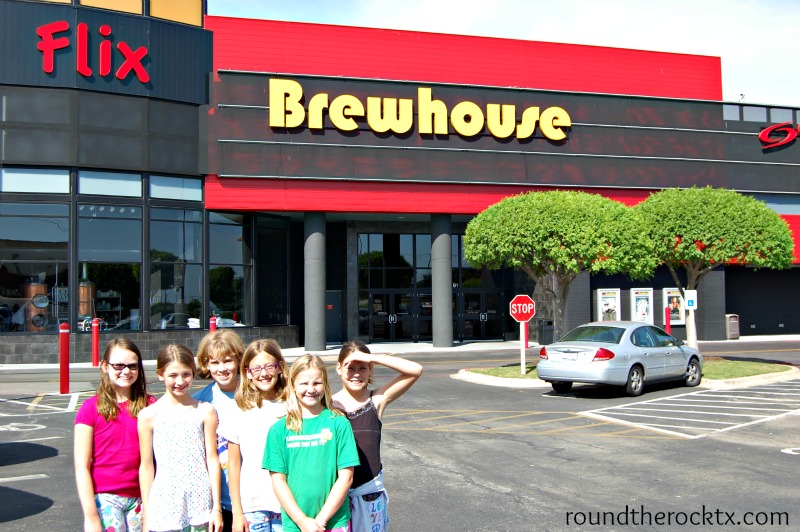 Water 2 Wine Round Rock
Did you know that we have a custom winery in Round Rock?  Water 2 Wine is such a cool place to go to learn about wine AND even make your own wine!!  They host fun events each month, have a wine club that meets regularly, and they have quarterly fundraisers called "Pampering & Pinots with a Purpose".  They select a local organization to bring awareness and fundraise for – it's amazing.  I love they awe have such a cool place to take classes and learn about wine as well – it's the perfect place to meet for a glass of wine after a long day!!  Water 2 Wine is putting together an amazing Valentine's Day gift basket for one of our readers!
Ceramic Lodge
When I first moved here, I immediately found Ceramic Lodge for my then 8-year-old daughter to have her birthday party at.  We were immediately charmed by this adorable painting studio and have been back several times for birthdays, girl scouts, and even to make handprint plates with my kiddos.  I LOVE that they offer classes for all age groups weekly.  It's such a great place to quietly relax – it's so soothing to paint – especially as an adult.  And ladies, they offer Ladies Night each Thursday – sounds like a GREAT excuse to set up a night out with friends, doesn't it??  Ceramic Lodge is offering a $50 gift certificate in our giveaway!
How do YOU Win all these things I LOVE???
Enter the below giveaway:
– Each "Like" of one of our Sponsor's Facebook Pages will give you an entry to win one of the prizes.  Go ahead and show local support by liking all 11 of these businesses!
– Earn additional entries by following us on Twitter & Pinterest and Tweeting about this giveaway
– Enter each day by tweeting out a message about our giveaway (the last entry)
– Entries accepted through Thursday, February 13, 2014 at midnight
– Winners will be notified via email on Friday, February 14 and will have 48 hours to respond
– You are only eligible to win one of the 11 prizes
Good luck & thank you for "loving" the Rock!