Premier Martial Arts ~ Round Rock, TX
I have always been intrigued by Karate – I'm impressed by the discipline and fortitude that students of martial arts display.  But to be honest, I was intimidated by it.  That is until I met Gary Craig, owner of Premier Martial Arts in Round Rock.  He introduced me to his program and told me more about some of the wonderful things they do for the community.  So I wanted to tell you more about it as well:
Premier Martial Arts in Round Rock has some of the most sought after programs in the region. They Specialize in developing programs that match the students needs.
Tiny Champs for 3-4 yr olds These classes help to develop longer attention spans in small children, not to mention your kid will have a blast training with our energetic instructors.
* Self-discipline and socialization skills.
* Fundamental Martial Arts blocks, punches and kicks in a positive, noncompetitive environment.
* High energy music.
* Skill-based activities create fun learning opportunities to help Children gain the focus needed to excel in Martial Arts.
* Martial Arts classes exercise all joints and muscle groups.
Lil'Champ group age 5-7 yr olds There is never a better time to begin to develop your child's self confidence and discipline by enrolling them in martial arts lessons at Premier Martial Arts, than between the ages of 5 to 7 years old.
* Children's Martial Arts training involves awareness of how attacks occur. In training to spar, students
* Learn how to detect the beginning of an incoming punch or kick: the subtle weight shift to a support leg, or a change in focus in their opponent's gaze.
* Karate physically – increases flexibility, coordination and balance, enhanced agility and athleticism.
* Karate mentally – improves concentration and memory retention, learning through visualization, increases focus.
* Karate emotionally – improves self-control and respect for others while developing self-assurance and confidence.
Karate Kidz 8-12 yr olds With all the virtual devises on the market, getting kids to embrace a physical fitness program is often hard work. Often kids would rather spend their time sitting in front of the TV or on a game devise. Kids Martial Arts classes, acquire useful skills while exercising.
* Mental toughness
* physical fitness & self discipline
* Confidence & Courage
* Real Life Self Defense Skills
* Mixed Martial Arts Training
This video here shows exactly what Premier Martial Arts offers:

Adult /Teen Age Groups Recognizing the needs of this age group is important. PMA provides the kind of training environment that is beneficial in many ways. Crosskick conditioning, Krav Maga Defensive strategies, Muay Thai kickboxing strikes and grappling help provide the student with all the tools needed to effectively prepare the student for whatever scenarios they may face. The training is second to none, and with world class courses and seminars students will be able to explore all realms of training.
I was impressed to find out that Premier Martial Arts also conducts presentations for schools, daycares, Cub Scouts, church groups, and companies on a variety of subjects. These Seminars can be built around your group's needs.
They also hold very unique Birthday Parties: Themes include: Nunchuk Party, Sword Party, Board breaking party, plus they have Mascot's such as Pete the Dragon and the Kung Fu Panda.
PMA always conduct complimentary Trial Classes for "trying" out a class. This works for both the student and the family to see that the program fits each others needs.
To learn more about Premier Martial Arts, visit their website or give them a call 512-745-5551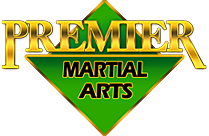 Premier Martial Arts
1200 E. Palm Valley Blvd. #1202
Round Rock, TX 
512-745-5551
http://www.roundrockmartialarts.com