Kids Eat Free in Round Rock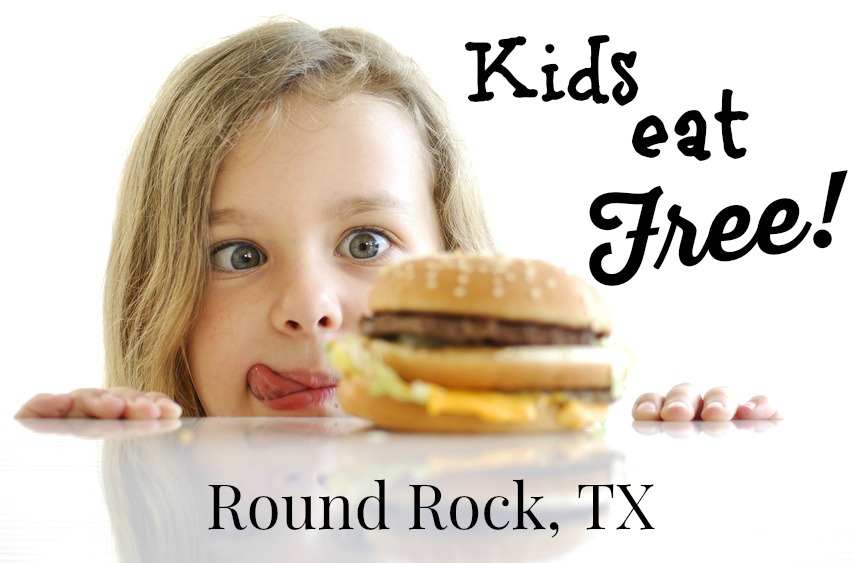 Who doesn't like to get a meal for free??  Take a look at all these awesome local restaurants that offer FREE Kids Meals here in Round Rock, Texas. This listing was updated May 26, 2017.  Each individual restaurant's policies are subject to change at any time.
Kids Eat Free is sponsored by Mellow Mushroom. Take a look at the awesome deals they offer our community:
Monday – Kids Get a Free Small Cheese Pizza with the purchase of an adult entree
Tuesday – 20% OFF for Teachers (all school employees)
Thursday – 20% OFF for Military and First Responders
Jump to the Day you need by clicking on that day:
MONDAY
TUESDAY
WEDNESDAY
THURSDAY
FRIDAY
SATURDAY
SUNDAY
MONDAY
Buffalo Wings & Rings (2051 Gattis School Rd): Kids 10 and under eat free; one free child's meal per paying adult
Dicky's BBQ (661 Louis Henna Blvd Ste 330): Free Ice Cream for all patrons. With dine-in purchase.
Fuddruckers (2111 N IH-35):  Kids eat free for 99 cents after 4 p.m. with the purchase of an adult combo
Greenhouse Craft Food (1400 E Old Settlers Blvd Ste 110) – Kids meals are free on Mondays after 5 p.m. Dine in only.
Gattiland (1112 N IH 35): Parents Dine for $2.99 (one $2.99 parent buffet with purchase of a kid buffet)
Ikea (1 IKEA Way): free kids breakfast til 11 am
Macaroni Grill (2501 S. IH 35): Kids 12 and under eat free all day, 1 kids meal per adult meal purchased. Some exclusions apply.
Mellow Mushroom (2600 IH 35) – Kids get a free small cheese pizza with the purchase of an adult entree.
The Salt Lick (3350 E Palm Valley Blvd): Kids 3 and under eat free everyday when adult orders family style
Sonic: Happy Hour 2pm – 4pm; Half-priced drinks and slushies
Zaxby's Round Rock (2700 Red Bud Lane)– For every adult meal you purchase, you receive TWO kids meals free! Also, if your kid colors one of their coloring pages, you can turn it in for a cookie. Offer good 5-8pm.

TUESDAY
Applebees (2700 Parker Rd Ste A): Kids 12 and under eat free all day (up to 1 Kid's Meals free per adult entrée purchased)
Buffalo Wings and Rings (1901 Town Center Dr):  Kids ages 12 & under eat free on Mondays. One child can eat free with each paying adult.
Denny's (2700 N IH 35): Kids eat free from 4 – 10 pm with adult entree purchase
Firehouse Subs (3151 N IH 35 and 201 University Oaks Blvd.): free kids meal with the purchase of regular sub after 5 pm
Hurricane Grill & Wings  (2700 Parker Rd Suite D): Buy one adult entree, get one adult entree half-off
Kerbey Lane Cafe (2123 N. Mays St): Kids eat free every Tuesday
La Margarita (1530 N IH 35): only one plate per family; no changes to the plate; kids 12 & under
Macaroni Grill (2501 S. IH 35): Kids 12 and under eat free all day, 1 kids meal per adult meal purchased. Some exclusions apply.
Pluckers (300 Mays Crossing): Kids 10 and under eat free; up to 2 free kids meals for each adult entree
The Salt Lick (3350 E Palm Valley Blvd): Kids 3 and under eat free everyday when adult orders family style
Sonic: Happy Hour 2pm – 4pm; Half-priced drinks and slushies

WEDNESDAY
Gattiland (1112 N IH 35): Kids Eat Free PLUS Weekly Family Movies and Free Popcorn (one free kid with purchase of a regular price adult buffet)
Luby's (2000 IH 35 South): Kids Eat Free All day Wednesday & Saturday 11am to close.
The Salt Lick (3350 E Palm Valley Blvd): Kids 3 and under eat free everyday when adult orders family style
Sonic: Happy Hour 2pm – 4pm; Half-priced drinks and slushies
THURSDAY
The Salt Lick (3350 E Palm Valley Blvd): Kids 3 and under eat free everyday when adult orders family style
Sonic: Happy Hour 2pm – 4pm; Half-priced drinks and slushies
FRIDAY
The Salt Lick (3350 E Palm Valley Blvd): Kids 3 and under eat free everyday when adult orders family style
Sonic: Happy Hour 2pm – 4pm; Half-priced drinks and slushies
SATURDAY


Denny's (2700 N IH 35): Free kids meal 4-10PM with Adult meal
Luby's (2000 IH 35 South): Kids Eat Free All day Wednesday & Saturday 11am to close
The Salt Lick (3350 E Palm Valley Blvd): Kids 3 and under eat free everyday when adult orders family style
Sonic: Happy Hour 2pm – 4pm; Half-priced drinks and slushies
Steak 'n Shake (281 N University Blvd): Kids 12 and under eat free 1 kids meal for every $8 purchase, kids plate excludes drinks and shakes
SUNDAY

Dicky's BBQ (661 Louis Henna Blvd Ste 330): 1 Free Kids Meal with 1 meal purchase of equal or greater value. 12 and under. Dine-in. Free Ice Cream for all patrons. With dine-in purchase.
The Salt Lick (3350 E Palm Valley Blvd): Kids 3 and under eat free everyday when adult orders family style
Sonic: Happy Hour 2pm – 4pm; Half-priced drinks and slushies
Steak 'n Shake (281 N University Blvd):  Kids 12 and under eat free 1 kids meal for every $8 purchase, kids plate excludes drinks and shakes
***List updated and verified 5/25/2017.  Round the Rock is not responsible for any changes/discrepancies. If you see one that is missing or needs to be changed, please email [email protected]