50 Years of Camp Doublecreek – The Lester Family
This article was originally published in the Spring 2021 Issue of Round the Rock Magazine. For the full issue, click here.
Did you go to Summer Camp when you were a child?  If you did, I'm sure your memories are filled with arts & crafts, camp songs, swimming until you turned into a prune, and coming home exhausted each day. I have such fond memories of summer camp and the locally-owned Camp Doublecreek has been providing memories for families in the Austin area for over 50 years.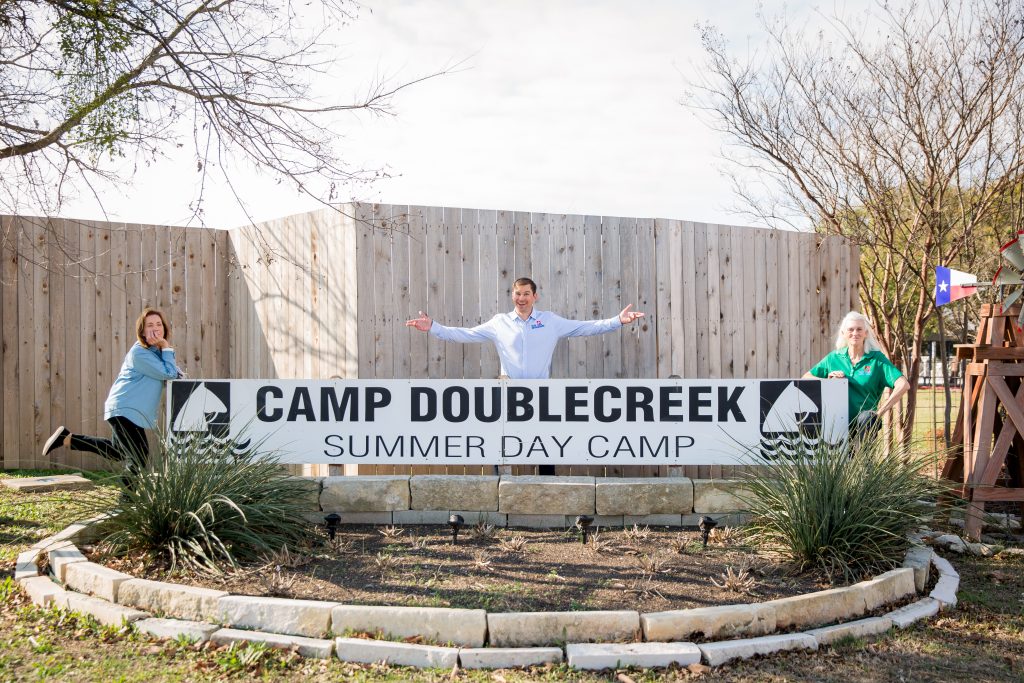 I had the privilege of sitting down with the owners of Camp Doublecreek recently and they told me their story.  Judy Kirtley and Jane Neal are the daughters of the original owners, Carter & Trudy Lester.  Together with Neal's son, Dan, the three continue to run the camp, providing the same experience for campers that their parents did that first summer in 1971.
Camp Doublecreek: The History
In 1970, Lester decided he didn't want to work for a multinational corporation and travel anymore and bought a 100-acre cotton farm in southwest Round Rock to turn into a day camp.  "This was the middle of no-where." Kirtley says.  And she was right.  In 1970, Round Rock had less than 3000 people and one stop light.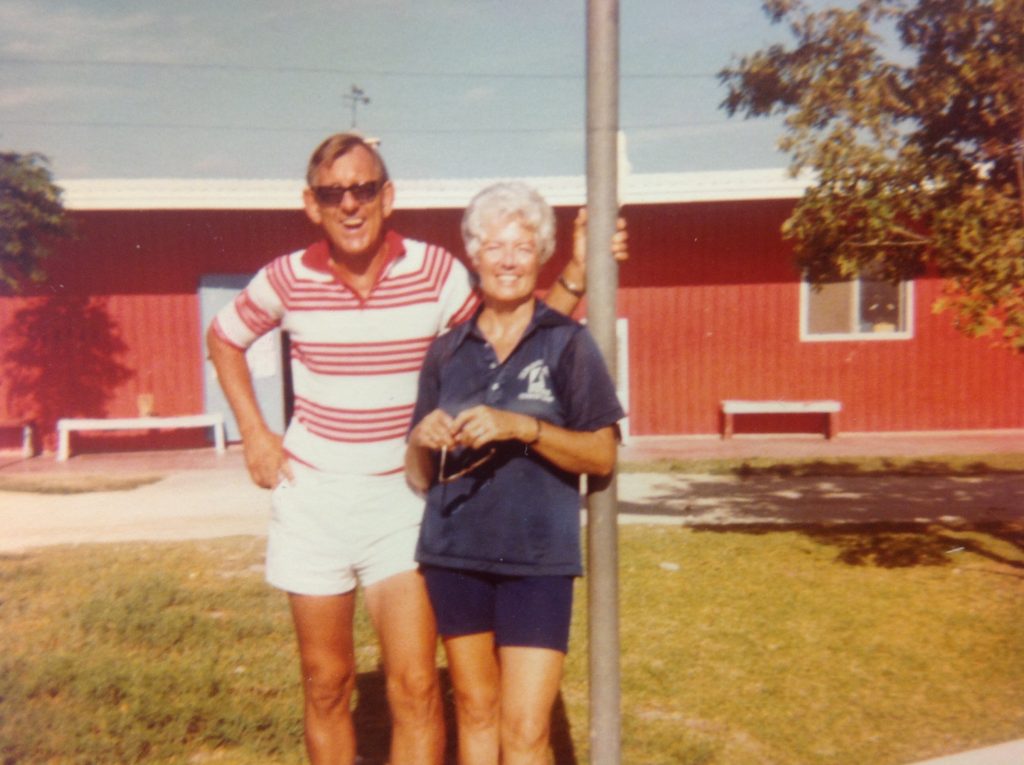 Jane Neal describes the town of Round Rock back then.  "When I graduated in 1972, we were the first class to have over 100 students, barely big enough to be a 2A school." she remarks, "And the only places to eat were Stuckeys, Sam Bass Cafe, and the Dairy Cream."
When they opened, they found that nobody would drive that far to take their kids to a day camp, so they started providing transportation, which soon became a highlight of the day for campers.  The bus rides included camp songs that became a big tradition.  "They sing camp songs very loudly!" Jane reminisces.  A very popular camp song is "Joe Ray's White Bus" coined after a cousin of the owners who has driven a bus for the camp every summer for the past 50 years. 
The very first summer of camp, they had 36 campers.  Uncle Carter & Aunt Trudy (as they became known to the campers) offered horseback riding, swimming, archery, tennis, gymnastics and arts & crafts.  Every year, Uncle Carter would add something new to the camp – covered riding arena, playground, basketball court – so that every year kids would have a new activity to enjoy. 
Camp Doublecreek: The Traditions
A tradition that Uncle Carter created that still lasts to this day is "Sing Song." It's the period after lunch that gives the kids a chance to rest and learn the camp songs.  The counselors did funny skits that were quite memorable.  And newest owner and grandson of Uncle Carter, Dan Neal took it up a notch by creating theme weeks.  Instead of just singing, they have skits and a costume closet and kids have to get on stage & dance before they are dismissed. Sounds fun, right?
Another tradition that started that first summer was Honor Camper. Three Honor Campers are chosen each summer.  It's traditionally older campers who are aging out of camp and they are chosen by all the staff and leadership.  Honor Campers have their handprints & footprints placed each summer in the camp's Honor Camper Walk.  Many former Honor Campers come back with their families to see their stones. 
Aunt Trudy was also a school teacher and so for at least 20 years, Camp Doublecreek became a school during the off-season.  This was to help cover the costs year-round.  Today, the camp provides off-season riding to help the horses pay for themselves. 
In 1996, Scott & Deana Kirtley, son of Judy & grandson of Uncle Carter, came into ownership.  "The biggest thing Scott did for the camp was drag our grandfather into the 21st century kicking & screaming." Dan tells us. Scott brought to camp online registration, a rockwall, paintball, and innovative games to camp.  "My Daddy was very proud that he never turned on a computer or took credit cards." laughs Judy.
Scott was an organ recipient.  He received a heart & double lung transplant due to a congenital heart defect.  Unfortunately, Scott's health deteriorated in 2007 and Dan moved down from the Dallas area to help run the camp that summer.  "Dan has done a good job of honoring Scott's contributions to camp." Judy tells us.  The rockwall is now titled, 'Scott's Rockwall' and there is a flagpole in Scott's honor today, which flies a Donate Life flag. 
Fourteen years later, Dan is established in Round Rock and has an adorable family.  His wife, Andrea, is the Marketing Manager of the camp.  And their sweet daughters, Brooklyn (8) and Sadie (5) are campers.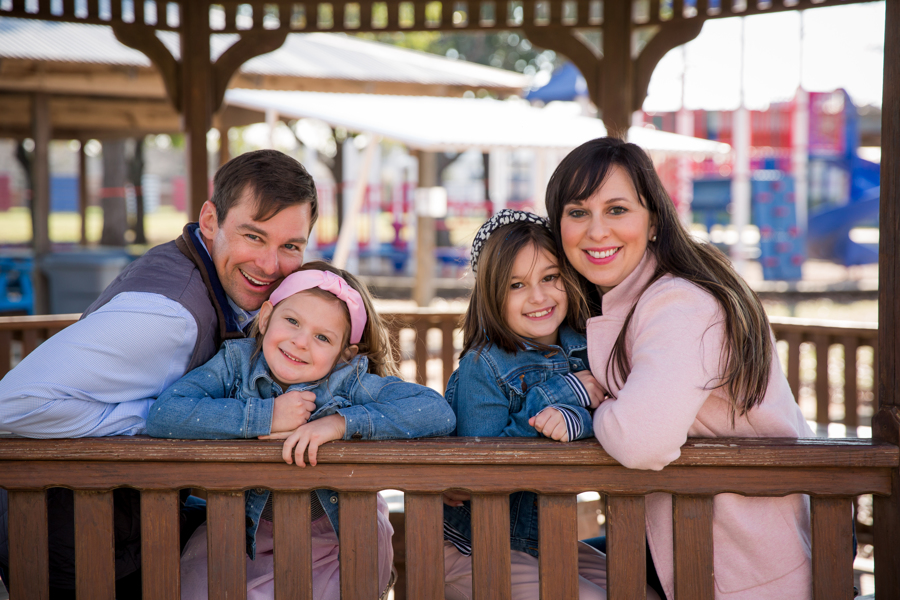 Uncle Carter & Aunt Judy had a motto for Camp Doublecreek, "Every child leaving camp feeling better about themselves." In 2008, the motto was changed a bit to "Every child leaves believing in themselves or knowing that somebody believes in them."  And Camp Doublecreek does this well.  It starts with the counselors, who line up to give high-fives with every bus load each morning.  "We emphasize 'find a friend' from the very beginning.  We want campers to feel comfortable in that very first moment." Dan explains.  The counselors become heroes to the kids, really allowing them to see that someone cares. 
Camp Doublecreek: 50 Years Old
This summer, Camp Doublecreek celebrates an amazing accomplishment for a locally-owned business – 50 years of summer camp in Round Rock!   Unfortunately, with the current environment, they can not host Open Houses like they had wanted to.  "We want to interact with as many allumi as we can." Judy says. With over 50,000 kids having gone through camp in the last 50 years, there are so many lives that Camp Doublecreek has impacted. 
Camp Doublecreek is encouraging former campers to "Add to the Story".  On their website, you can find pictures of camp through the decades. And they are asking alumni to upload a photo and tell their own story of camp. You can find more information on their website – campdoublecreek.com
Last summer with Covid, with several different protocols in place, Camp Doublecreek was still able to provide camp for families.  "We received several emails from family's last summer that stated they were so happy that camp still happened because it gave their kids a sense of normalcy that they needed." Andrea states. And they will still continue to provide a safe camp this summer as well.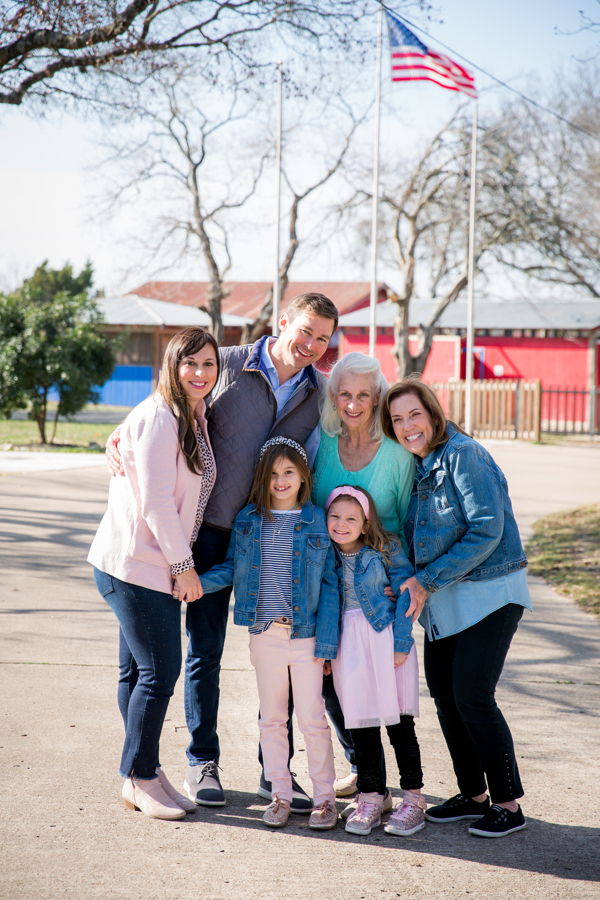 Camp Doublecreek offers summer-long day camp for kids ages 4-14.  It is a new camp every Monday with different themes, so kids can attend all summer long and will have new experiences. They also provide a camper-in-training program for kids who want to be camp counselors one day.  
After hearing the story of Camp Doublecreek, I couldn't help but think that every child deserves the rich experiences this camp offers. Summer camp is such a great experience, especially in today's digital world. What an accomplishment, to be celebrating 50 years of enriching lives in Round Rock.
Learn more about Camp Doublecreek here.
More Articles You May Enjoy