Brazilian Brass Concerts in May
Classical Sound "Brazilian Brass" Concerts May 27-28, 2023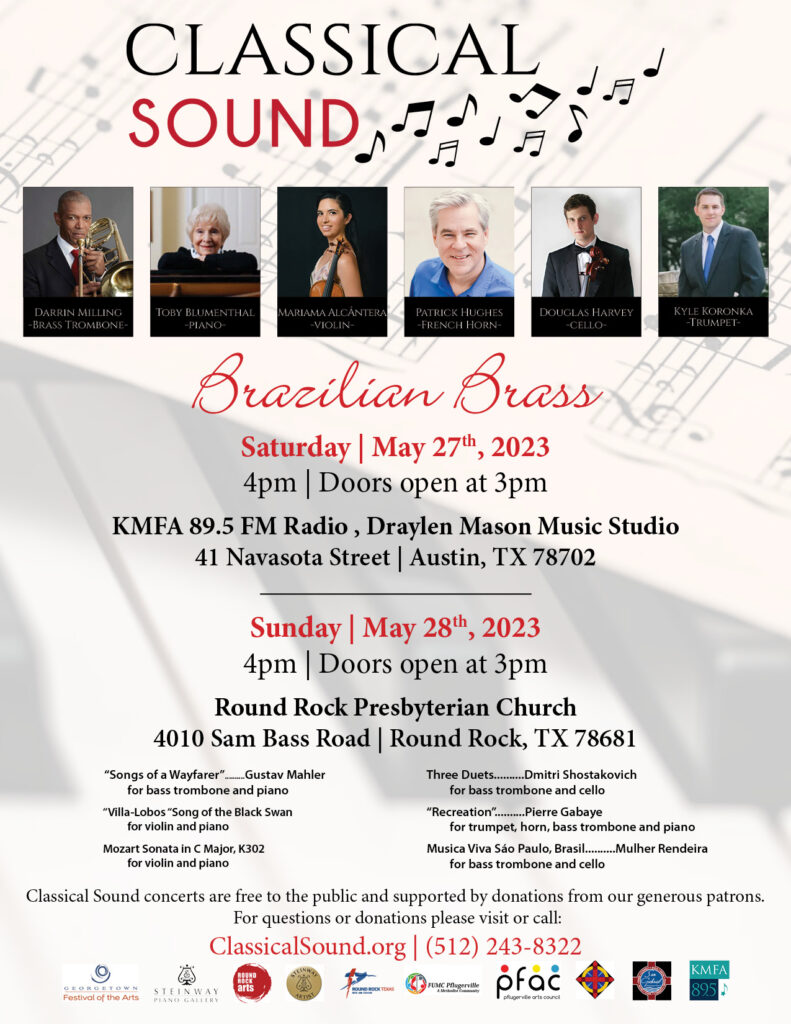 Classical Sound will present two concerts in May of the 2022-23 season featuring a bright and beautiful program "Brazilian Brass."
Free Admission Open to the Public Limited Seating click here to RSVP or visit the website classicalsound.org
May 27, 2023, Saturday afternoon at 4:00 PM at the Draylen Mason Music Studio, KMFA FM Radio 41 Navasota Street, Austin, TX 78702
May 28th, 2023, Sunday Afternoon at 4:00 PM in the sanctuary of Round Rock Presbyterian Church, 4010 Sam Bass Road, Round Rock, TX 78681
Music to be performed will include a Mozart Sonata for violin and piano; "Songs of the Wayfarer" by Gustave Mahler, arranged for bass trombone and piano; Preludes of Dimitri Shostakovich arranged for bass trombone and cello; Valsa De Esquina by Francisco Mignon for violin and piano; O Canto Do Cisne Negro by H. Villa-Lobos for violin and piano; "Musica viva Sao Paolo Brazil" by Muhler Rendeira for cello and bass trombone. The final offering is a "jazzy" quartet by French composer, Pierre Gabaye for trumpet, horn, bass trombone and piano. 
Performing Artists for this program: bass trombonist, Darrin Milling of the 
National Symphony Orchestra of Sao Paolo, Brazil; Mariama Alcantara- 
Brazilian violinist, now a member of the Austin Symphony Orchestra, 
Douglas Harvey-cello, Kyle Koronka-trumpet, Patrick Hughes-horn, all Austin Symphony Orchestra principal players, and Toby Blumenthal-Phillips-piano. 
These concerts are FREE to all members of the community at 
large through the generous donations of our sponsors which include City of 
Round Rock Cultural Arts Program under the direction of Scot Wilkinson, 
Georgetown Festival of the Arts under the direction of Dr. Ellsworth Peterson, 
Robert Tiemann and Carrie Parker Tiemann, and Anonymous. 
Copy and image courtesy of Classical Sound