10 Things to Know Before You Go to RockN' River
Each summer my kids eagerly await the opening of Round Rock's best water park, RockN' River.  Located inside Old Settlers Park, it is city-owned and run by the Round Rock Parks and Rec.  Along with the pools and splash pads, it's another great amenity Round Rock has to offer. They've recently added so much more to the park, making it a MUST DO for the Summer of 2021!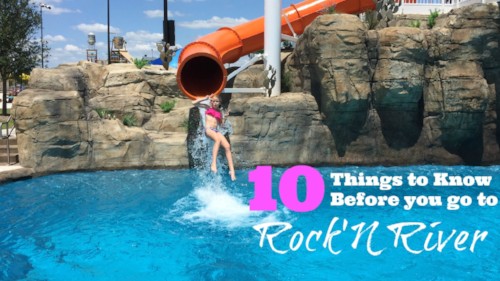 10 Tips for Rock'N River Water Park 
1. What to wear
Please wear proper swim attire to Rock'N River – and think of who will be there…children.  For instance, bathing suits are required. However, you are allowed to wear gym shorts or a t-shirt over the swimming suit.  Please also put your child in swim diapers if they need to be. Water shoes are not allowed.

2. What to Bring
You can bring a cooler filled with snacks, drinks and lunch. In addition, you can bring fast food bags in.  You can not bring glass containers or alcohol.  In other words, coolers and bags may be searched before heading in. Do not bring your own floats for the lazy river, they are not allowed in.
3. No water wings
Don't even bring your child's water toys or floaties, you will be asked to return them to the car.  However, they do have life vests available to use while you are there.
4. When to get here
Get there a little after 12 p.m. for no line to get in.  We got there at 12:15 and walked right in with no line. However, we heard at noon, there was a line of 20-30 people. In addition, getting here early guarantees you a spot in the shade.
5. Where to sit
Depending on where your child will spend most of their time is where you should grab a seat.  For instance, my kids loved the big water playscape and there are some BIG shade umbrellas over in that area to sit under. Similarly, there are places for shade all over the park and ton of seating is now available.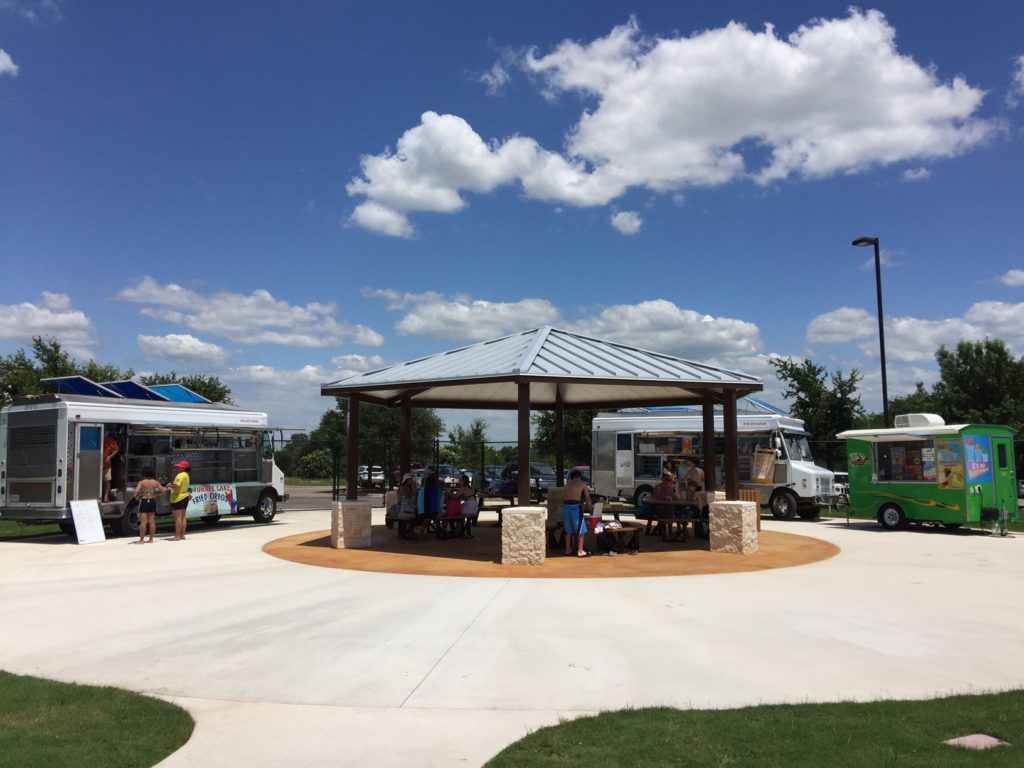 6. Concessions are available to buy
If you don't have time to grab snacks from home, candy bars, chips, ice cream, and drinks are available to purchase.  Similarly, there is a food truck court with funnel cakes & snow cones, Above all, make sure you bring cash!
7. Tons of Great Supervision
One thing I was very impressed with is that there were a lot of lifeguards all over the park.  For instance, they were constantly scanning the water and keeping the kids from running.  However, when it get crowded, help the lifeguards out by knowing where your kids are too.
8. Wristbands & Swim Test
They operate on a wristband system with different colors representing the different slides you can do based on height. Get your kids' wristbands when you first arrive. In addition, in order for your children to enjoy the slide, jump, & rock wall in The Quarry area, they need to pass a swim test (2 unassisted short laps).  In other words, have your kids do the swim test when you first arrive in the Quarry.

9. Rent a Cabana
Each cabana can accommodate up to 10 guests. Amenities include two club chairs, two chaise lounges, one love seat, one side table, one TV and a service counter.  In addition, you can also reserve a big umbrella or an octagon for a party, as well as a lounger or pergola. More details here.
10. Cash & Credit cards are accepted for admission
In conclusion, bring cash for the snow cones!
2021 Operating Schedule: 
Opening Weekend Hours:
May 28-31 from 12-6 p.m.
Open Daily: 12:00 p.m. – 7:00 p.m. 
June 1 – August, 17, 2021 (CLOSED Wednesdays)
End of Season Weekend Hours:
Open: 12:00 p.m. – 6:00 p.m.
August 21 – 22, 2021
August 28 – 29, 2021
September 4 – September 6, 2021
Price of Admission:
Park Admission Prices:
Daily Admission:
$10.00 Youth (17 years & under)
$12.00 Adults (18-49 years)
$10.00 Senior (50 years & over)
$5.00 Kids (2 years & under)
Half-Price Twilight Hours: 5:00 p.m.-7:00 p.m.
Location
3300 E Palm Valley Blvd, Round Rock
Do you have any other tips to add to the list?  I'd love to hear them – please leave a comment below!
Other Great Parks in Round Rock: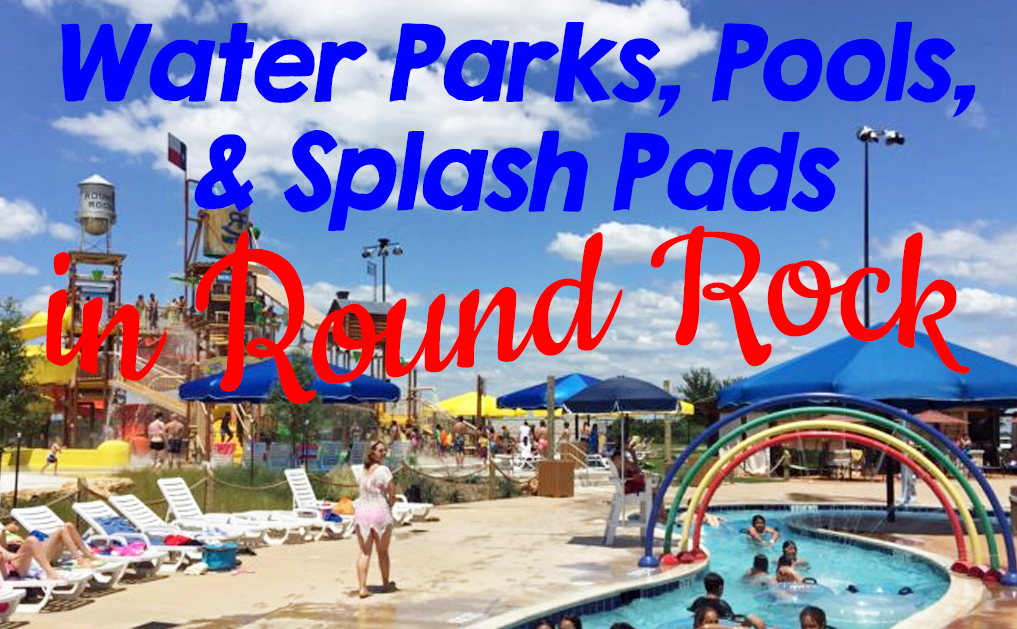 More Fun Things Happening in Round Rock this Summer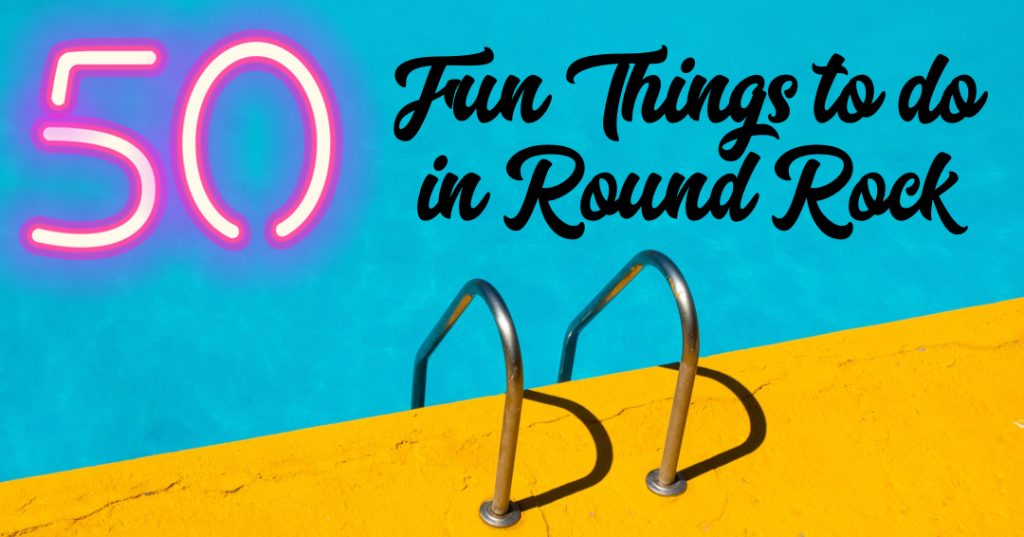 50 Fun Things to Do in Round Rock 
Summer in Round Rock
Round the Rock Instagram Summer Challenge 
Vacation Bible Schools in Round Rock
Round Rock Public Library Summer Reading Program
Round Rock Public Library Summer Children's Events
Summer Reading Programs in Round Rock
Flix Jr. Summer Movies
Cinemark Summer Movie Club
Camp Creativity at Michaels
Water Parks, Pools, & Splash Pads in Round Rock
10 Things to Know Before You Go to Rock 'N River Water Park
50 Fun Things to Do in Round Rock