VIRTUAL Christmas Eve Services in Round Rock
Christmas Eve is a wonderful time to reflect on the meaning of the season – Jesus's birth.  And here in Round Rock, we have several churches that will be celebrating on Christmas Eve.
But because of the COVID Pandemic, several churches have opted to host online/virtual services this year.  Here is a listing of all the local churches' offerings this year for Christmas Eve.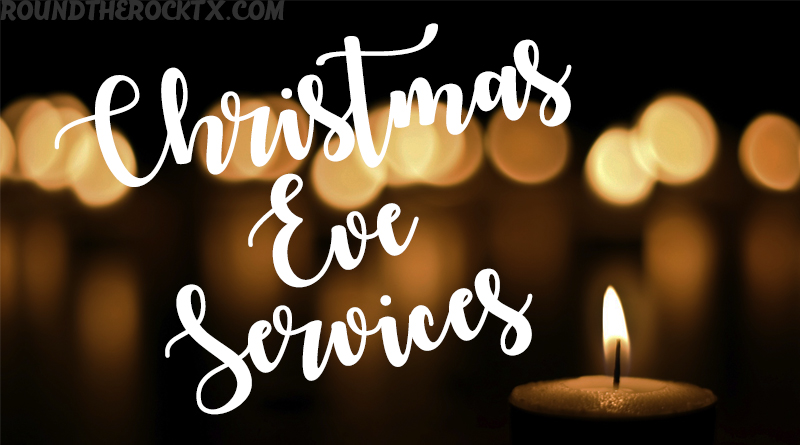 Baptist Churches
Central Church of Round Rock
301 North Lake Creek Cove
Round Rock, Texas 78664
512-218-4444
Christmas Eve Family Services: RSVP online for In-person & live-streamed on Facebook 
Cross Walk Church
8650 Co Rd 110
Round Rock, TX 78665
Christmas Eve Eve Service: In Person outdoors
First Baptist Church of Round Rock
306 Round Rock Avenue
Round Rock, Texas 78664
512-255-3454
Christmas Eve Online Service:  4:30 pm and 6:00 pm
Catholic Churches
St. Williams Catholic Church
620 Round Rock West Drive
Round Rock, Texas 78681
512-255-4473
Christmas Eve Mass:  Dec 24 at 4:00 (Children's), 6:30, 8:30 (Spanish), Midnight (Bilingual)
Christmas Mass: Dec 25 at 9:30 am (English) and 1:30 pm (Spanish)
St. John Vianney Catholic Church
3201 Sunrise Road
Round Rock, Texas 78665
512-218-1183
Christmas Eve Mass:  Dec 24 at 4:00 pm , 6:00 pm and 8:00 pm
Christmas Mass: Dec 25 at Midnight and 10:00 am
Evangelical Covenant Churches
Restoration Covenant Church
475 Round Rock West Suite #110 Round Rock, TX 78681
(512) 336-7370
In-Person & Online Christmas Service: Dec 24 at 4:00 pm & 6:00 pm
Lutheran Churches
King of Kings Lutheran Church of Round Rock
17000 Smyers Lane
Round Rock, Texas 78681
512-255-0829
Online Christmas Eve Worship: Dec 24 at 7:00 pm
Palm Valley Lutheran Church
2500 E Palm Valley Blvd.
Round Rock, TX 78664
512-255-3322
Drive-In TRADITIONAL WORSHIP –  Dec. 24 at 3:00 p.m.
FAMILY WORSHIP –Dec. 24 at 5:30 p.m.
Drive-In TRADITIONAL CANDLELIGHT – Dec. 24 at 7:00 pm
Methodist Churches
St. Philip's United Methodist Church
16321 Great Oaks Drive
Round Rock, Texas 78681
512-244-2175
Kid Friendly – Dec. 24 at 4:00 pm
In person & Online Traditional Services – 5:30 pm, 8:30 pm
First United Methodist Church
1004 North Mays Street
Round Rock, Texas 78664
(512) 255-3336
Carols & Candlelight: Dec 24 at 4 pm
Traditional Service:  4pm, 6pm & 7 pm
Non-Denomination Churches
The Fellowship at Round Rock
3379 Gattis School Road
Round Rock, Texas 78664
512-255-8972
Christmas Eve Services: Tuesday, Dec 24: 2:00 pm, 3:15 pm, 4:30 pm, and 5:45 pm (RSVP required)
Cityview Bible
2441 Co Rd 112
Round Rock, TX 78665
Christmas Eve Services: Online Streaming at 5:00 & 7:00 PM
Northpointe Church
905 North I-35 Unit 109
Round Rock, Texas 78664
Christmas Eve Services: Dec 24 Online 
These are all the Christmas Eve Services we could find online. If you would like your church to be listed here, please email us at [email protected]