Christmas Eve Services in Round Rock
Christmas Eve is a wonderful time to reflect on the meaning of the season – Jesus's birth.  And here in Round Rock, we have several churches that will be celebrating on Christmas Eve.
Here is a listing of all the local churches' offerings this year for Christmas Eve.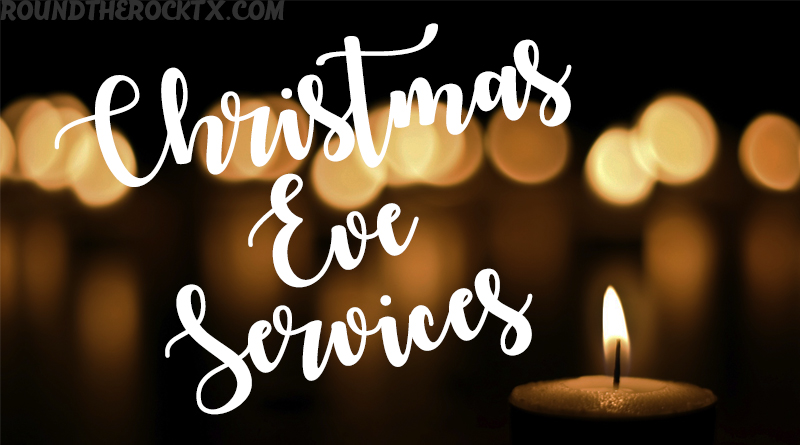 Baptist Churches
Central Church of Round Rock
301 North Lake Creek Cove
Round Rock, Texas 78664
512-218-4444
Christmas Eve Family Services
Cross Walk Church
8650 Co Rd 110
Round Rock, TX 78665
Christmas Eve Eve Service
First Baptist Church of Round Rock
306 Round Rock Avenue
Round Rock, Texas 78664
512-255-3454
Christmas Eve Service
Catholic Churches
St. Williams Catholic Church
620 Round Rock West Drive
Round Rock, Texas 78681
512-255-4473
Christmas Eve Mass:  Dec 24 at 4:00 (Children's), 6:30, 8:30 (Spanish), Midnight (Bilingual)
Christmas Mass: Dec 25 at 9:30 am (English) and 1:30 pm (Spanish)
St. John Vianney Catholic Church
3201 Sunrise Road
Round Rock, Texas 78665
512-218-1183
Christmas Eve Mass:  Dec 24 at 4:00 pm , 6:00 pm and 8:00 pm
Christmas Mass: Dec 25 at Midnight and 10:00 am
Evangelical Covenant Churches
Restoration Covenant Church
475 Round Rock West Suite #110 Round Rock, TX 78681
(512) 336-7370
Christmas Service: Dec 24 at 4:00 pm & 6:00 pm
Lutheran Churches
King of Kings Lutheran Church of Round Rock
17000 Smyers Lane
Round Rock, Texas 78681
512-255-0829
Christmas Eve Worship: Dec 24 at 7:00 pm
Palm Valley Lutheran Church
2500 E Palm Valley Blvd.
Round Rock, TX 78664
512-255-3322
TRADITIONAL WORSHIP –  Dec. 24 at 3:00 p.m.
FAMILY WORSHIP -Dec. 24 at 5:30 p.m.
TRADITIONAL CANDLELIGHT – Dec. 24 at 7:00 pm
Methodist Churches
St. Philip's United Methodist Church
16321 Great Oaks Drive
Round Rock, Texas 78681
512-244-2175
Kid Friendly – Dec. 24 at 4:00 pm
Traditional Services – 5:30 pm, 8:30 pm
First United Methodist Church
1004 North Mays Street
Round Rock, Texas 78664
(512) 255-3336
Carols & Candlelight: Dec 24 at 4 pm
Traditional Service:  4pm, 6pm & 7 pm
Non-Denomination Churches
The Fellowship at Round Rock
3379 Gattis School Road
Round Rock, Texas 78664
512-255-8972
Christmas Eve Services
Cityview Bible
2441 Co Rd 112
Round Rock, TX 78665
Christmas Eve Services
Northpointe Church
905 North I-35 Unit 109
Round Rock, Texas 78664
Christmas Eve Services 
These are all the Christmas Eve Services we could find online. If you would like your church to be listed here, please email us at [email protected]