Top Holiday Events in Round Rock | 2019
---
The Holidays are here! We are so excited to show you all the AMAZING events that are happening right here in Round Rock this Christmas!
Our thanks to Rock Studios for this amazing shot!
We just love the Holidays and especially LOVE how many businesses and organizations in Round Rock set up so many fun Holiday events for us to celebrate the season! Check out all the Top Holiday Events we found in Round Rock!
The Top Holiday Events in Round Rock Guide is sponsored by is sponsored by Santiago's Paint & Home Improvement.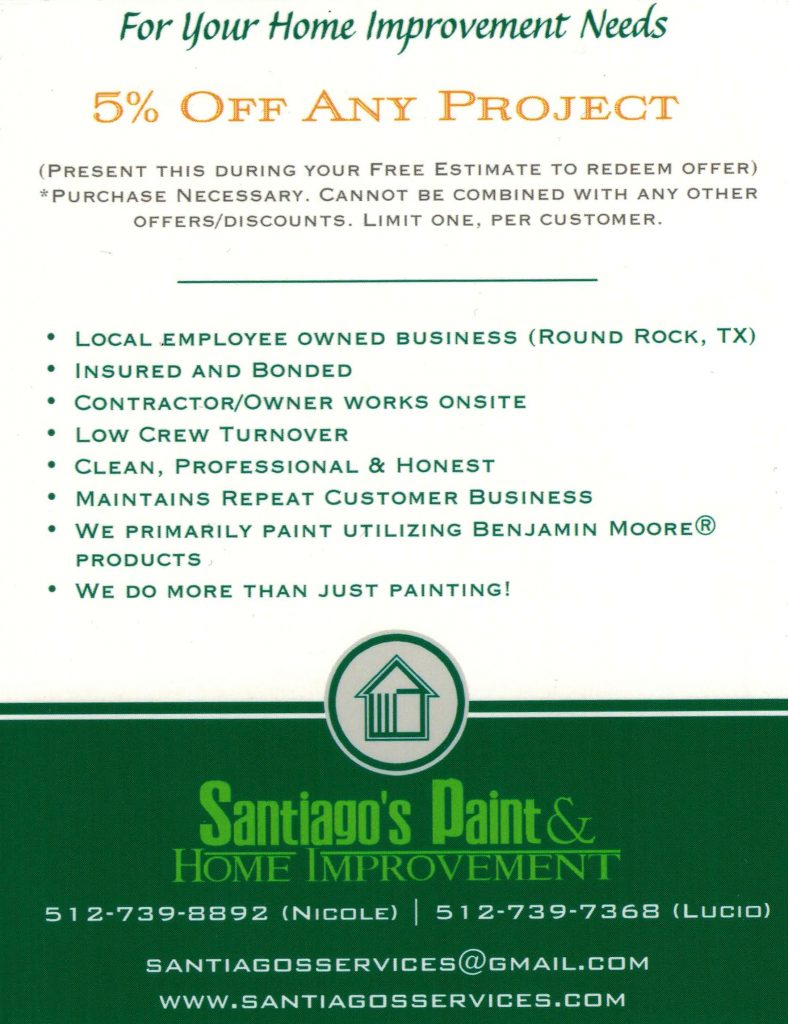 ---
TOP HOLIDAY EVENTS IN ROUND ROCK 
---
Santa's Jingle House
Santa's Jingle House
November 6 – December 24
Come meet Santa in his special house! Make a craft, a cookie and more at a special meet & greet with Santa. They have fun workshops and scavenger hunts as well.
---
Santa's Wonderland
Bass Pro Shops
November 16- December 24
Free photos with Santa, crafts for kids, plus games and activities to celebrate the season.
---
Meet & Take Photos with Santa
Round Rock Premium Outlet Mall
November 22 – December 24
Santa is coming to the Outlet Malls and is ready to meet you & your family
---
FREE Holiday Model Train Display
Downtowner
November 27 – December 26
Come check out this Holiday model train display this month!
---
Small Business Saturday
Local Businesses
Saturday, November 30
It's Small Business Saturday – support our local boutiques, stores, & restaurants today!
---
It's a Wonderful Life: Classic Radiocast
Penfold Theatre Company
November 29 – December 22
A special live interpretation of this classic Christmas story at Old Settlers Hall.
---
Home Depot Kid's Workshops
Christmas Stocking Ornament – November 30
Countdown Calendar – December 7
Join this FREE workshop for kids to make a holiday keepsake!
---
Reindeer Run 5K
Old Settlers Park
November 30
Run in Old Settlers Park in this fun, family 5K
---
My Party Palace Toy Drive
My Party Palace
Sunday, December 1
Annual Toy Drive for the Texas Baptist Children's Home features cookies, cocoa, activities, and more fun.
---
Nutcracker Ballet
Round Rock Public Library
Monday, December 2
Bring the young ones down for a free performance during story time.
---
Scrooged (PG-13)
Flix Brewhouse
December 2
Check out this classic holiday movie at Flix!
---
White Christmas Sing-along
Flix Brewhouse
December 3
Sing along to this classic holiday movie at Flix!
---
Love Actually 
Flix Brewhouse
December 4
Check out this classic holiday movie at Flix!
---
Gremlins
Flix Brewhouse
December 5
Check out this classic holiday movie at Flix!
---
Christmas Family Night
Downtown Round Rock
Friday, December 6
Christmas Family Night is a free event and includes activities for the entire family including live music, dancers, candle making, carriage rides, game booths, Frosty the Snowman, Santa Claus and more. Located on Main Street in downtown Round Rock.
---
Polar Express Pajama Storytime
Barnes & Noble
Friday, December 6
A free, family-fun event with a reading of Polar Express, fun activities, and treats.
---
Elf
Flix Brewhouse
Friday, December 6 & Saturday, December 7
A great chance to laugh your way through this classic holiday flick.
---
Grand Wine Tasting & Food Pairing
Wine Sensation
Saturday, December 7
Plan a date night and try 25 wines form around the world in this fun evening.
---
How the Grinch Stole Christmas Storytime
Barnes & Noble
Saturday, December 7
A special Story time featuring the holiday classic How the Grinch Stole Christmas!
---
Round Rock Market Days
Round Rock Centennial Plaza
Saturday, December 7
The last Market Days of the year – there will be Holiday Shopping, Music, & Fun!
---
Holiday in the Park & Craft Fair
Cat Hollow Park
Saturday, December 7
A free, fun-filled Family Holiday Festival and Craft Fair with Holiday Crafts, Activities, Entertainment, and pictures with Santa.
---
Ring Noel Concert: Sleep In Heavenly Peace
First Methodist Church
Saturday, December 7
This concert is a benefit for the Round Rock Area Serving Center. Audience members are encouraged to bring canned goods as ticket to entrance. It features music rung by our two performing adult teams, Jubilation and Council Oak Bells. Also featured will be our Sound of Joy bell ensemble, vocalists, and several instrumentalists.
---
Mays Street Boutique Jingle Bell Bash
Lone Oak Barn
Sunday, December 8
Mays Street Charity along with Mays Street Boutique will host our 2nd Annual Jingle Bell Bash at Lone Oak Barn. On December 8th we will turn the Barn into a Christmas shopping affair! Many local vendors will set up shop and bring their unique products to share.  All proceeds will go to purchase our 5th TrackChair! Join us for a day of holiday shopping, eats and treats as you support a great local community cause.
---
How the Grinch Stole Christmas (2018)
Flix Brewhouse
Sunday, December 8
It's a PJ Party with this classic film!
---
Caring Santa
Lakeline Mall
Sunday, December 8
Round Rock Premium Outlets will provide children with special needs and their families with an opportunity to enjoy a carefully managed Santa photo experience through the Caring Santa program.
---
A Bad Moms Christmas (R)
Flix Brewhouse
December 9
Check out this classic holiday movie at Flix!
---
A Christmas Story (PG)
Flix Brewhouse
December 10
Check out this classic holiday movie at Flix!
---
Planes, Trains, & Automobiles (R)
Flix Brewhouse
December 11
Check out this classic holiday movie at Flix!
---
Round Rock Community Choir Holiday Concert
Round Rock Community Choir
Friday, December 13
Admission is free. Donations of non-perishable items will be collected to benefit the Round Rock Serving Center.
---
Williamson County Symphony Orchestra Christmas Concert
St. William Catholic Church
Friday, December 13 & Saturday, December 14
FREE holiday concerts
---
The Polar Express
Flix Brewhouse
Saturday, December 14 & Sunday, December 15
It's a PJ Party with this classic film!
---
Nyle Maxwell Family Dealership Christmas Dreams & Snowy Things
CHASCO Family YMCA
Saturday, December 14
Come play in snow – real snow – all day at this Christmas Celebration.
---
Candlelight Christmas at the Williamson Museum
Williamson Museum on the Chisholm Trail
Saturday, December 14
The Williamson Museum on the Chisholm Trail is hosting a Cowboy Christmas celebration.
---
Family Christmas Breakfast
Round Rock Presbyterian Church
Sunday, December 15
FREE event – enjoy breakfast, crafts, and a story.
---
Central Texas Philharmonic Holiday Magic Concert
Klett Center for the Performing Arts
Sunday, December 15
Central Texas Philharmonic will perform all the festive seasonal favorites for a magical evening of music and cheer.
---
It's A Wonderful Life
Flix Brewhouse
Monday, December 16
Don't miss this Holiday classic movie.
---
National Lampoon's Christmas Vacation (PG-13)
Flix Brewhouse
Tuesday, December 17
Don't miss this hilarious holiday movie.
---
Don't miss all the Fun Happening in Round Rock this Holiday Season!