Where to Find Live Christmas Trees in Round Rock & North Austin
So you want your house to smell like Christmas with a LIVE Christmas Tree this year.  But you don't exactly know where to go to find one? No problem! We have you covered with where to find a Live Christmas Tree in Round Rock & North Austin Guide!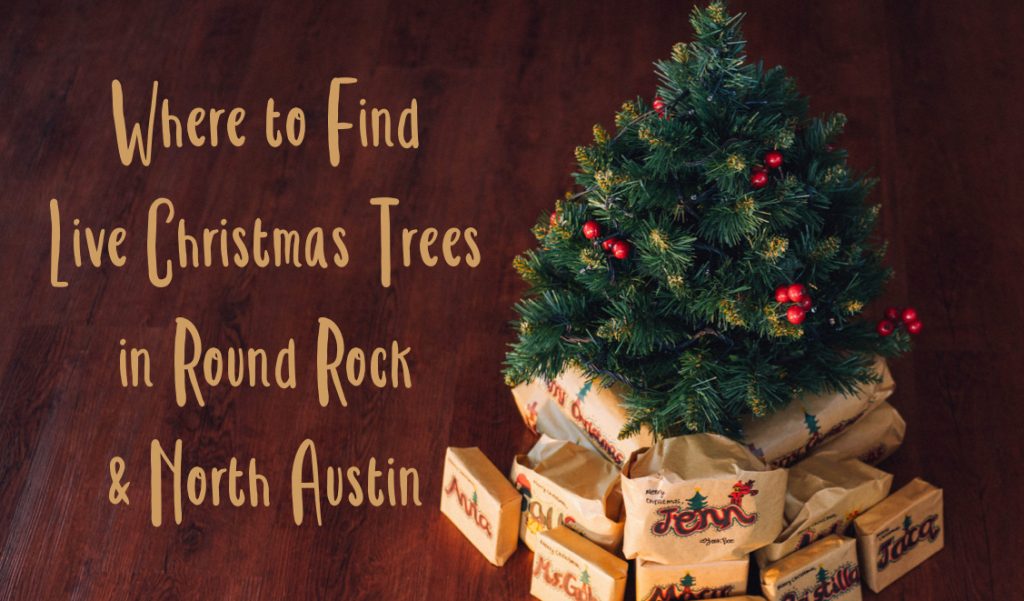 Yes, a fake tree has become the norm for the Holidays, hasn't it?  But that shouldn't stop you from getting a gorgeous live Christmas Tree for your home this year.  And lucky for you, there are lots of great Christmas Tree Lots in the North Austin area to find the perfect one for you.
Even better, make a day out of it and go cut your own Christmas Tree down! There are lots of Christmas Tree Farms in Central Texas to find the perfect tree for your Holiday Season.
---
This Live Christmas Trees Guide is sponsored by Rainbow Play Systems of Texas:
For nearly three decades, parents have trusted their children's dreams to Rainbow. That's because the best wooden swing sets start here. Offering more than 100 swing set designs from which to choose, all featuring the highest quality construction and a commitment to safety, Rainbow builds swing sets that you can feel good about and that your child can love.
Check out their holiday offers: https://rpsoftexas.com/current-specials/
---
Where to Find Live Christmas Trees in Round Rock 
Monday – Thursday: 9:00 am -7:00 pm
Friday & Saturday: 8:00 am – 8:00 pm
Sunday: 10:00 am – 6:00 pm
Round Rock Gardens has fresh cut Christmas Trees, wreaths, poinsettias, and garland.  You can also get your Christmas tree flocked here as well. 
Starting November 23, 2018
Saturdays 9 AM – 8 PM
Sundays 11 AM – 8 PM
Weekdays 5 PM – 8 PM
Where to Find Live Christmas Trees in North Austin
Brungot Farms
Twin Lakes YMCA
204 E Little Elm Trail, Cedar Park, TX 78613
Opening November 21, 2018
Pick out a fresh Christmas Tree or Wreath from Brungot Farms at the Twin Lakes YMCA in Cedar Park.  Browse their selection online before you go or have it delivered to you!
Staring the week of Thanksgiving
8:00 am – 6:00 pm (Mon-Sat)
11:00 am – 5:00 pm (Sun)
A variety of fresh-cut Christmas Trees, wreaths, poinsettias, and more.  You can also find flocked Christmas Trees here as well.
Papa Noel


Six Austin Locations:

– Lakeline Blvd & Lake Creek Pkwy (512-784-9732)

– 7806 North Loop 360 (512-538-9677)

– 1905 South Loop 360 (512-789-8213)

– Oakhill, South Austin (512-784-1956)

– Bee Cave & Lakeway (512-789-6329)

– Mopac & 2222 (512-897-2122)

Handcrafted fraser & noble fir trees from North Carolina, these trees are guaranteed to stay fresh the entire season, or you can exchange it for another.
---
Where to Cut Your Own Christmas Trees in Central Texas 
Opening Saturday, November 24 – December 18, 2018
Monday -Saturday: 10:00 am-5:30 pm (Mon-Wed)
Plan for a full day as the Elgin Tree Farm offers much more than the ability to cut your own tree.  A scenic hayride, animals, Christmas Cottage for shopping, crazy maze and more!
Opening Friday, November 23 at 10 am thru December 24, 2018 at 3:00 pm
Monday – Friday: 12:00 pm – dark
Saturday: 10:00 am – dark
Offering choose & cut your own Christmas trees as well as pre-cut trees, wreaths, and garland.  Additionally, there is a nature trail, animals, and a gift shop.  On weekends, relax by the fire pit while roasting marshmallows.
---
Don't miss all the Fun Happening in Round Rock this Holiday Season!