Hat Creek Burger Company Breakfast
Did you know that Hat Creek Burger Company made breakfast?  Neither did we, so we went to check it out last week! Here's our experience:
Ever since Hat Creek Burger Company came to Round Rock a few years ago, we have though of it as a great place for burgers and families.  And after all, they have won "Best Children's Restaurant" in our Best of Round Rock the last two years. But each time I am there, I catch a glimpse of their breakfast menu and I always comment to myself, "I forgot they made breakfast!"
Are you with me?
Hat Creek Burger Company is an Austin-based business that really does a great job of focusing on the local community. It started as a food truck by UT-alum, Drew Gressett in 2008 and has grown to 12 locations in Texas (by the end of 2017).  The focus on fast-casual food with a family-friendly atmosphere has worked well and Hat Creek Burger Company is well-loved in Round Rock.
But most people go for lunch & dinner when they have a full made-to-order breakfast menu. Let me tell you about it:
Hat Creek Burger Company Breakfast Menu
Hat Creek Burger Company has a full breakfast menu and everything is made to order, so your breakfast taco comes out piping hot. Focusing on supporting other local businesses (LOVE!!), Hat Creek serves Cuvee Coffee, which is handcrafted here in Austin, and serves fresh organic eggs from local farm, Vital Farms.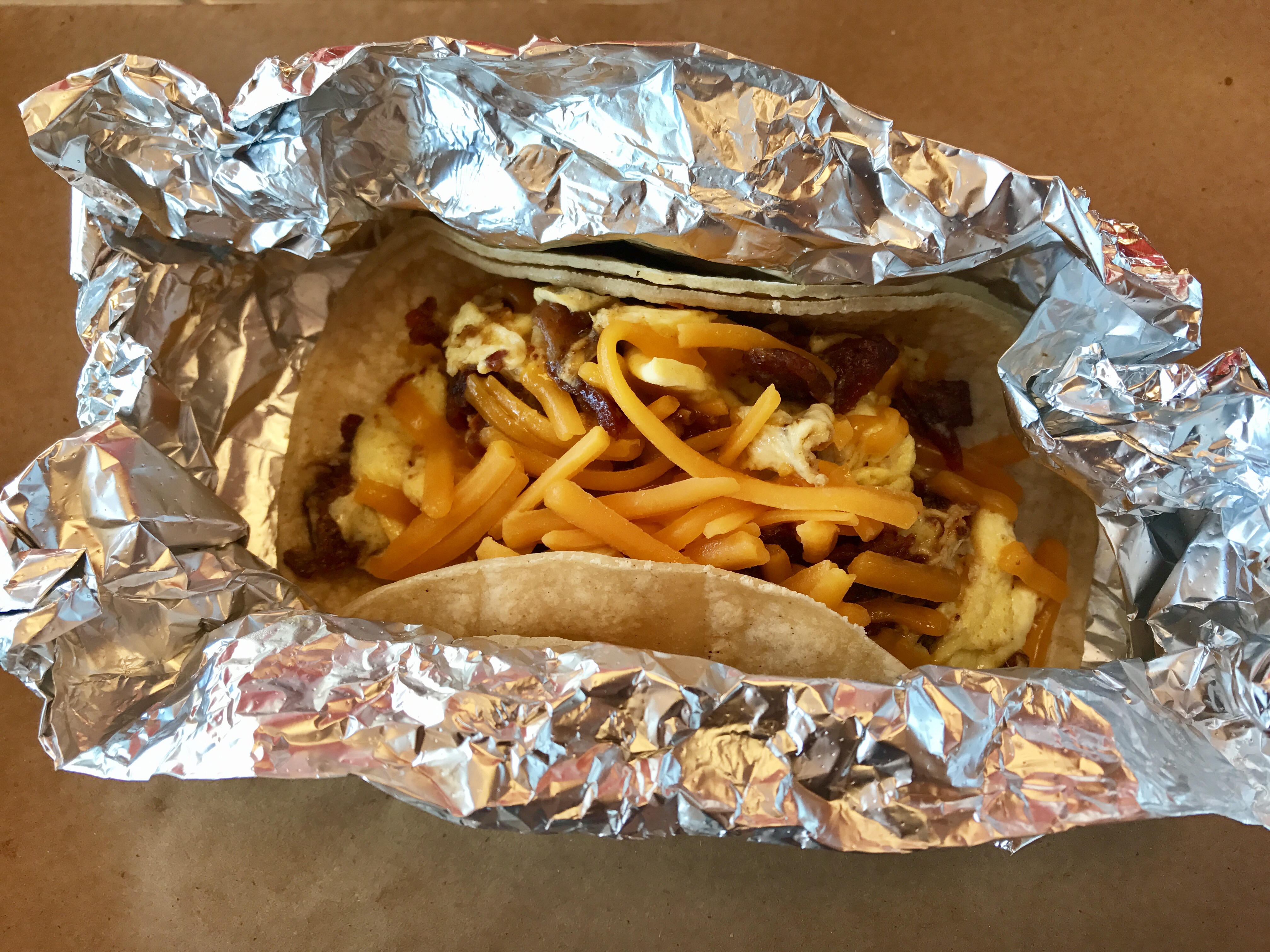 Can't go wrong with a breakfast taco!  Truthfully, it's my favorite breakfast item anywhere I go and I really love all the options you can get at Hat Creek.  Choose from flour or corn tortillas, and two additional items on top of the eggs – bacon, sausage, potato, tomato, spinach, cheese or avocado.  And if you are wanting to skip the tortilla, you can order it as a bowl.
Platter #1 and Platter #2 are your more traditional breakfast plates with 2 eggs, potatoes, toast and bacon or sausage for Platter #1 – add sauerkraut & avocado for Platter #2.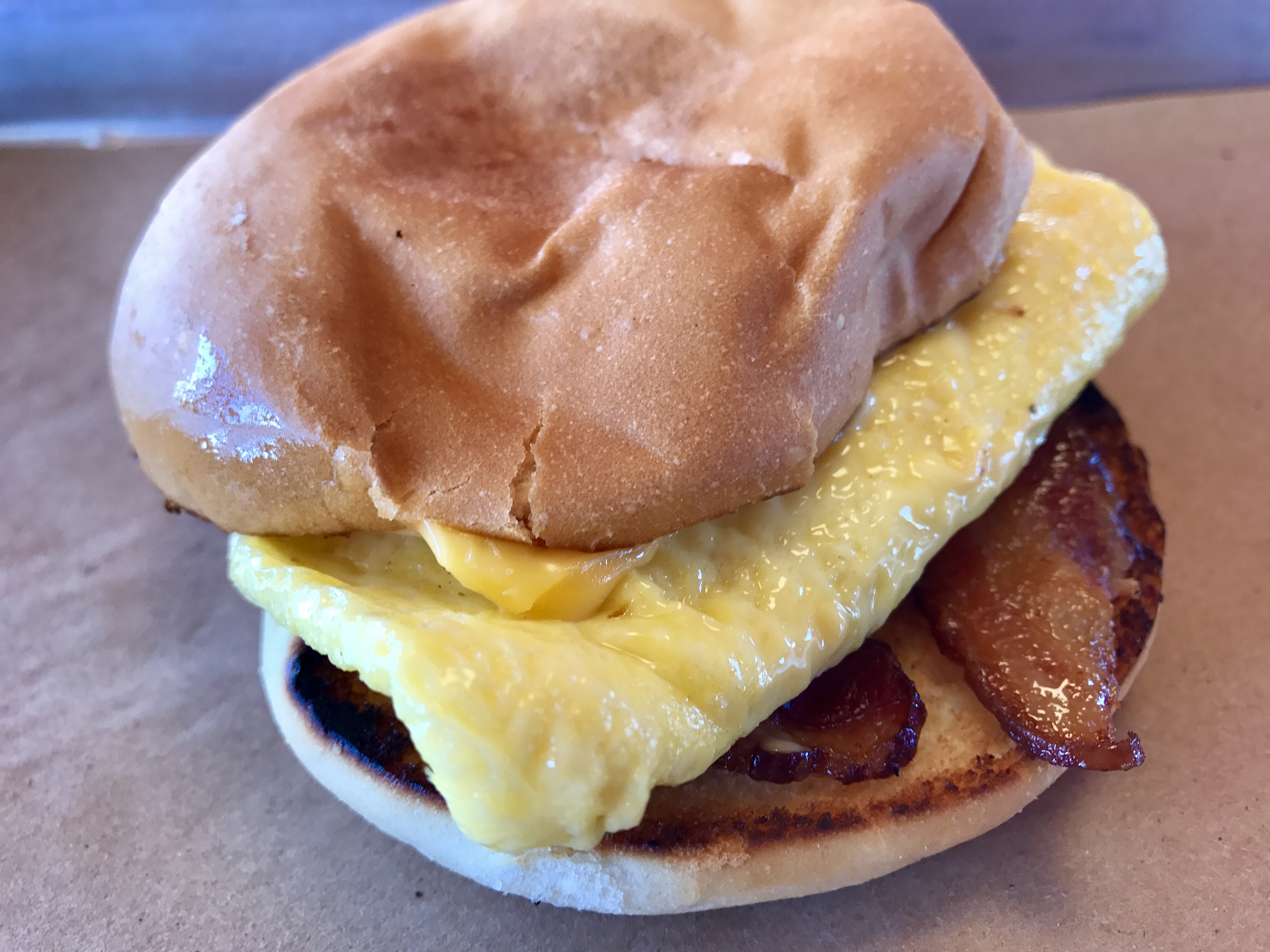 A more unique item, the Breakfast Hat is a breakfast sandwich (egg, bacon or sausage & cheese) on a bun. You can also add a burger, chicken, or turkey if you'd like.  Get it Signature-stlye by adding the spicy sauerkraut to the Hat.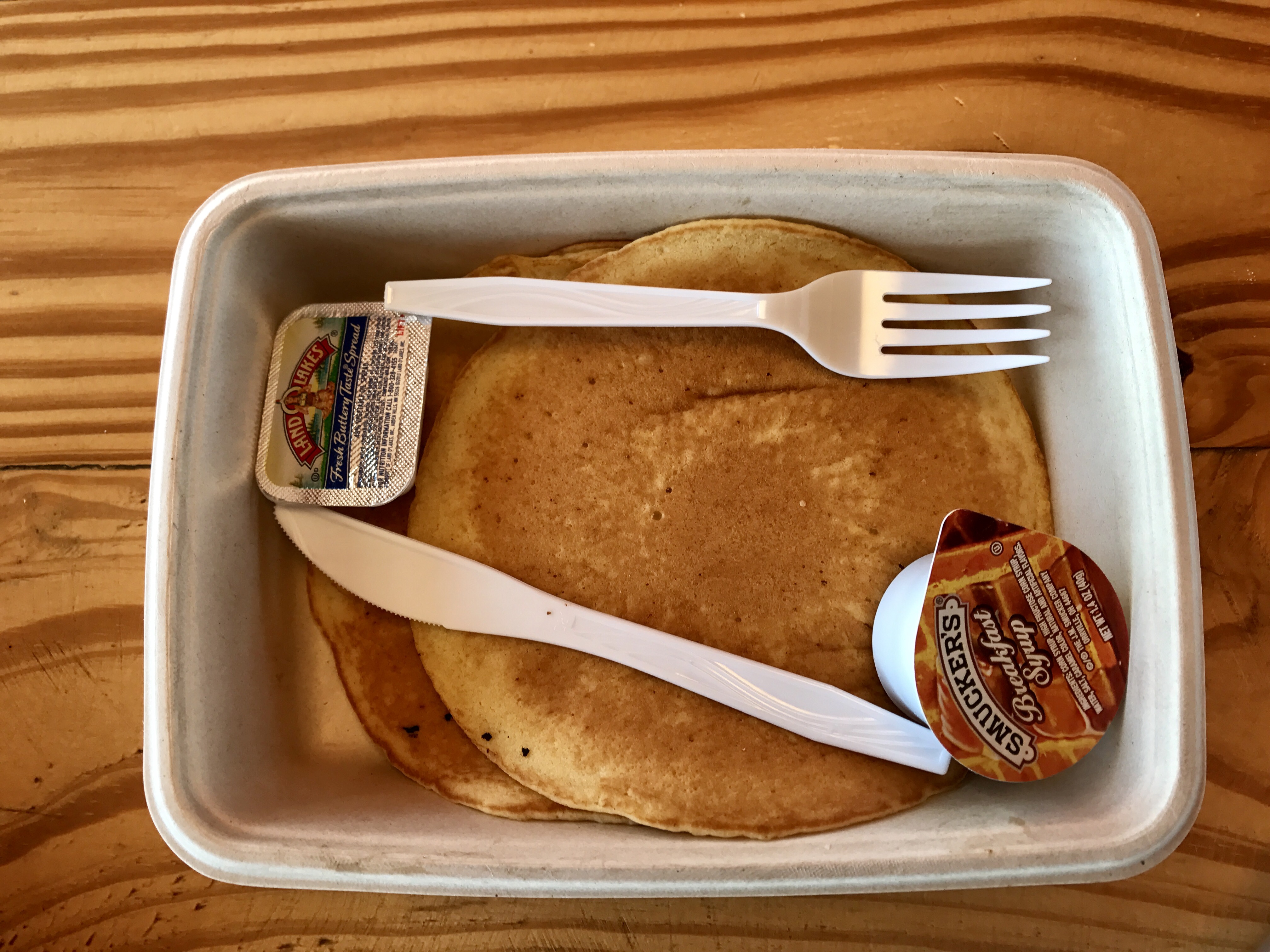 And lastly, the Flat Hats – which I could to be a little on the sweet side.  They were light & fluffy – I loved them!
Hat Creek Burger Company's breakfast is very reasonably priced, making breakfast affordable for the whole family.  You can view their whole menu here.
Hat Creek Burger Company Breakfast Atmosphere
As I mentioned previously, I'm already a big fan of Hat Creek Burger Company for kids.  It has a unique playscape for kids, which makes it's an ideal location for lunch & dinner playdates.  So my thought is, knowing that Hat Creek makes breakfast, it's also a great place for mid-morning playdates with the younger kids too!
Hat Creek has great seating for parents to allow them to keep their eyes on their kiddos while they play.  And as the months get hotter, coming in the morning for an outdoor playdate is actually a really great idea.
Here's is our experience with our Hat Creek Burger Company Breakfast:
So, we are a fan of Hat Creek Burger Company's breakfast – and now that you know they make breakfast, don't you think it's about time you tried it too?
Disclosure: I was invited to try breakfast at Hat Creek Burger Company and asked what I thought. All opinions are my own.