I love burgers, so when a new burger place opens in town, we are quick to try it.  I have been wanting to try Mooyah up on University Blvd. since it opened a few months ago.  I have a friend in Dallas who raves about their french fries.  So we popped in there last night and here's what we thought:
What We Liked about Mooyah in Round Rock
The Burgers – Mooyah burgers are made to order with a huge list of sides and fresh baked buns (white or wheat).  They also offer a turkey burger or black bean burger.  I really enjoyed the fresh veggies on my burger – the lettuce was crisp and pickle slices were thick and crunchy. The veggies had taste and weren't just there to make the burger look pretty.  They also have a gluten-free menu.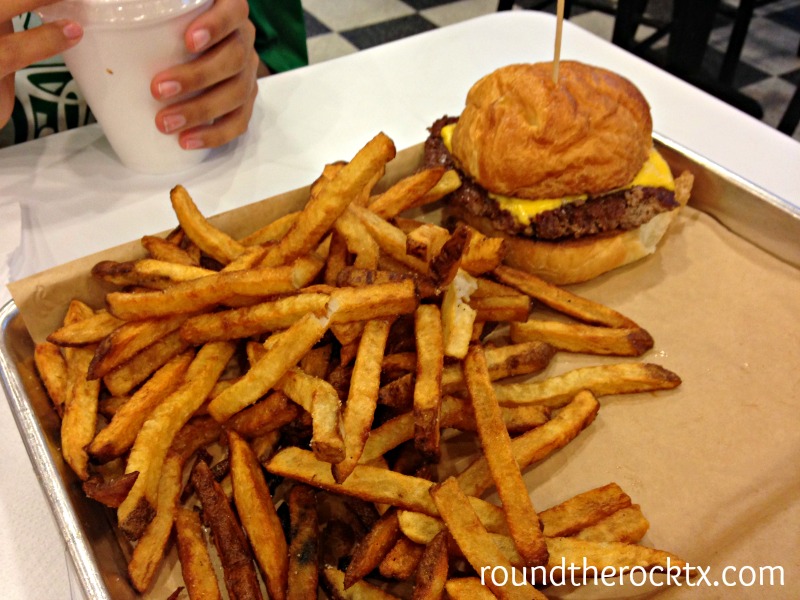 The Fries – As my friend said, we thought the fries were good.  We ordered both the sweet potato & regular fries.  Normally I am partial to the sweet potato ones, but the regular fries were cooked perfectly and there were a ton of them.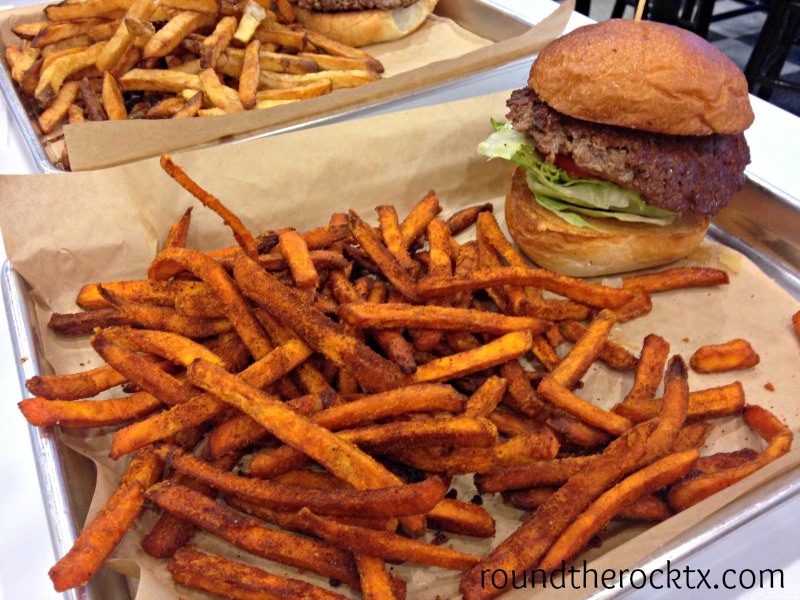 The Milkshakes – My kids both tried the shakes – they liked the tons of fun flavors to choose from  – we tried the Mint Chocolate Chip & Cookie Dough.
Healthy Options – Mooyah's offers huge salads with a burger patty or a burger wrapped in lettuce – called an Iceburger.  So if you are health conscious, there are options for you as well.
Kids Activities – I like it when a restaurant is thoughtful enough to provide kids activities – make it a great family atmosphere when you have paper & crayons and a big chalkboard wall to keep the kiddos busy (& creative) while you wait of your food.
Outdoor seating – More and more restaurants in this area are starting to offer patio seating – it will be really nice to sit out here on cooler evenings.
Friendly staff – The staff at Moohyah's greeted us as we walked in the door and were all very helpful while ordering.
Exceptional Customer Service – After our meal, the manager was walking around, asking guests how it was and I told her that I thought my sweet potatoes fries had too much seasoning & she immediately corrected the problem.  I like a restaurant where the customer is always right and  there is no push back or excuse-making.  We had an unfortunate experience at a local chain restaurant last week here in Round Rock where the manager did the exact opposite and we will never go back.  The manager at Mooyah's asked me to come back and try the fries again and gave me a coupon for free ones.  It was after this incident that I asked her permission to write about our experience here on the blog. Good customer service like this needs to be told!
We enjoyed Mooyah's and will definitely be back.  Some have mentioned they felt Mooyah's was pricy, but I didn't feel so.  As these burgers are made to order, you can't expect to pay fast food prices. So it will cost a bit more than a drive-thru, mass-produced burger place.  But not much more so.
Mooyah in Round Rock Giveaway
The manager offered 4 Mooyah combo meal coupons to give away to my readers too.  Use the below Rafflecopter to enter to win 2 combo meals.  We will have 2 different winners.  Giveaway begins on Friday, October 10, 2014 and lasts through Sunday, October 19, 2014 at midnight.  Winners will be randomly chosen on Monday, October 21, 2014 and notified by email.  They will have 24 hours to accept their prize or we will choose another winner.  Good luck!
Have you tried Mooyah's yet?  Tell me what you think below.  If you haven't tried it yet, head over this weekend and come back and tell me what you thought.