PizzaRev ~ NOW OPEN in Round Rock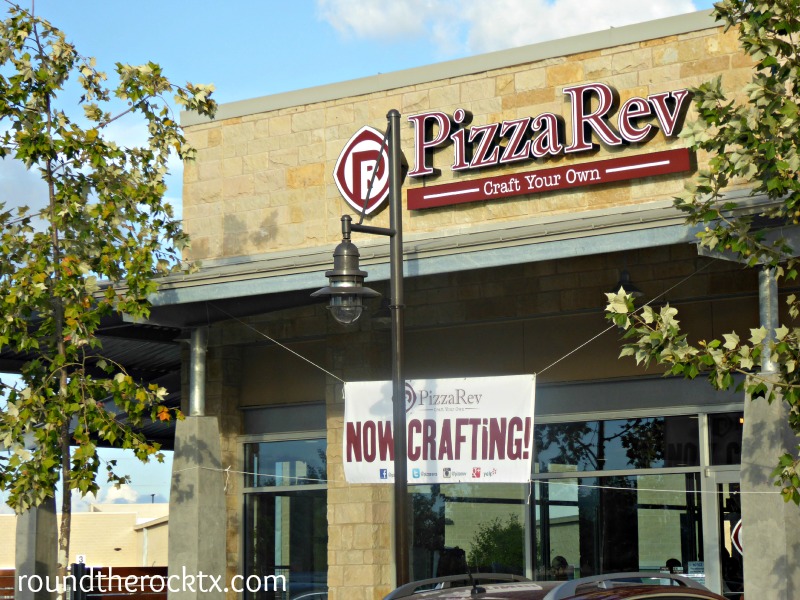 Pizza is our go-to meal in our house. Seriously, we have it at least once a week, so we know all the pizza places in Round Rock pretty well by now.  As you can imagine, we get excited when a new pizza place opens up…like so excited, we go and try it the first night it's open.  As we did last night at the new PizzaRev in North Round Rock.  Here's what we thought:
Concept
PizzaRev has a totally unique concept where you can craft your own 11″ pizza all for the same price – pick the crust, sauce, cheese, and as many topping as you want.
Cheese & Pepperoni? $7.99
Cheese & olives, peppers, artichokes, sun-dried tomatoes, garlic, and ham? $7.99
Meat Lovers (pile it on!)? $7.99
Get it? ANYTHING you want on the pizza is only $7.99  You build it as you go down the line, telling the pizza slingers exactly what you want.  The only exception is if you want a cheese pizza, it's only $5.99.  They do have a specialty pizza menu you can order from if you don't want to bother with building your own, but I think that's half the fun. And with choices like gluten-free dough, organic marinara, fennel sausage, and fresh basil, you can make some pretty great pizzas.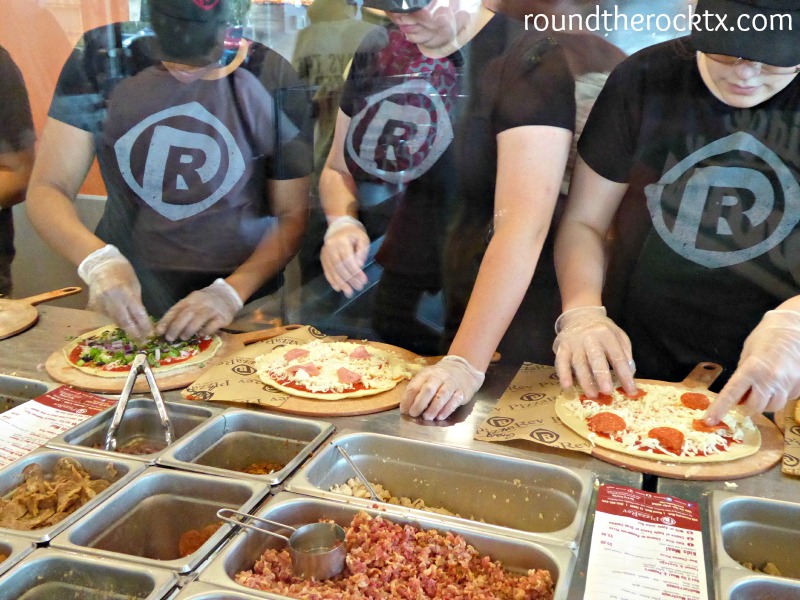 How do they not mix your pizza up with the guy in front of you?
While your pizza is being made, your name is on the wrapper that goes with the pizza.  When it goes in the oven, a numbered stick goes on the pizza to match it back to it's owner after it's cooked.  With 15 pizzas all getting cooked at the same time, I had a hard time figuring out how they could manage it, but they have it down.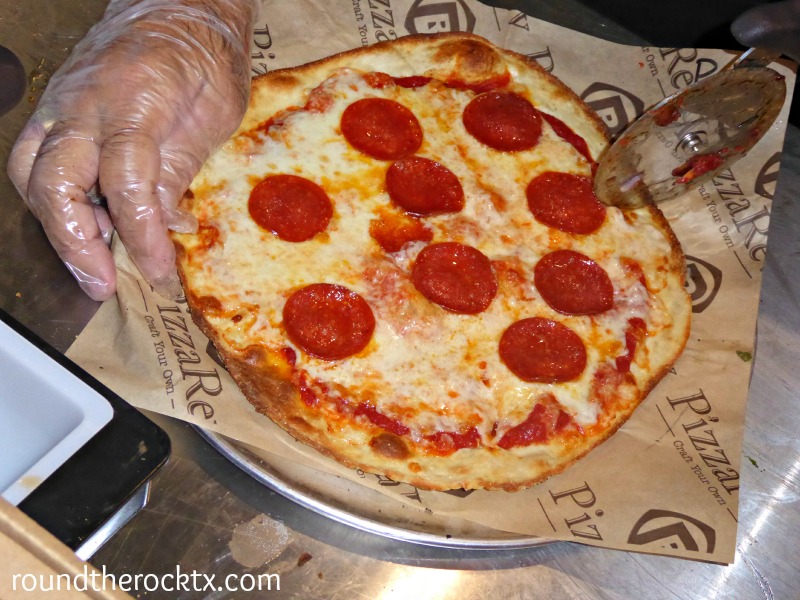 How was the Pizza?
It's a flat crust pizza that is cooked in 3 minutes in a 900-degree stone-fire oven, so don't expect big crusty dough.  I'm a fan of flat-bread pizza and I loved getting to pick exactly what I wanted.  I chose the regular crust with marinara and low-fat mozzarella with a few veggies and ham.  It comes out of the oven bubbly-hot and it was delicious.  I was going to get a salad to go with it, but the pizza was more than enough to fill me up.  My daughter's pepperoni was perfect and they even made my son a sauce-less, cheese pizza just like he like (don't ask – we don't know how this kid ended up not liking pizza). Everyone really liked their pizza.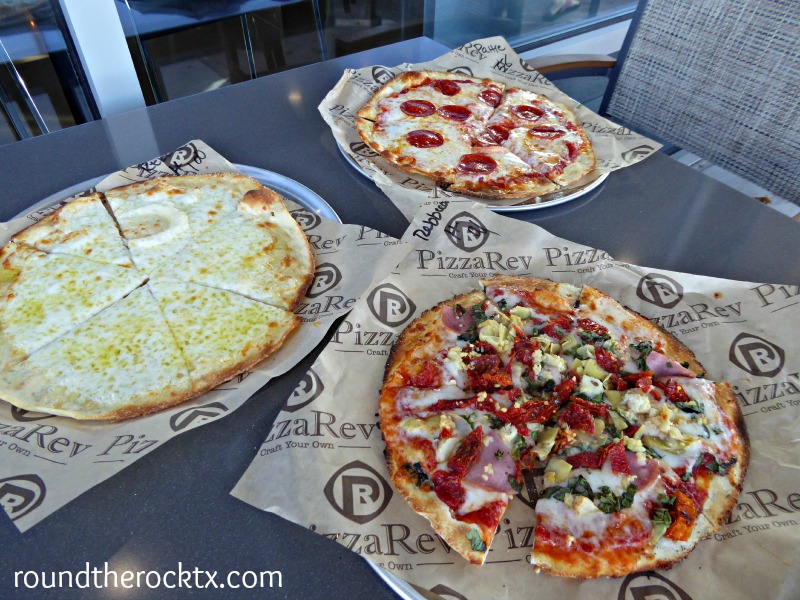 They were pretty busy last night, as they probably will continue to be the first few weeks they are open.  Because someone is making the pizza right in front of you, make sure you tell them when to go easy (or heavy) on certain ingredients – I had clumps of garlic that I would have liked to have seen spread around all over the pizza.
They offer kids meals that come with a smaller sized pizza (which my 5 year old ate faster than all of us), applesauce or a cookie, and a juice box or a milk.   I thought it was a good deal for $5.99.
Would I go Back?
I will for sure go back.  While I think it's a little pricy for $8 a head to each get their own pizza (versus sharing a large pizza),  I like the concept that everyone gets exactly what they want.  And we all really thought our pizzas were delicious.  If I can get a healthier version of pizza for myself, I will pay more for it. And my kids liked it – all 3 said they wanted to go back.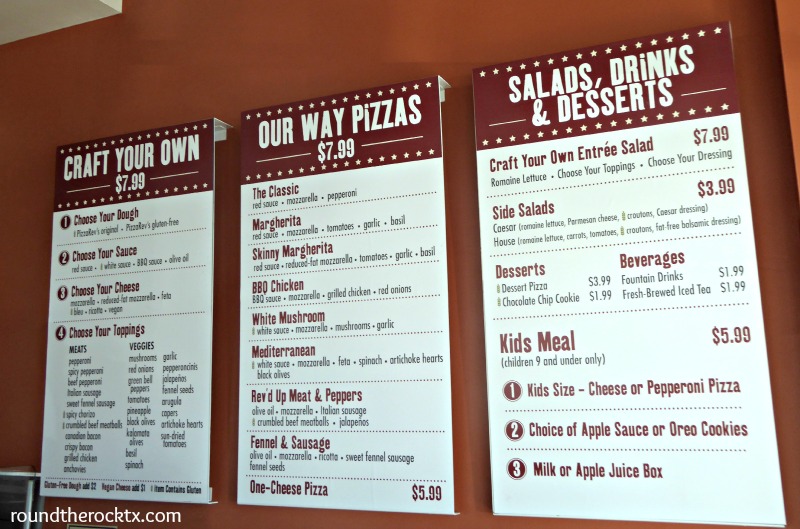 PizzaRev is located at 200 University Blvd. behind the H.E.B. and it's open daily from 11:00 am to 10:00 pm.  The franchise comes from California and we are the first location in Texas.  They offer catering and fundraising. If you like pizza, I recommend you give it a try!