More Patio Dining & Drinks in Round Rock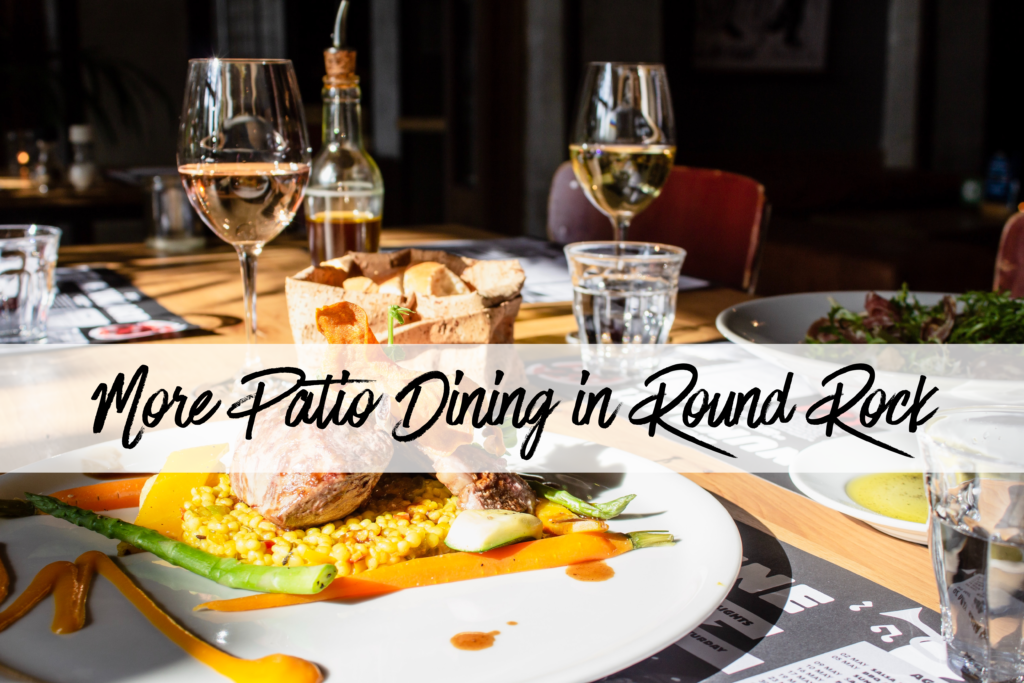 When the weather is nice nothing beats patio dining! Therefore, we decided to expand on our previous article featuring eight local establishments with patios and let you know about a few more. We hope you enjoy our list of new and notable patios for you to check out!
Ruby Hotel & Bar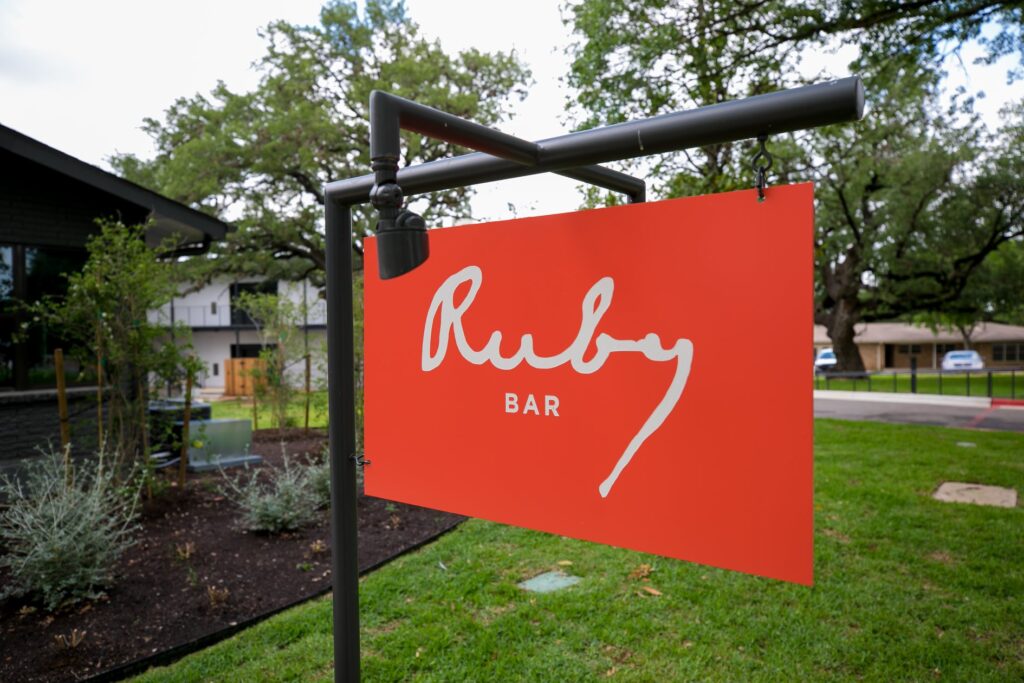 Ruby Hotel & Bar
400 Fannin Ave.
Round Rock, TX 78664
This adorable outdoor area is tucked away in downtown Round Rock and sits right on the bank of Brushy Creek. When we visited there was a tree full of beautiful white heron roosting in a nearby tree! So pretty! They offer an extensive cocktail and wine menu and their food menu has a variety of items for sharing and several entree type choices. The perfect spot for a date night!
Cork & Barrel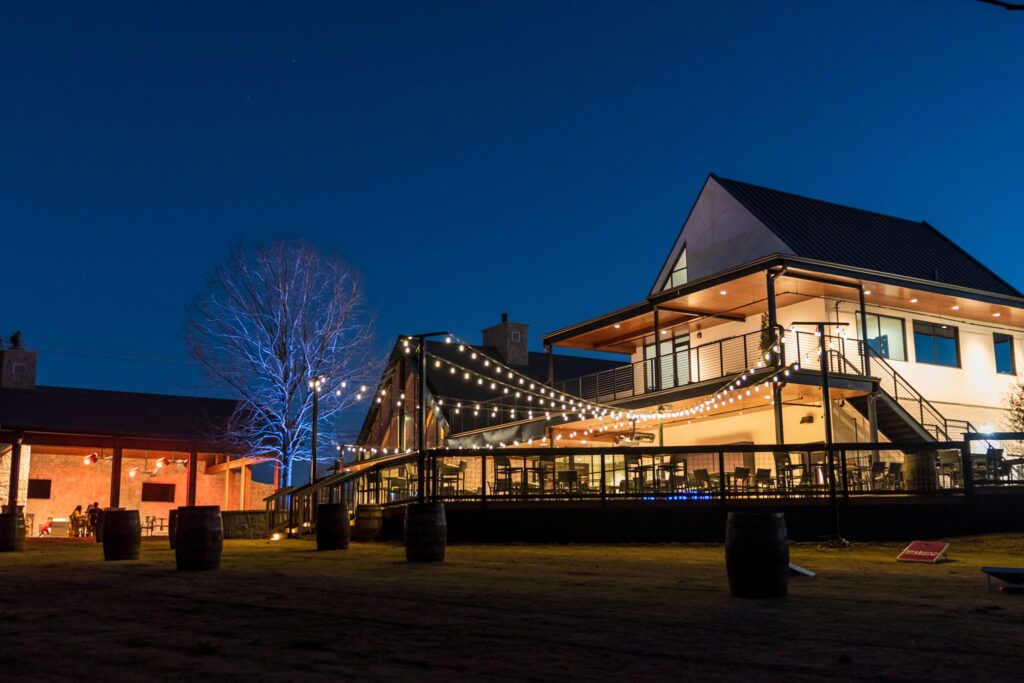 Cork & Barrel
4000 E. Palm Valley Blvd.
Round Rock, TX 78665
This large patio has several seating options for a variety of crowds. There are tables for sitting and dining, high tops for casual visiting, and a large grassy area for enjoying live music and socializing. The patio area is open seating and does serve a slightly modified menu from the inside dining areas. You can check out their events schedule here and learn more about this new local hot spot in our behind-the-scenes article.
Santiago's Tex Mex & Cantina (Premium Outlet) *New Location with Patio Dining*
4001 N IH 35 Suite 2002
Round Rock, TX 78664
A small but fantastic family-owned and operated Tex-Mex and Mexican Restaurant offering freshly prepared meals and drinks at great prices every day of the week! Our family recently tried this new location on Mother's Day when all of our usual tex-mex favorites had over an hour wait! This new location has a large patio dining area with seating near the play yard for the kids!
Sortino's Italian Kitchen – Patio Dining & Drinks
Sortino's Italian Kitchen is a casual restaurant and bar that brings to Round Rock a tradition of hospitality established by Giorgio and Giacomo Sortino more than 60 years ago when they opened the original Sortino's Little Italy restaurant in Sandusky, Ohio. Whether you're dining with friends, gathering with colleagues or simply feeding the kids, Sortino's satisfies the appetite and soothes your soul with the flavors of Italy and the warmth of family. Their large covered patio is cheerfully lit with cafe lights and is a great place to enjoy a meal outside on a nice evening! You do not have to be a guest of the hotel to enjoy their amazing dining options!
The Kenny Fort Pub
3001 Joe DiMaggio Blvd. Ste 1400
Round Rock, TX 78665
If you're looking for a patio in Round Rock you won't want to miss this one! The Kenney Fort Pub aims to give you the experience of a great local British pub/restaurant with exceptionally friendly service, hearty British dishes made freshly on-site from local ingredients, a great selection of beverages including up to 30 craft beers locally sourced. Additionally, Kenny Fort Pub is family-friendly, and owned and operated by the Jones, a British Family who fell in love with Texas. The patio here is beautiful! There are couches and a bean bag toss for enjoying!
Papi's Pies – Brunch/Lunch Patio Dining
10 Chisholm Trail Rd.
Round Rock, TX 78664
Papi's Pies patio in Round Rock is tucked away off the beaten path but is certainly worth seeking out and giving a try! Family-owned and serving dishes from their Mexican and Bolivian heritage, along with favorite European cafe classics, make Papi's a local favorite for brunch and lunch!
In conclusion, we hope you will get out and enjoy some patio dining at one of these local businesses! If you know of one we've missed leave us a comment.
Other Articles You May Enjoy