Cork & Barrel Craft Kitchens: A Behind-the-Scenes Look
Cork & Barrel Craft Kitchen and Microbrewery is the Perfect Blend of Irish Charm and Texas Hospitality by Dining Correspondent, Lisa Mays
As Round Rock blooms and grows, we have the good fortune of having drawn the attention of local entrepreneurs with vision. They are adding a welcoming and warm place to our community for locals to experience as well as those tourists exploring our city for the first time.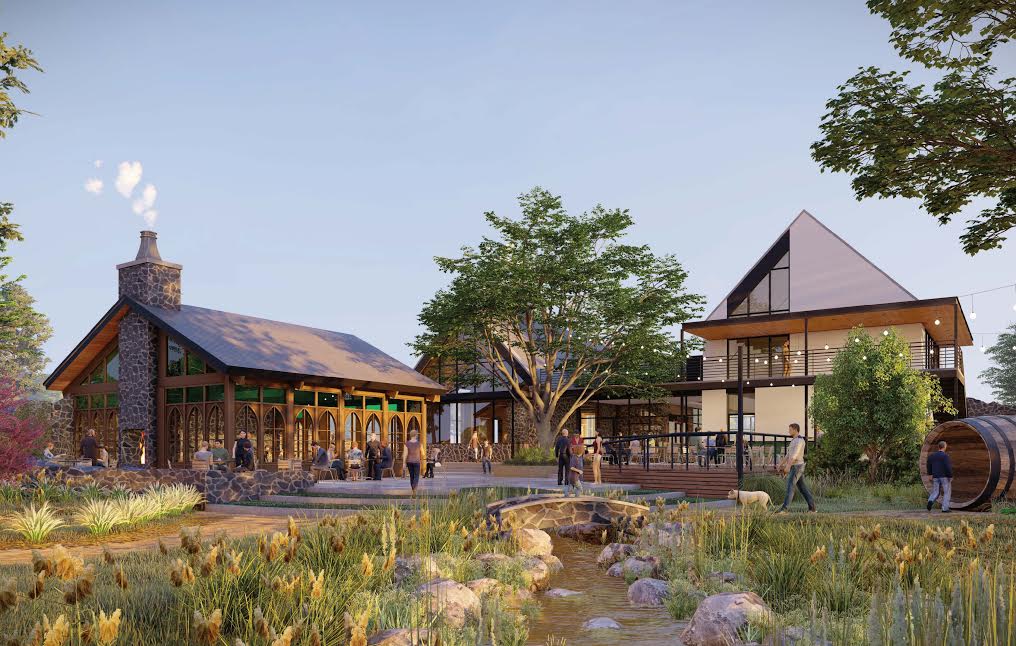 Luckily, I had the good fortune to meet up with four men who are movers and shakers in the hospitality industry. They gave me a sneak peak of the soon-to-be open Cork & Barrel Craft Kitchen & Microbrewery. Cork & Barrel is located on almost four acres on Palm Valley Road just past Dell Diamond and across the street from the sprawling soon-to-be-opened Kalahari Resort.
Founder and visionary, Sam Darlington, has called Texas home for over 30 years but his roots began in Belfast, Ireland. His passion and Irish spirit led him to lay the foundation for a place with a warm and friendly atmosphere that extends to locals and visitors alike.
Cork & Barrel will soon be that place with a casual social vibe with food, drink, live music, sports and an atmosphere that would spark conversations between locals and those new to this area as well. His rich Irish heritage combined with his adventurous Texas spirit has culminated in a unique fusion of Irish and Texan lifestyle which will result in a perfect blend of culture and cuisine.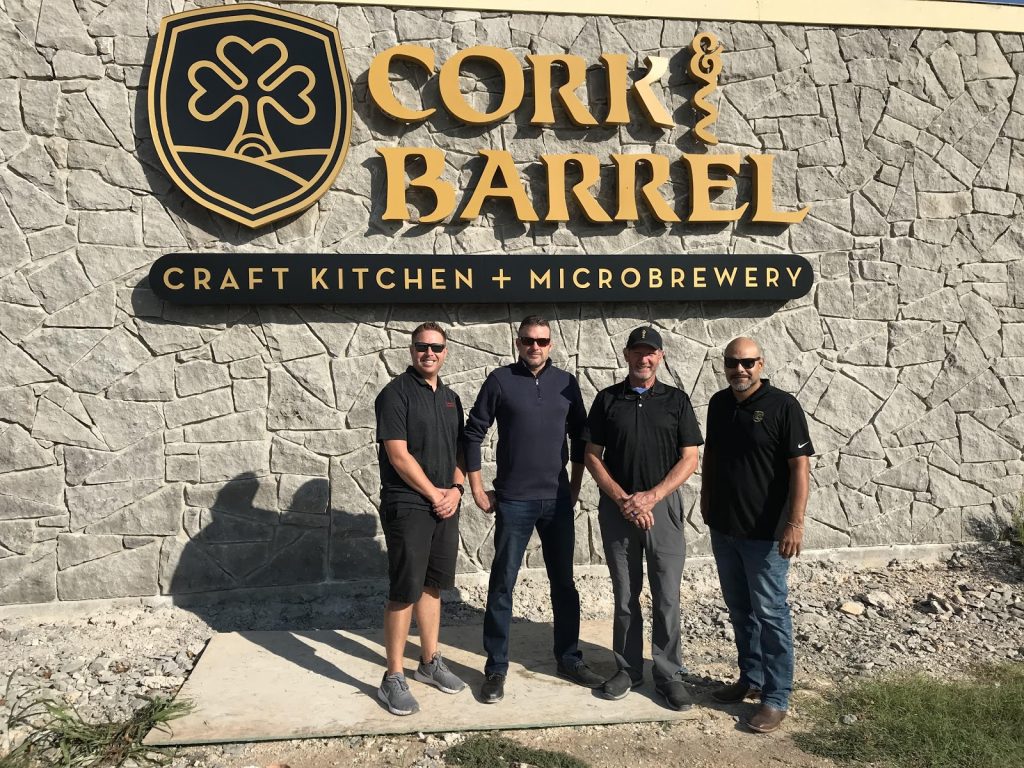 Cork & Barrel will soon be the perfect blend of warm and welcoming Irish hospitality paired perfectly with hand-selected wines, Irish beers from the on-site microbrewery and with fresh and creative Texas cuisine curated by Chef Josh Watkins. 
Cork & Barrel: The Tour
Recently, I met up with Sam and co-owner and hospitality expert Jay Kudla, Austin Markman, Director of Restaurants and Wine Program Manager and Paul Gomez, Assistant General Manager and events coordinator for a private tour which began with a toast with a Guinness before the tour.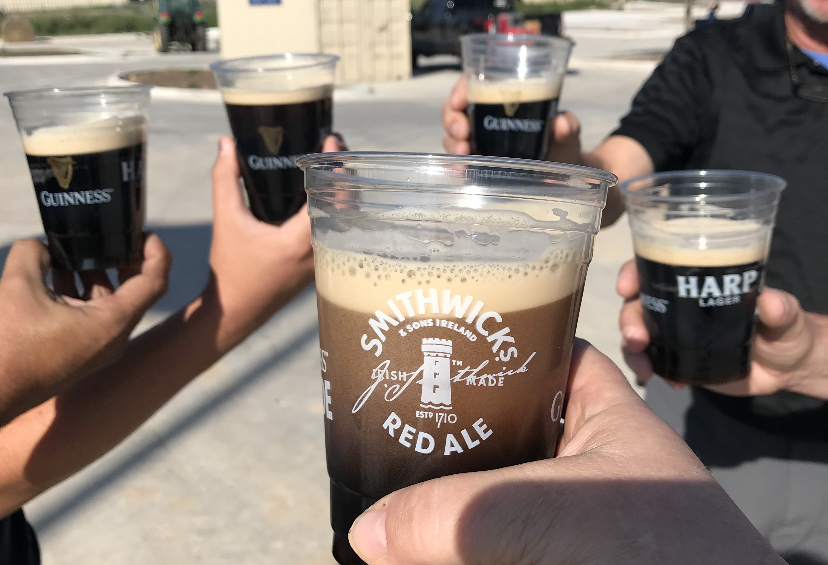 What an amazing opportunity I had hanging out with these visionaries while learning all about their passion project! It was clear to me from the beginning that this group of men had a dream of creating a place with an atmosphere welcome to all, a familiar place that will soon become a meeting place for friends to hang out, meet up, relax and revive. 
You can see the excitement in their eyes as we began the tour in the office where all the plans and photos of the future pub reside. Jay walked me through the plans of each room including the microbrewery, future beer garden, Chef's open kitchen and the meticulously planned decor. 
Cork & Barrel: The History
Cork & Barrel is more than a pub and meeting place. It's a history lesson.
Sam's charm, warmth, and keen sense of Irish wit will draw you in. He is a master at storytelling of his family history and what a history it is!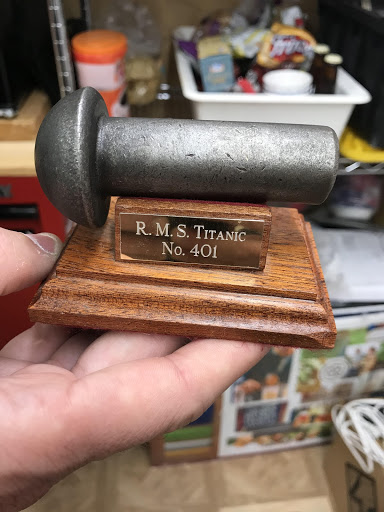 Both of Sam's grandfathers were riveters of the Titanic. Throughout the pub, you will find unique memorabilia from this family's history. The ladies restrooms will replicate the ladies rooms on the Titanic and will have the exact replica of the wallpaper that lined the walls of the luxury liner that met its fate in 1912.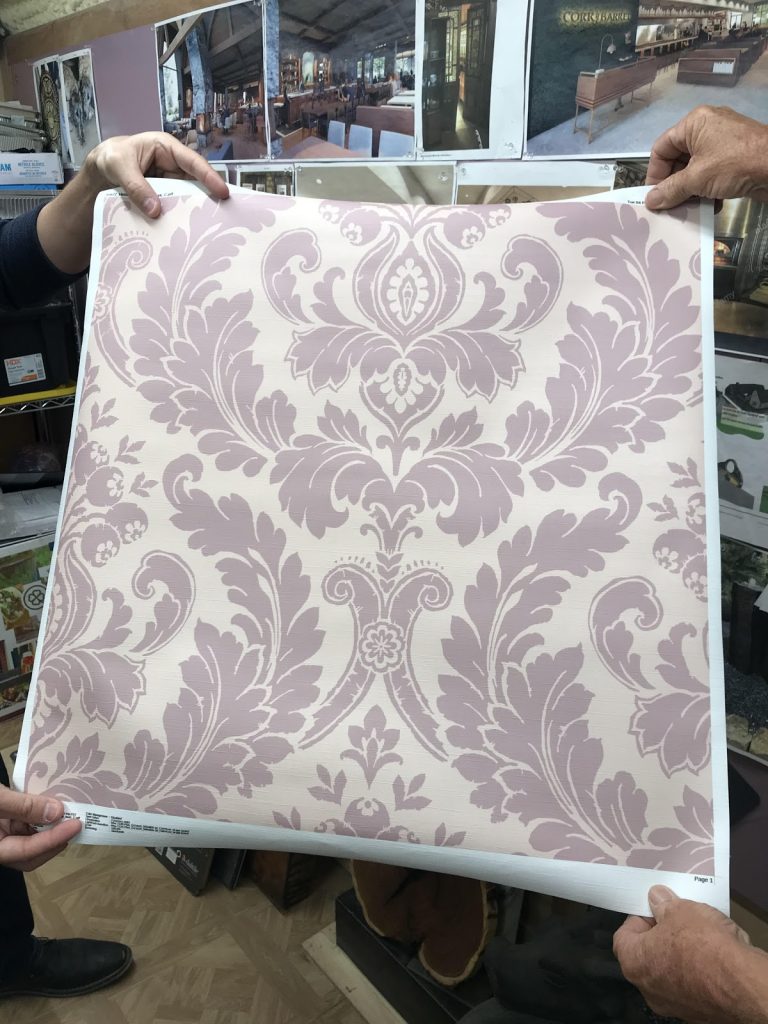 Stained glass windows from the hospital that Sam and his family were born in will be displayed on the floating fireplaces, which are awesome sites to see on their own. When you meet Sam, be sure to get him to tell you these fascinating stories. Ask him to tell you about The Giant's Causeway and waterfall just outside the beer garden.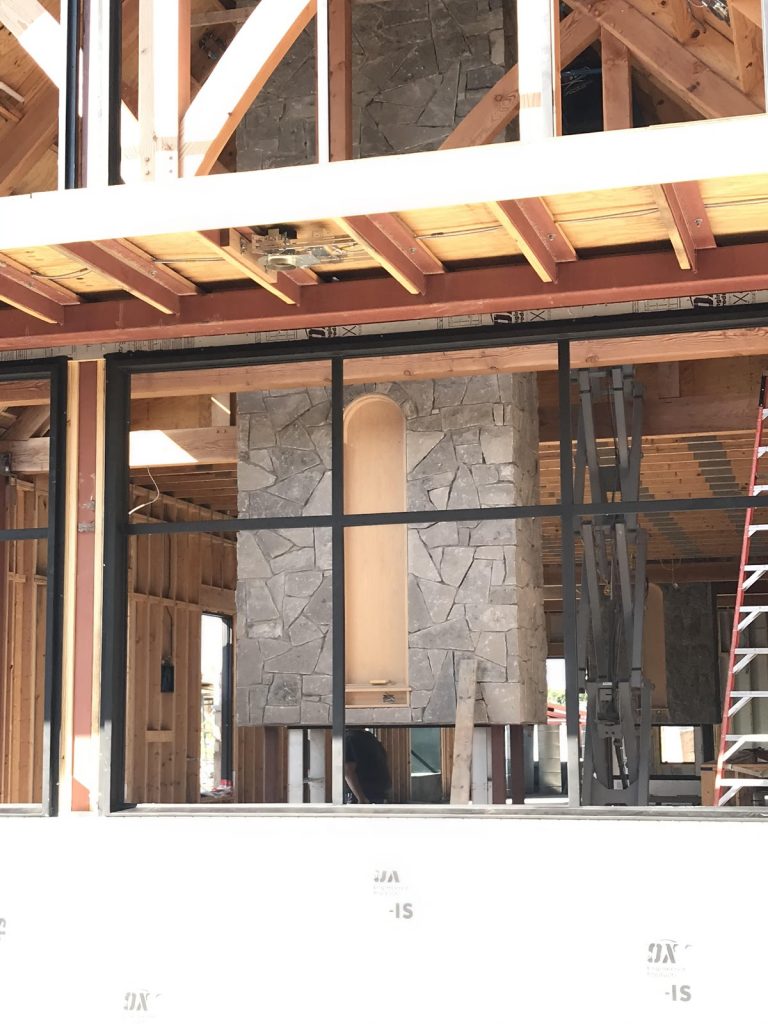 Cork & Barrel: What to Expect
Seating indoors will be a mix of bar stools around the bar, seating around the Chef's Counter, dining tables and snugs if you choose, which are traditional out-of-the-way cozy seating booths in Irish pubs.
Austin, the Wine Director, will feature wines that will be just right for every palate. He believes wine should be enjoyed and not cellared for years just for show. There will be at least 16 wines by the glass implementing the Coravin wine system and a selection of stellar wines by the bottle.  He is eager to spend time with his guests to help in the selection of a new favorite wine or bubbly by the glass or bottle.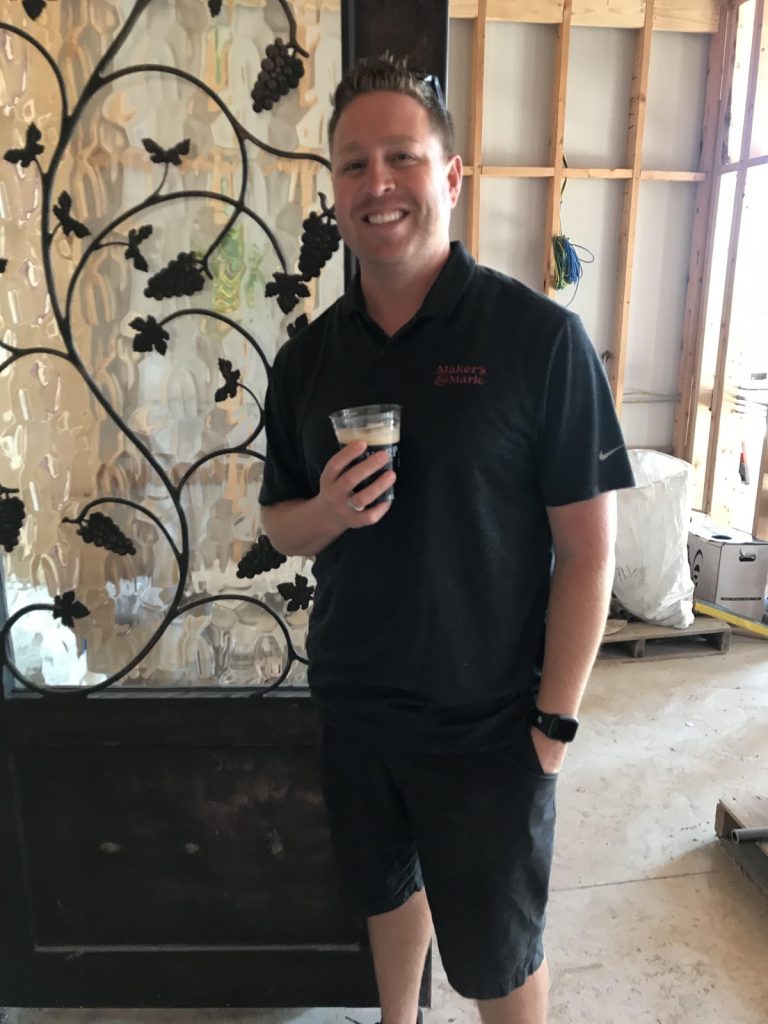 Behind the ornate glass wine door, will be a temperature-controlled room where he will bring you in, open a bottle and let you experience your love for wine through his expert palate and even a private dining table for reservation.
For those who want a more private experience, replicas of whiskey large barrels with seating for small group private dining will be in the back near the beer garden and available for reservation online. Each barrel was handmade by Sam and they are just so unique. Ask Sam to tell you about the "rollover."
Can't wait to make my reservations for the private dining barrel!
Music is an important part of the Irish culture as well as being near the epicenter of the Austin music scene.  Paul is busy booking music from our rich pool of musicians and bands around the area with a variety of genres that is sure to attract many who enjoy great tunes while throwing back a brew or having a fine dining experience.
Everyone will always know when Happy Hour begins!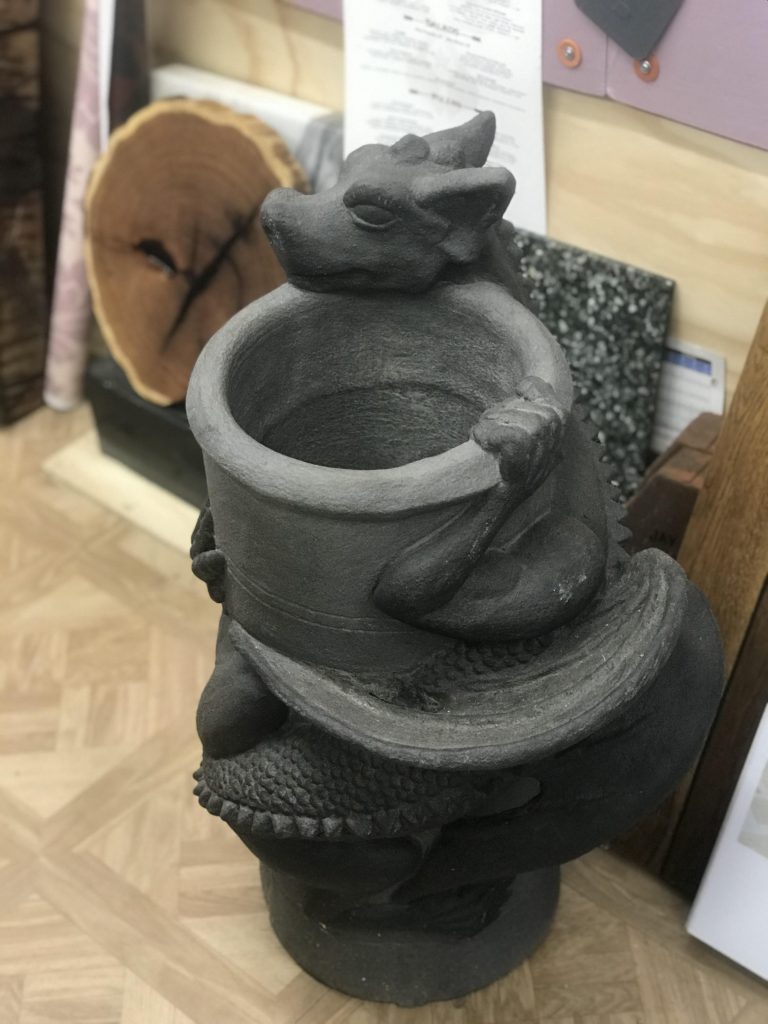 See the artist's rendering of the finished pub with the smoke from the chimney stacks? Smoke will be blowing for Happy Hour and changing colors later in the evenings if there are Late Night Specials or Live Music.
And, speaking of bourbon whiskey, a collaboration with Maker's Mark resulted in a special limited hand-selected blend just for Cork & Barrel! As a lover of bourbon, this one's a keeper and I can't wait to sample this!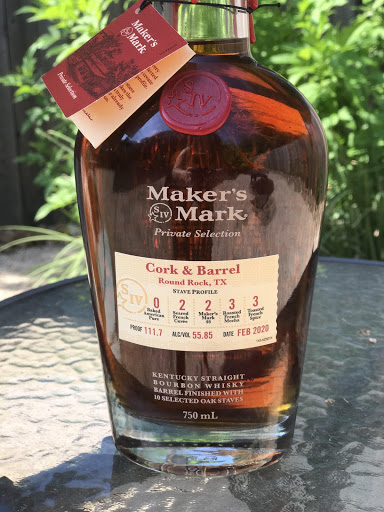 Ya'll! That's my bottle! A steak and a glass of 02233 on the rocks is in my future. 
Cork & Barrel: Opening Soon
The famed bar Cheers has nothing on this soon-to-open pub in Round Rock! You will soon be celebrating life and laughing out loud with old friends and friends you have that you haven't even met yet. 
Yeah, it's gonna be that kind of place. 
Learn more about Cork & Barrel, see the pictures of the future pub and how you can become a VIP member by visiting their website But hurry, it ends November 1st.   
Opening is projected by mid-November.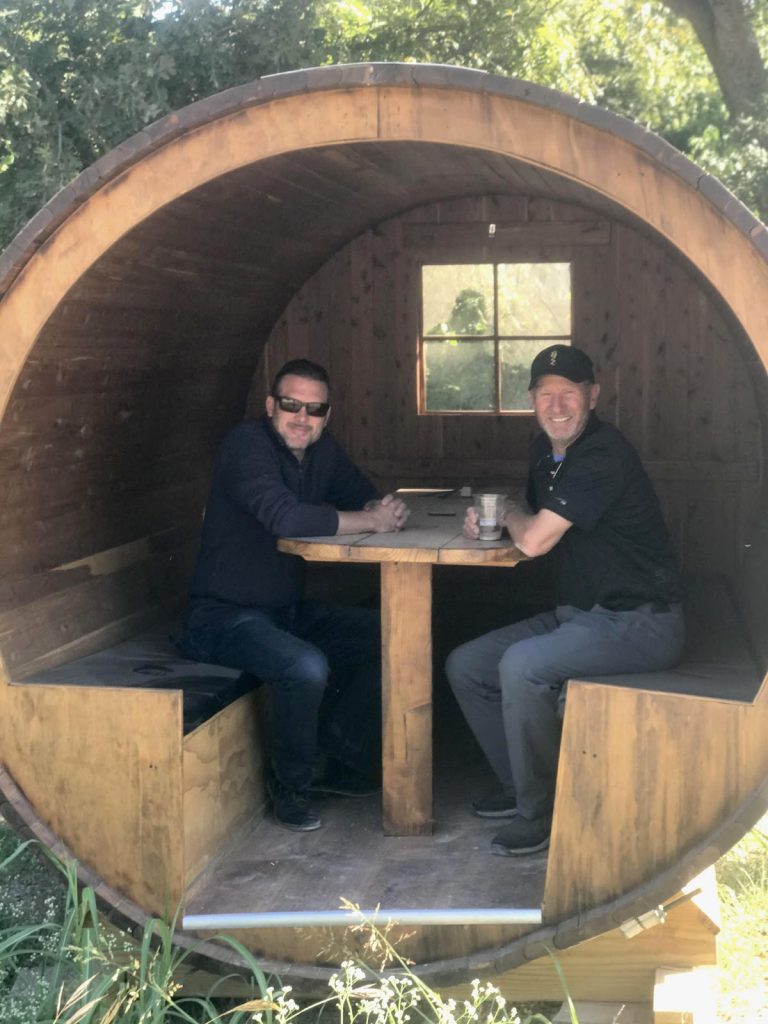 Lisa Mays is a contributing writer who resides in Round Rock and has spent many years studying and writing about wine and spirits at Wine with Lisa and teaching cooking classes, hosting gatherings for friends and family with Italian, Mediterranean and Spanish cuisine. At any given moment, you may find her cooking large pans of paella for hungry guests at distilleries and wineries in the Texas Hill Country as a boutique paella chef at My Paella Travels.
Other Articles You May Be Interested In