Pluckers Wing Bar Celebrates Oktoberfest | September 29, 2018
Pluckers Wing Bar is excited to celebrate the fall season with an Oktoberfest celebration at their Round Rock location on Saturday, September 29, 2018 from 2 p.m. to 8 p.m. The celebration is family-friendly and will feature live music, a chicken dance contest, and crafts for kids. Entertainment will include three bands in addition to beer tastings and a stein-hoisting competition for adults, where participants will hold a large stein at arm's length without any spilling, raising of the arm, bending of the elbow, or drinking for as long as possible. Pluckers will rope off the parking lot to accommodate a tent, stage, and additional chairs and tables for those wanting to sit outside.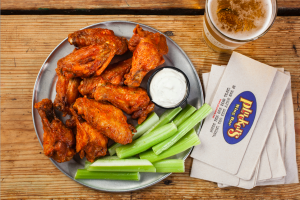 For more information on the event and menu, visit http://www.pluckers.com/
WHEN: Saturday, September 29, 2018
2:00 – 8:00 p.m.
Music starts at 2 p.m.
WHERE: Pluckers Wing Bar – Round Rock
300 Mays Crossing Dr.
Round Rock, TX 78664