RRISD Future Readiness Parent Seminar: Mental Health – Finding a Mental Health Counselor | February 13, 2019
Round Rock ISD is hosting a Future Readiness Parent Seminar entitled "Mental Health – Finding a Mental Health Counselor" for parents with their 8th – 12th graders on Wednesday, February 13, 2019 from 6:00 pm – 8:00 pm at the RRISD Tool Box at Round Rock High School at 700 N. Lake Creek Drive.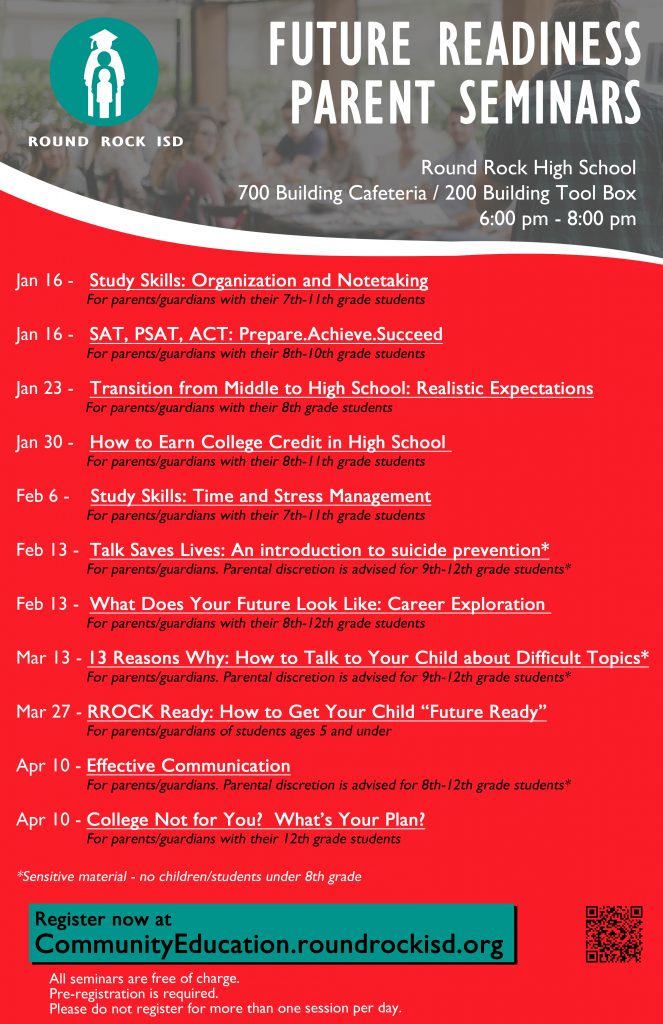 Pre-registration is required.  All seminars are free.
A mental health counselor is a medical professional who helps individuals achieve emotional wellness.  Mental health counselors work with individuals, families, groups, and communities to deal with mental health issues and improve mental well-being.  If you are curious about what a mental health counselor can do for you or your child, there are a few important things you should know. Learn more about what these professionals do and how to find the right mental health counselor.
Registration is required:  REGISTER
Location: Round Rock High School, 300 N Lake Creek Dr, Round Rock, TX 78681 in the Tool Box (old 200 bldg.).
Audience: Parents/Guardians and their 8th-12th-grade student(s).
Presenter: Dr. Amy Grosso, Round Rock ISD Future Readiness
Dr. Amy Grosso's holds an MSEd in Educational Psychology from Baylor University and a Ph.D. in Counseling and Counselor Education from The University of North Carolina at Greensboro. Before her work in education, she spent several years as a mental health counselor. Dr. Grosso serves as board chair for the Central Texas chapter of the American Foundation for Suicide Prevention; and leads professional development on mental health topics, assists with AVID, and oversees grants for the District.