RRISD Future Readiness Parent Seminar: Study Skills – Time and Stress Management | February 6, 2019
Round Rock ISD is hosting a Future Readiness Parent Seminar entitled "Study Skills – Time and Stress Management" for parents with their 8th – 12th graders on Wednesday, February 6, 2019 from 6:00 pm – 8:00 pm at the RRISD Tool Box at Round Rock High School at 700 N. Lake Creek Drive.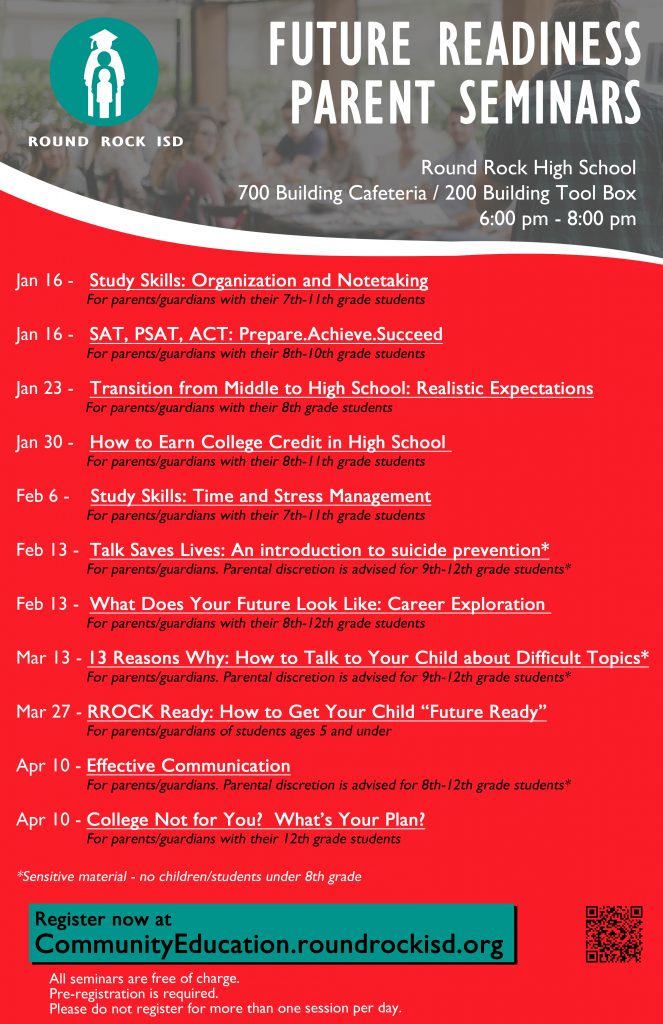 Pre-registration is required.  All seminars are free.
High school years can be a stressful experience for many students.  Although a certain level of stress is normal, balancing heavy academic workloads, extra-curricular activities, jobs, and social commitments can be daunting.  This course aims to provide students and parents with the tools needed to effectively manage time and stress in the school environment to help students be more successful, happy and healthy.
Registration is required: REGISTER
Location: Round Rock High School, 300 N Lake Creek Dr, Round Rock, TX 78681 in the Tool Box (old 200 bldg.).
Audience: Parents/Guardians and their 7th-10th-grade student(s)
Presenter(s):  Angelica Ross, Round Rock ISD Early College High School