Thundercloud Subs 40th Anniversary – April 29, 2015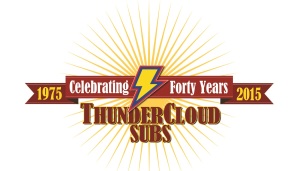 ThunderCloud Subs, Austin's first and favorite neighborhood sub shop, is celebrating its 40th anniversary with 1975 prices on classic sub sandwiches every Wednesday in April. Customers will save a whopping $2.89 off today's price for the first special, the ham sub, and $3.79 off the price for a large.
The specials are:
April 1 Ham $1.10/1.45
April 8 Tuna $1/$1.30
April 15 Salami $ .95/$1.25
April 22 Turkey $1.25/$1.60
April 29 American Classic $1/$1.30
ThunderCloud Subs has 20 sandwiches on its menu now, and only six that were there in 1975. All of the anniversary special subs are original, classic favorites that have remained popular throughout the years.
ThunderCloud was the first sub sandwich shop in Austin when it opened on Lavaca Street in 1975 and there were plenty of Austinites who didn't know what a sub was. Today, ThunderCloud has 30 stores and while each one has its own personality, the food is consistently fresh, fast, and healthy, just like it was 40 years ago.
ThunderCloud will announce additional 40th anniversary specials and promotions throughout the year. For more information, visit www.thundercloud.com.
ThunderCloud Subs is located at 1110 Interstate 35 Frontage Rd, Round Rock, TX 78681 (NW corner of 79 & IH-35)