Warpath Pints & Pizza | Round Rock, TX
We visited Warpath Pints & Pizza in Round Rock this past weekend – here's a brief review and what they have to offer.
A new pizza place, Warpath Pints & Pizza opened this summer off of Palm Valley Road.  Offering hand-crafted pizza, a full bar and fun atmosphere, it's a great addition to Round Rock.
Warpath Pints & Pizza: Atmosphere
Warpath Pints & Pizza has a great, open atmosphere with a full bar and plenty of seating. We visited around 5 pm on a Saturday afternoon and didn't have trouble finding a table.  Warpath is open for lunch and dinner, and even stays open until midnight (1 am on Saturday) for late-night snacking.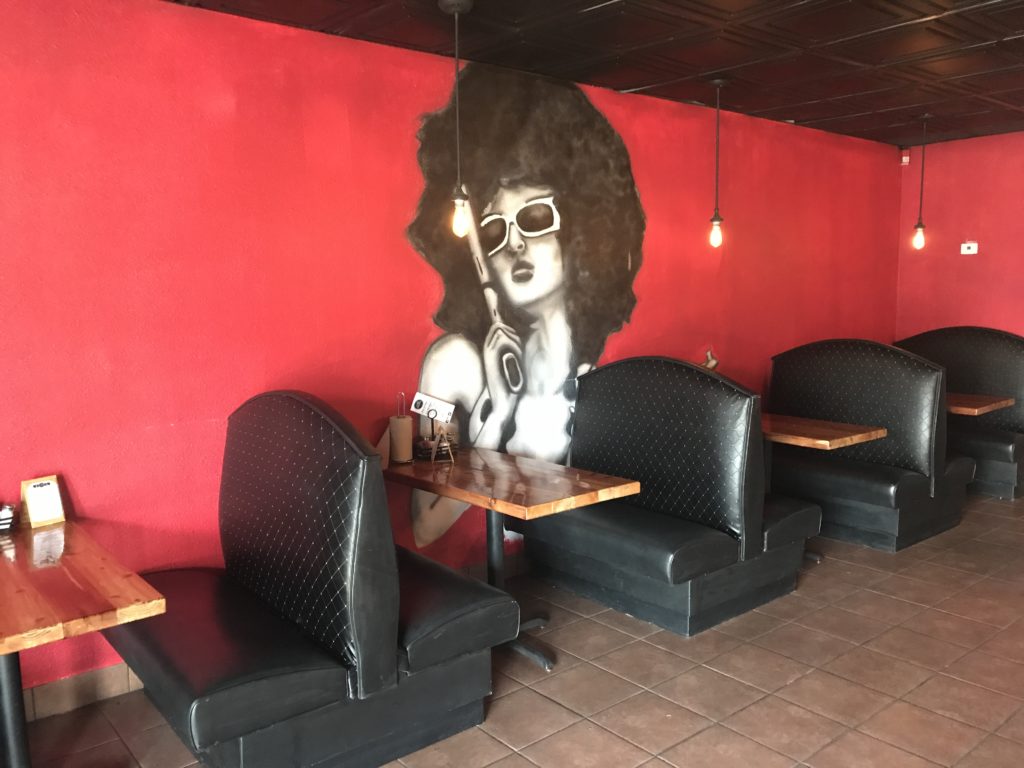 We loved the decor – even with a fun, full-sized mural on the wall.  There are large-screen TVs to enjoy football games on and a juke box playing Beatles tunes while we were there.
But my kids really enjoyed the retro-video games. He chose to play Space Invaders over Pac-Man and failed miserably. What is it about the simple games that are challenging to kids these days?
They have a full bar with several beers on tap – local stuff and even Guinness – and can make pretty much any specialty drink you'd like.  We enjoyed some pretty good Moscow Mules that evening.
Warpath Pints & Pizza: Starters
We started with a few appetizers – the mozzarella sticks, garlic knots, and wings. They also offer Drunked Fries (French Fries smothered in queso cheese,  chopped bacon, caramelized onions, and fresh chopped jalapeño) and battered mushrooms and zucchini.
The hot wings are offered in several different flavors.  We tried the Guinness BBQ – made with Guinness on the tap – and it was really tasty.
Warpath Pints & Pizza: Pizza
Warpath Pints & Pizza offers hand-tossed artisan pizza. They have several specialty pies with cool combinations and the option to build your own pies.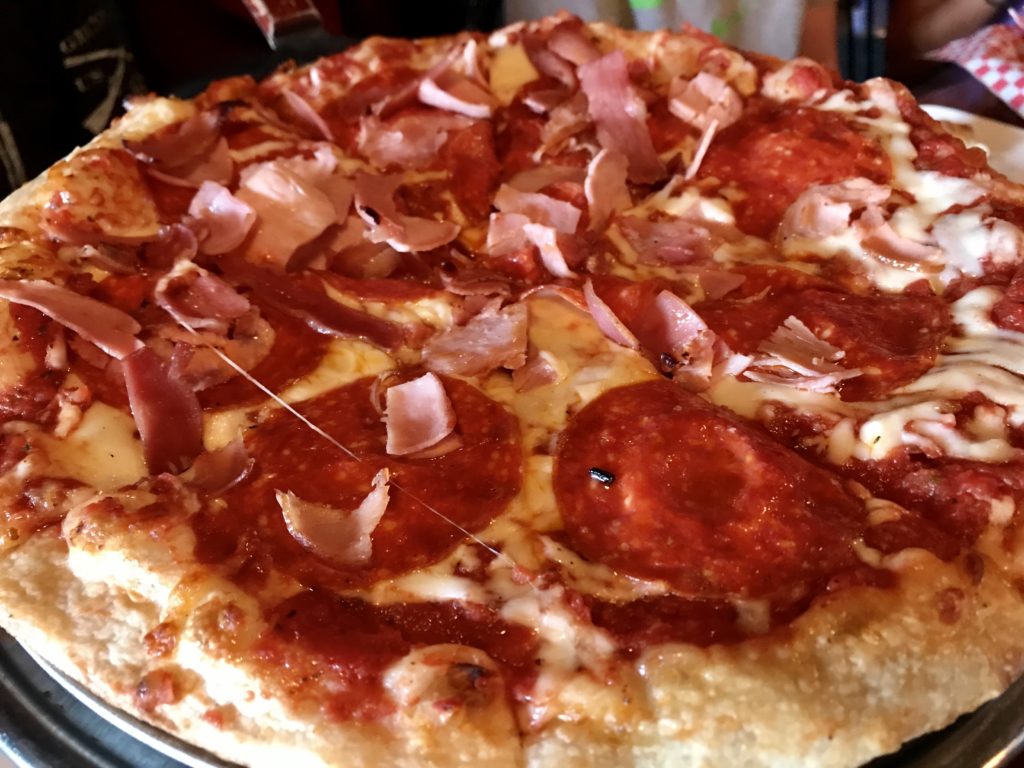 There is a great variety of sauces and toppings to build your own pizza with.  Some of the sauces include classic red, olive oil, sweet potato, and even black bean. They also have every topping you could want – from prosciutto to pepperoni, Jamaican Jerk chicken to jalapeños, and eggs and potatoes.
We tried an easy combination –  pepperoni, Canadian style ham, & prosciutto. We really liked the pepperoni – had a lot of flavor – and there was a perfect amount of red sauce and cheese.  We both like a thin and slightly crispy crust and this was perfect.  It was a light pizza – not very heavy where you didn't feel miserable after a few slices.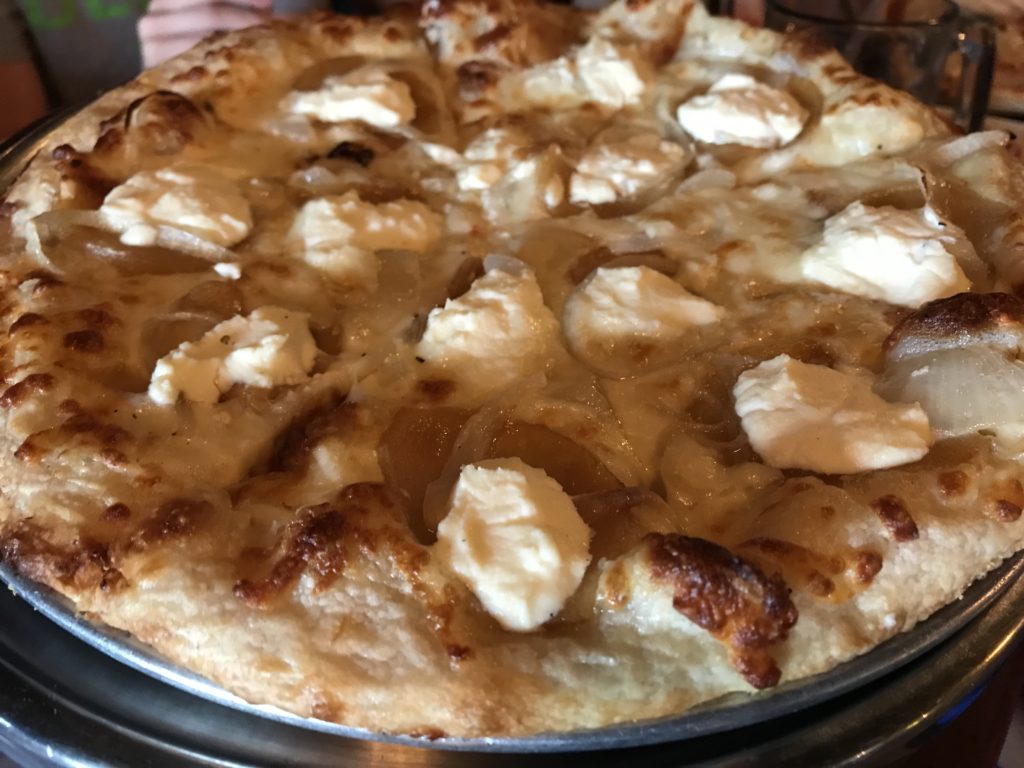 There was a fun variety of specialty pizzas to choose from on their menu with very creative names – Cheese and Chong, White Album, Popeye, Sunny & Share and of course, a "Warpath", which is pepperoni, homemade meatballs, bell pepper, roasted red pepper, & a farm fresh egg.
I chose a 12-inch White Album – Olive oil, garlic white sauce, ricotta, yukon potato, & caramelized onions.  I totally dig a potato pizza and I was pretty happy with this one.  In fact, I probably would have wanted more potato on it – weird right?
See their full menu here.
Warpath Pints & Pizza: Events
We liked the overall feel to Warpath – it's great for family, though I do wish they had a kid's menu or at least sell slices for kids.  My teens enjoyed it and thought the food was great.
And I actually like that they stay open later than most restaurants.  There are many times when we are hungry after a game (baseball/football/you name it) and this will be a fun place to grab a drink and a bite to eat.
Warpath Pints & Pizza are offering daily specials and hosting fun events for the community, like Geeks Who Drink Trivia and TV show watching parties.
We are a pizza-loving family and we enjoyed our dinner at Warpath Pints & Pizza.  We like that there is a large variety of different kinds of pizza available all over Round Rock and we especially love the fact that Warpath is a family owned business. Two brothers developed and opened the restaurant this summer.  We think there is room for all kinds of pizza, as none are the same – all offer something a little bit different.
Make sure to check out Warpath Pints & Pizza and welcome their new restaurant to Round Rock.
Learn more about Warpath Pints & Pizza online. And follow them on Facebook & Instagram.