Waterworks Benefiting New Day Port A Fund! | March 9, 2018
Don't miss a wonderful evening of dance for a great cause! The Dance Gallery, located in Round Rock Texas, is home to an award-winning dance troupe made up of dancers ages 8-18. These dancers will be sharing their talent and love of dance to raise money for a wonderful cause – The New Day Port A Fund!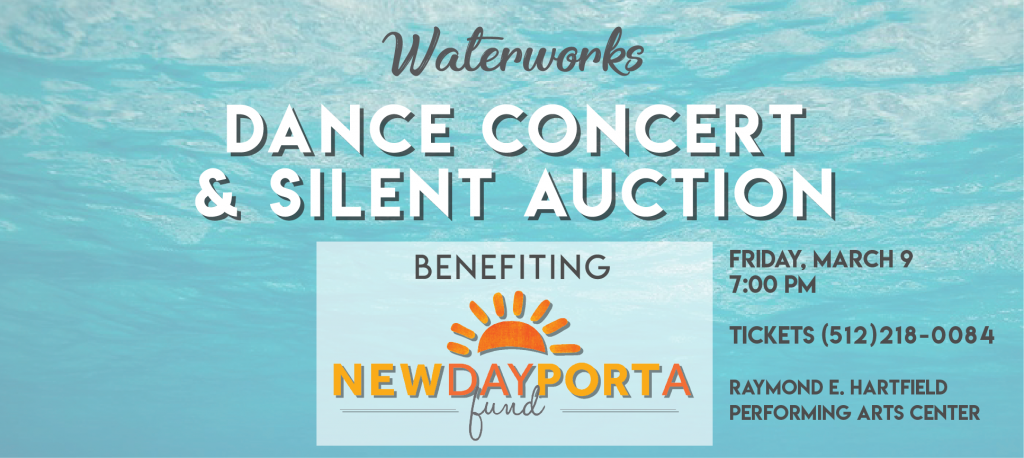 The mission at New Day Port A Fund is to rebuild the small coastal community of Port Aransas, Texas after Hurricane Harvey left this area in devastation. 
"In order to truly recover from a disaster of this magnitude, you have to first restore the most basic building blocks that make a community. Housing, Schools, Businesses, Churches and our workforce–it's what makes us who we are and that's where the help will go first." For more info – http://newdayportafund.com/
Performance and silent auction will take place on March 9th at 7pm at The Raymond E. Hartfield Performing Arts Center.
Tickets will be sold at the studio through March 8th either in person or by calling 512-218-0084.
General Admission – $15
Children/Students (ages 3-18) – $10
Children 2 and under are free.
Tickets will be available the night of the event for $3 more.
All proceeds benefit New Day Port A Fund!