10 Unique Places to Stay in Texas
I love perusing AirBnB. There are so many unique and fun ideas for places to stay in. In just one evening, we found TiPis, Earth Domes, Cabooses, and Castles all in Texas! Not to mention the tiny homes, treehouses, silos, and house boats…..all in Texas!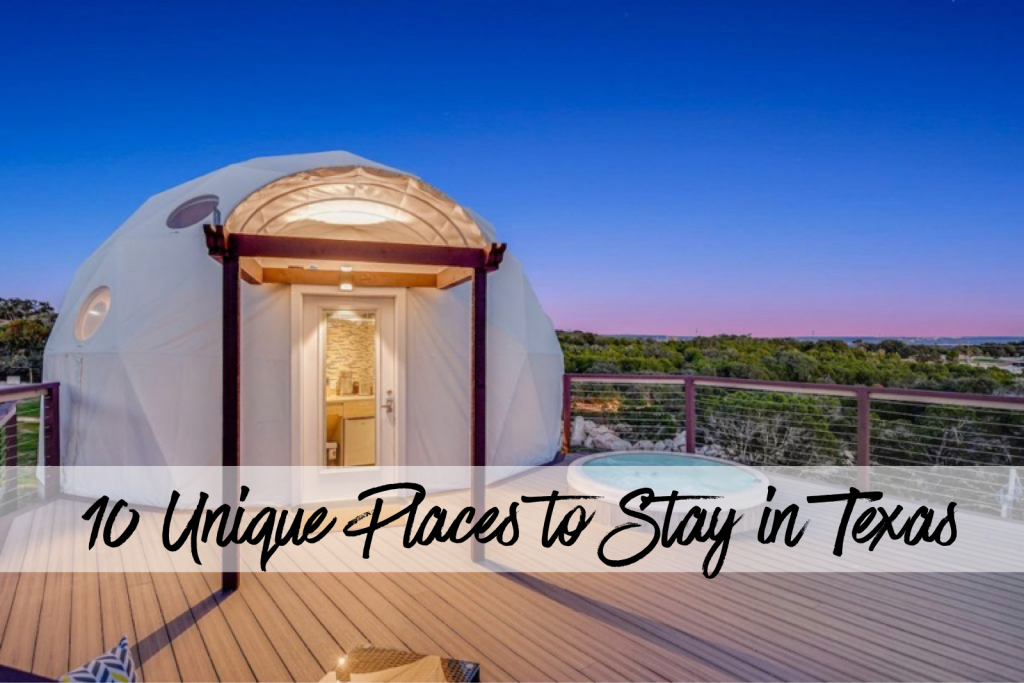 So I thought it would be fun to show you some of these unique homes in Texas that you can rent out on AirBnB. I mean, wouldn't staying in a treehouse overlooking the Frio River be fun? How about a Dome where you can literally sleep under the stars? Or maybe you have a little Train lover who might like to sleep in a Freight Car?
Take a look at thee fun & unique places you can stay in Texas!
10 Unique Places to Stay in Texas
1920's Vintage Caboose on Lake Limestone in Texas – Jewett
From the owner:
Vacation from your worries and enjoy the life of the "Red Bobber" 1920s Caboose. Restored and renovated into a fully functional tiny getaway for the family, fishermen or water enthusiast. This 1920s Caboose takes you back in time. From the minute you step on board It has both the original classic touches of restored history with a modern chic renovation. You clearly see that every paint stroke, every nail, every touch was crafted with appreciation for the original masterpiece that it once was.
The Castle at Lake Livingston Village – Livingston
From the Owner:
Come enjoy the Lake Livingston Castle as King and Queen! Bring the Princes and Princesses to get away from the big city & enjoy a relaxing, quaint guesthouse that will accommodate up to 5 guests. You can enjoy swimming, fishing, boating, skiing, etc. right from our neighborhood private boat ramp/dock. Enjoy the wooded outdoor atmosphere by the fire pit, providing an old world & secluded feel!
Unique Eco-Glamping in TX Hill country – Lago Vista
From the Owner:
UDOSCAPE – a unique, heart-throbbing ADULTS-only star-gazing glamping resort in Texas Hill Country. Site has 4 luxuriously furnished pods nestled up a hill with amazing hill country views. Amenities includes grills, fire-pit, and hammock sites. Each Pod comes either with a dedicated bubble tent, or a hot tub. All Pods are tastefully and luxuriously furnished, with kingsize bed, en-suite restroom, kitchenette, dinning area, etc. Get ready to experience camping like you have never before imagined!
The Silo at The River Road Ranch Resort – Fredericksburg
From the Owner:
One of the most unique bed and breakfast experiences in the state of Texas, the Silo provides a cozy get-away retreat for two. While the exterior still appears to be a rustic silo, the interior holds a cozy two-story loft style bed and breakfast. The downstairs features a living room, half bath, and a kitchen equipped with a mid-size refrigerator, microwave, and coffeepot. A spiral staircase leads up to the bedroom which houses a queen-sized bed and a bathroom with a Jacuzzi bathtub for two.
Ndotto, Resort Glamping @ FireSong Ranch – Spicewood
From the Owner:
Rustic Luxury in the Heart of Texas Hill Country.
Glamping at its finest! Our hidden jewel, NDotto, is magically tucked away for your exclusive, one of a kind, romantic bucket list retreat! Within the confines of NDotto you will find yourself & your relationship infused with tranquility and luxurious comfort. Every attention to detail will spoil you as you bring the outdoor in, for a once in a lifetime recharge with nature at it's finest. We love both, however we are a no pet, no children spot.
Mel's Place STARGAZER BED – Terlingua
From the Owner:
The Stargazer bed is a FULL size canopy bed with a comfy memory foam mattress. There will be two layers of privacy, sheers & thick curtains. Ceiling curtain retracts to show off the famous Big Bend starry skies. *Campsite with full size bed, with sides and top enclosed by curtains. Like a tent, but better! Sleeps 1 or 2.
Wallace Ranch Boxcar Bunkhouse- Canyon
From the Owner:
The Wallace Ranch Boxcar Bunkhouse is located on the Wallace Ranch 6 miles south of Canyon Texas. The Boxcar Bunkhouse is 111 years old and was restored and converted into a unique one of a kind property! We have hosted guests and large groups/families at the ranch for several years and with the addition of the Boxcar Bunkhouse we are excited to add another level of unique accommodations to the Panhandle area!
Fully equipped 52′ Houseboat – Kemah
From the Owner:
"Life is just a whisper in time" Feel like relaxing and enjoying life on the water with all the creature comforts of your home? Our remodeled 52′ houseboat berthed in a natural bird sanctuary marina may be just what you need. Similar to a very large RV but on the water. The Marina is also a bird sanctuary, you will see different exotic birds around the docks from yr private front, back and upper decks. We have all 8 boats at the end of our dock, plus our private man made "island" with plenty of room if you want to hangout and enjoy the breezes.
Acorn Treehouse at HoneyTree Farm – Fredericksburg
From the Owner:
The Acorn is our newest treehouse: it is cozy (~300sqft) and dynamic and fun and artistic. Enter from a sweeping helical staircase past the patio and outdoor bathtub (enclosed on three side for privacy). Inside find a fully functional kitchenette, stylish decor, a king bed under a vaulted ceiling. The bathroom has a glass rain shower that looks out to the bedroom and the trees beyond. Ascend further to the rooftop stargazing patio and relax in the daybed or swinging chair by the clay fire pit.
Terluna: Off-grid Adobe Dome near Big Bend – Terlingua
From the Owner:
The Off Grid Dome shelter is accepting rental guests to share the off-grid experience, and to also help fund this project and future projects . The dome is a very remote and unique space in the desert near Big Bend National Park.  The dome rests in an isolated but easily accessible off-grid setting in one of the few remaining territories under a dark sky ordinance, which offers unmatched views of the night sky, and a completely unobstructed view of a horizon that delivers truly majestic sunrises and sunsets. Though the dome is isolated, the entrance to Big Bend National Park is just a 25 minute drive and the historic Terlingua Ghost town about the same. 
Other Articles You May Enjoy