10 Unique Treehouses in Texas to Stay In
Check out these fun Treehouses in Texas that you can book a stay in!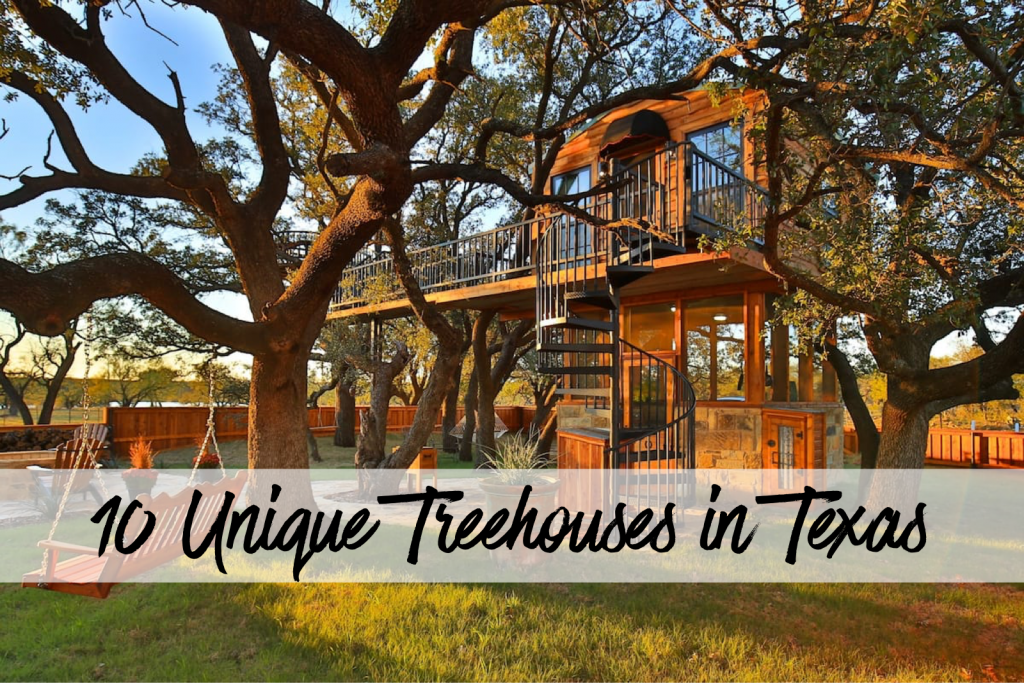 Ever wanted to sleep in a treehouse? I always wanted a treehouse as a child for this very reason. Well now you can at one of these unique treehouse experiences we found in Texas!
Imagine waking up in the trees, relaxing on a porch high up from the ground, or watching the sun set from the bird's eye view? You can in these fun treehouses in Texas. Some are close to us and some are not, but either way, they would make for a fun weekend getaway with your loved one!
10 Unique Treehouses in Texas to Stay In
Leaf Treehouse at HoneyTree Farm – Fredricksburg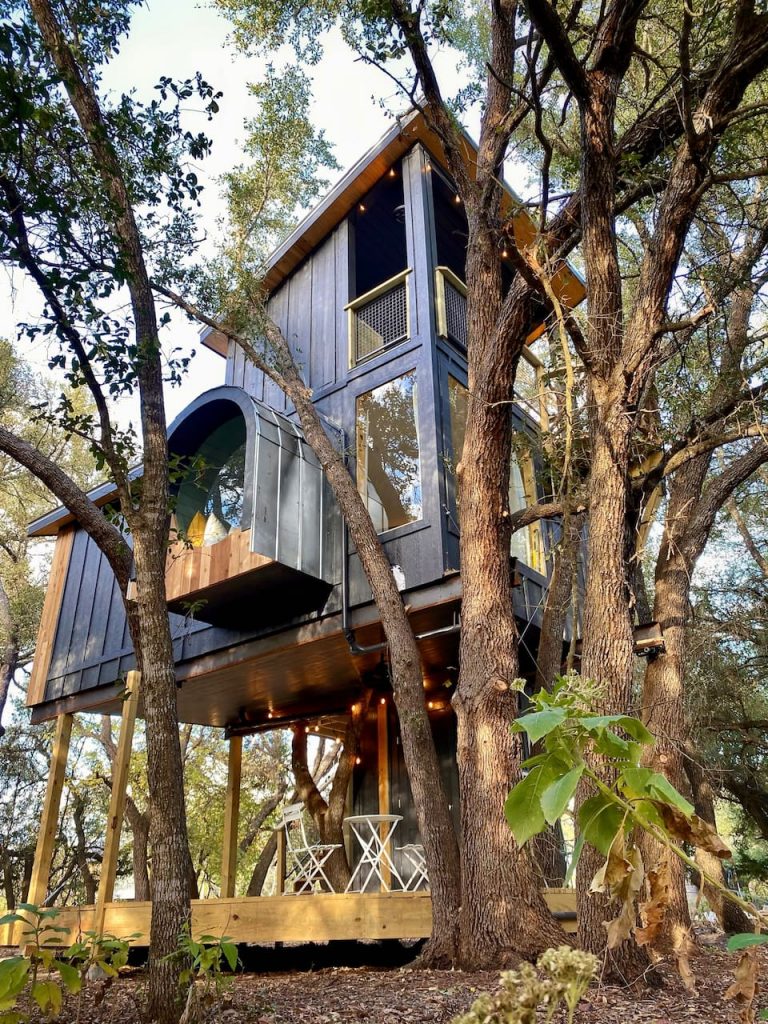 From the Owner:
The Leaf Treehouse (~300sqft) is perched among sturdy live oaks on our slice of Texas heaven just ten minutes from Main Street Fredericksburg. Its cozy and stylish interior includes a king bed with organic cotton sheets, a thoughtfully stocked kitchenette, a full bathroom with a rain shower, a padded reading nook with a round window, and an outdoor bathtub on the upper deck.
Arbor House of Dripping Springs- Garden House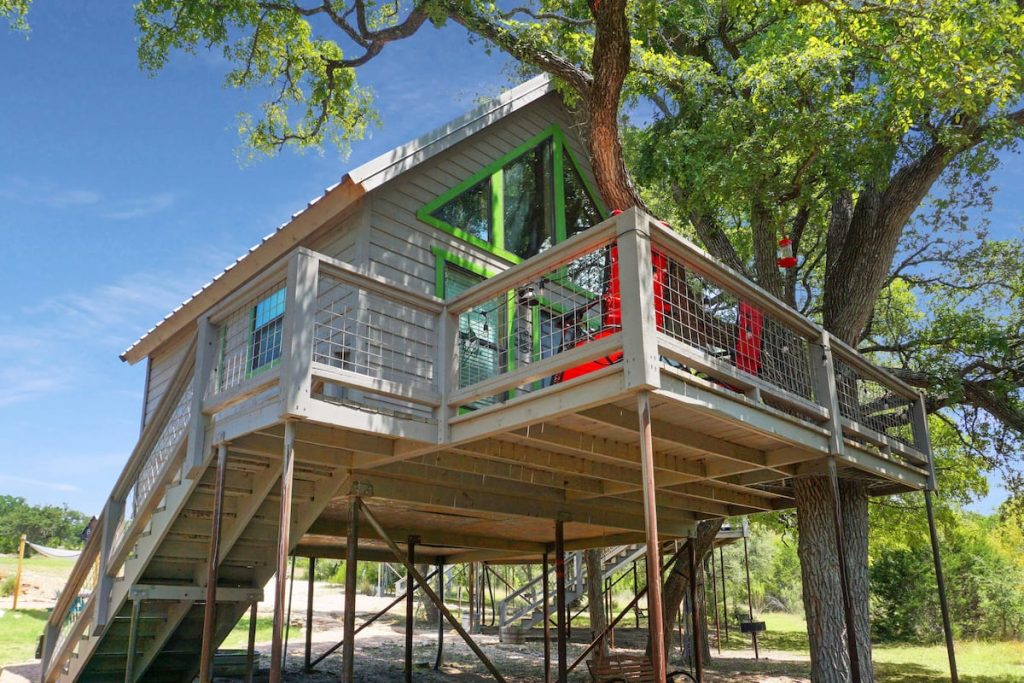 From the Owner:
If you are looking for a tree house experience escape to the romantic secret GardenTree House that sleeps up to two guests. Located in Dripping Springs The Garden House sits in a tree canopy and overlooks a wet-weather creek and a valley full of trees with nature in abundance. If you are looking for the ultimate tranquil experience or wanting to create a special romantic getaway, the Garden House offers the perfect quiet retreat. 
This cozy Hill Country one room Garden treehouse cottage is a great choice for a quiet relaxing escape. Romantics can spend the day exploring the gorgeous countryside and stargazing on the porch with nights spent sleeping in a plush king-size bed in a field of flowers. The sofa also opens up to a bed. Tidy up in the bathroom with a stand up shower, and roomy sink area for a night out on the town.
The Treehouse On Lake Travis – Lakeway
From the Owner:
Enjoy this peaceful beautiful lake view on the south shore of Lake Travis. The "Treehouse of Lake Travis" newly renovated offers 1st class amenities to give you a wonderful living space. Gather around its beautiful kitchen peninsula, dine, or enjoy a cozy fireplace. Tiled Bathrooms are Spa-like and Bedrooms are well appointed with the finest linens. 5 Star clean. Such comfort will make you not want to leave. If you do, there is a swimming pool, hot tub, BBQ area and the Marina is steps away.
Hobbit Tree House on the Brazos River – Weatherford
From the Owner:
Hobbit is the most amazing space in N Tx! Deep in a forest on a cattle ranch on the banks of the Brazos River, the 2 BR (+ 2 kids' bunks) treehouse sits on a magnificent deck by a waterfall– 15 feet off the ground!
You'll hear the owls and coyotes serenade you at night under the Milky Way! Hot tub, fire pit, rocking chairs, and grill await you! Hike or drive to the river, where we have kayaks and tubes (summer), free for your use!
Cloud 9 Tree Haus – New Braunfels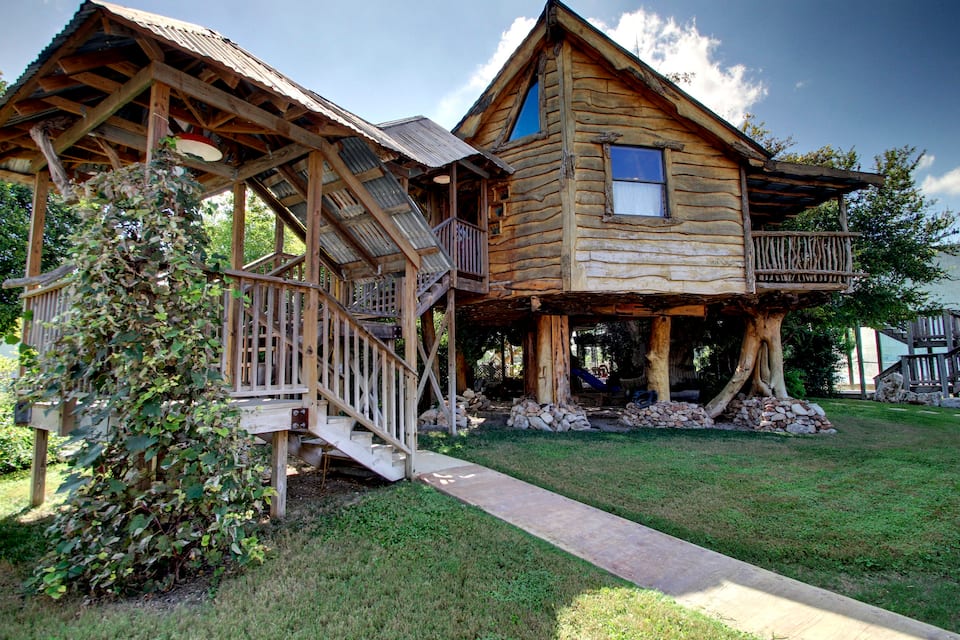 From the Owner:
Cloud 9 Tree Haus is a unique 1 bedroom tree house. The appointments in this tree house are too unique to describe in words, so we let the photos tell the story. Sleep 2 in the walk-up loft in a queen bed, for the 2 additional guests you bring we have a fold-out full and a fold-out twin in the galleria style living/dining/kitchen space. The kitchenette has pots and pans to cook meals on a double burner, plates, cups, silverware. Other appliances include mini fridge, microwave, toaster over and regular coffee maker. Take your morning coffee, breakfast, lunch, dinner or watch the sun set from the covered patio. The bathroom has a step-in shower, sink and toilet. There is outdoor furniture, charcoal BBQ grill and fire pit underneath the tree house.
Cloud 9 Tree Haus is one of four tree houses around the shared pool. In addition to the tree houses we have the Lodge and two suites.
The Birdhouse by Skybox Cabins – Glen Rose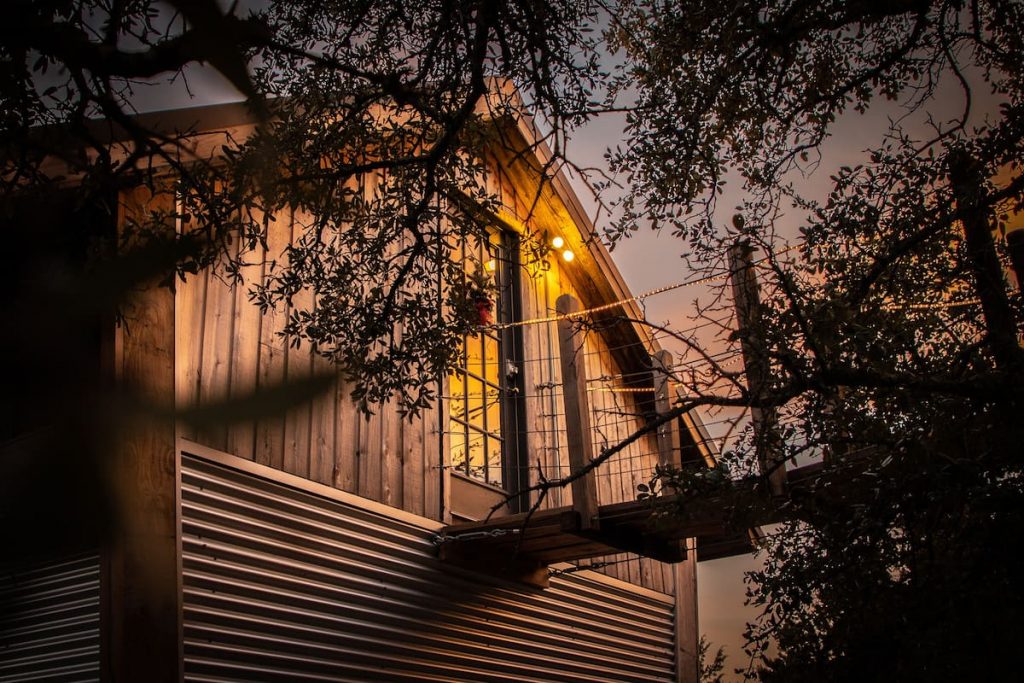 From the Owner:
At the tip top of the Texas hill country, the Birdhouse offers endless views from the bedroom balcony while providing a rustic feel with modern amenities. It is the perfect spot to feel both lost and found all at once.

To access the Birdhouse, you must climb the stairs up to a platform in a neighboring tree and then walk the cable bridge directly into the second floor bedroom. Down the cedar stairway is the main floor with a kitchenette and bathroom. Settle onto the balcony and enjoy the majesty of a Texas sunset. Surrounded by cedar and hardwoods, you are guaranteed a concert from our local birds and maybe even a gobble from the wild turkeys. Deer, jack rabbits, horses and some cows may also pay you a visit.
Southern Dream- Van Zandt County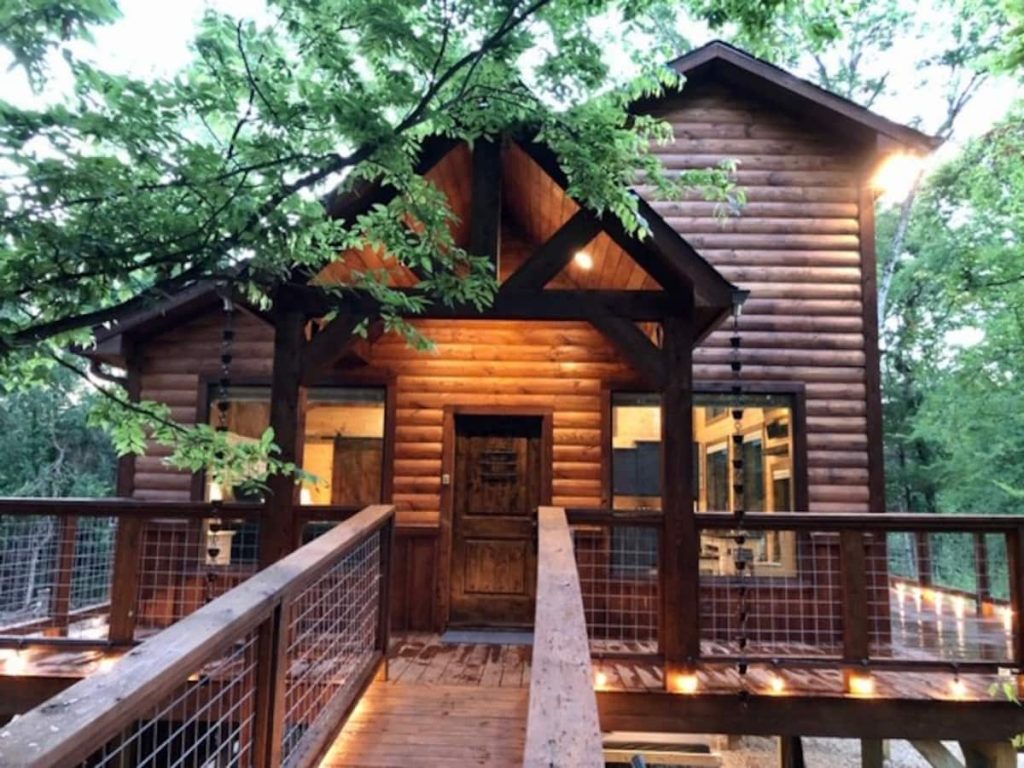 From the Owner:
SOUTHERN DREAM is a brand new, luxurious, pond-side treehouse in the woods. It is the ideal place to spend your honeymoon or a romantic getaway with your love. Indoors, SOUTHERN DREAM has massive picture windows, a large walk-in rain shower, a fully stocked kitchen with stainless steel appliances. Outside, you'll enjoy relaxing in the hot tub, resting on the swing bed, walking the trails, or fishing at the pond. Make SOUTHERN DREAM your own and fall in love all over again.
Ryders Treehouse – Baird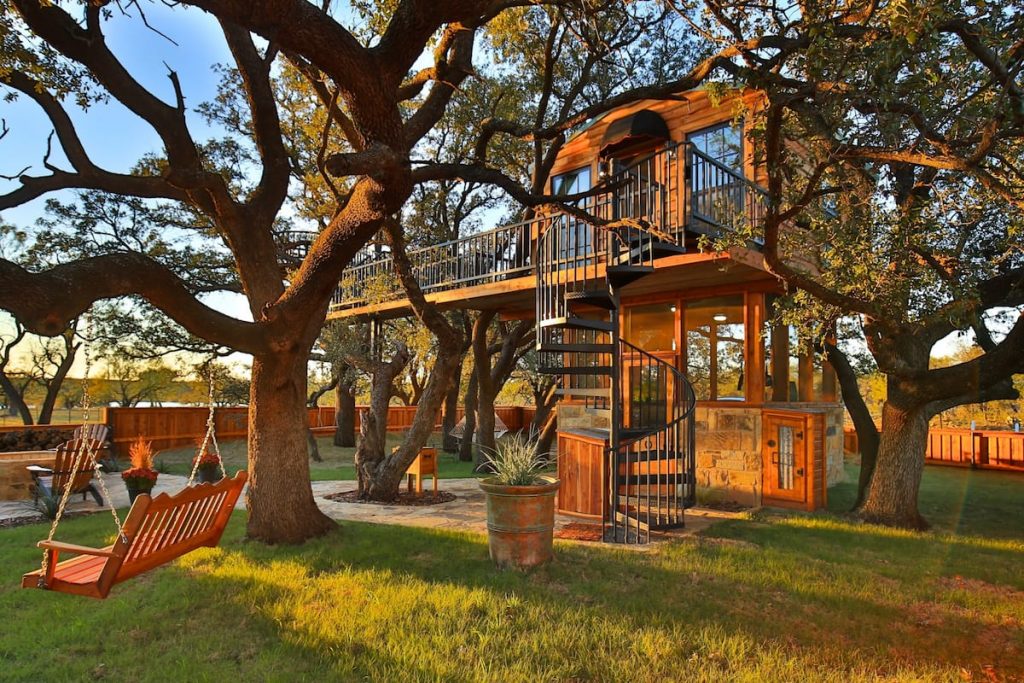 From the Owner:
The perfect romantic getaway for anniversaries, birthdays or to rekindle the fire. Create amazing memories in this uniquely designed treehouse located in the middle of a 800 acre working ranch. You'll have all the privacy necessary to relax and reconnect in this one of a kind treehouse.
Viewpoint at Grandview Treetops – Grandview
From the owner:
Privacy and exclusivity highlight your stay at Grandview Treetops. Luxury treehouses situated in the heart of a 90-acre working ranch – hiking trails, trees, peace, solitude. Consider this a place to get away and unplug, refresh.

Designed with couples in mind, the Viewpoint focuses on a very comfortable bed, luxurious bathroom, and plenty of deck space to soak in the trees and surrounding nature.
Birdseye Perch – New Braunfels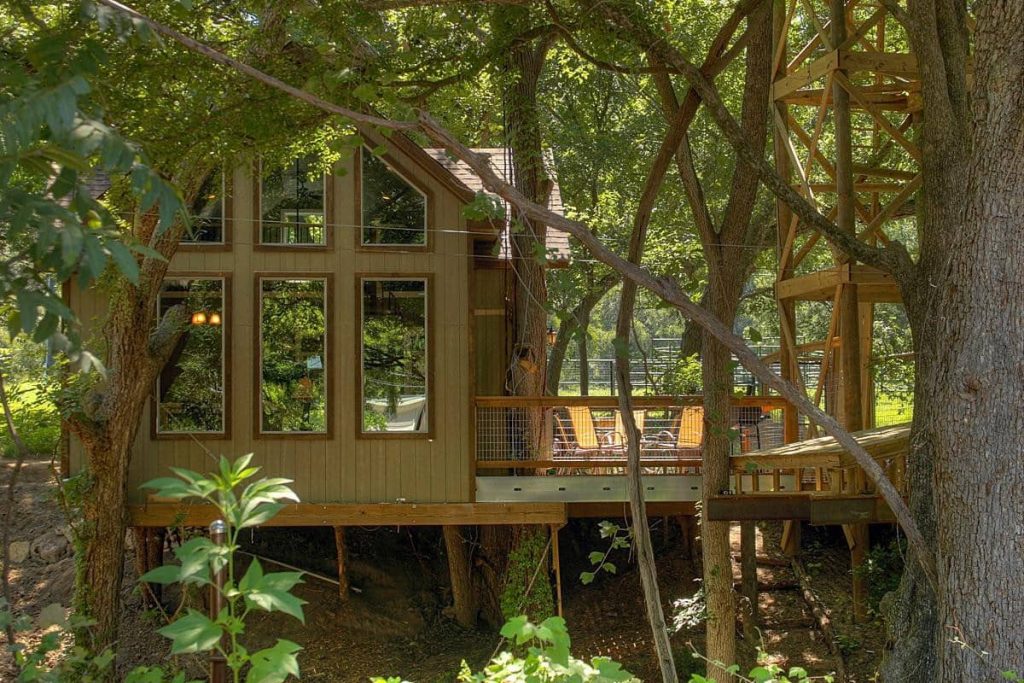 From the Owner:
Come sleep in the Trees in our Birdseye Perch Treehouse Cabin at River Road Treehouses next to the Guadalupe River!
The moment you arrive at our property and see the enormous eighty foot cypress trees with decades old wild mustang grapevines hanging from their limbs, and a 100' footbridge that takes you safely across the seasonal creek to your private tree house, you realize you are in a special place. 
"Wait a minute, did you say a treehouse?" many people ask. Yes, but this is not your childhood plywood fort of days gone by. Our treehouses are newly constructed, engineered custom cabins with all the conveniences of modern living including air conditioning/heat, wi-fi, satellite TV, kitchen and bathroom.
Other Articles You May Enjoy