Cafe Java Breakfast | Round Rock, TX
This is a review of breakfast at Cafe Java, a restaurant in southeast Round Rock that specializes in breakfast & lunch (and great coffee). 
I love breakfast but I honestly don't make enough time for it.  And I love spending time with my friends, another thing I don't make enough time for.  So in an effort to fix both of these problems, I invited a few friends to come with me to try all the spots in Round Rock that serve breakfast.  It will take us a while to get to all of them, but I invite you to come along for the ride and discover all the "Best Breakfasts in Round Rock" with us.
For the past 2 years, Cafe Java has been voted the number 1 spot for breakfast in the Best of Round Rock poll.  But because of location (I live on the west side), I haven't gotten out to visit Cafe Java as much as I'd like.  Friends rave about their coffee and their hash browns.  I like both, so it was the perfect place to start our series.
Cafe Java Atmosphere
I love that Cafe Java has a comfortable, neighborhood feel.  It's busy, with a lot to look at on the walls – cool, funky art.  And it's noisy – lots of chatter and laughter when we were there at 8:00 am on a Friday.  In fact, someone in the booth behind us was sharing good news and the squeals of excitement brought smiles to all of our faces.
Cafe Java Food
Cafe Java's breakfast menu is full of homestyle breakfast plates – lots of eggs, bacon/ham/sausage and toast/biscuit/hashbrown options to choose from.  The portions are big and plentiful.
The migas were full of tortilla strips and the lack of peppers and jalapeños made it a little less tasty than I would have liked.  I wish I had gone for one of their pancake specials that everyone on Yelp raves about and saved the migas for elsewhere.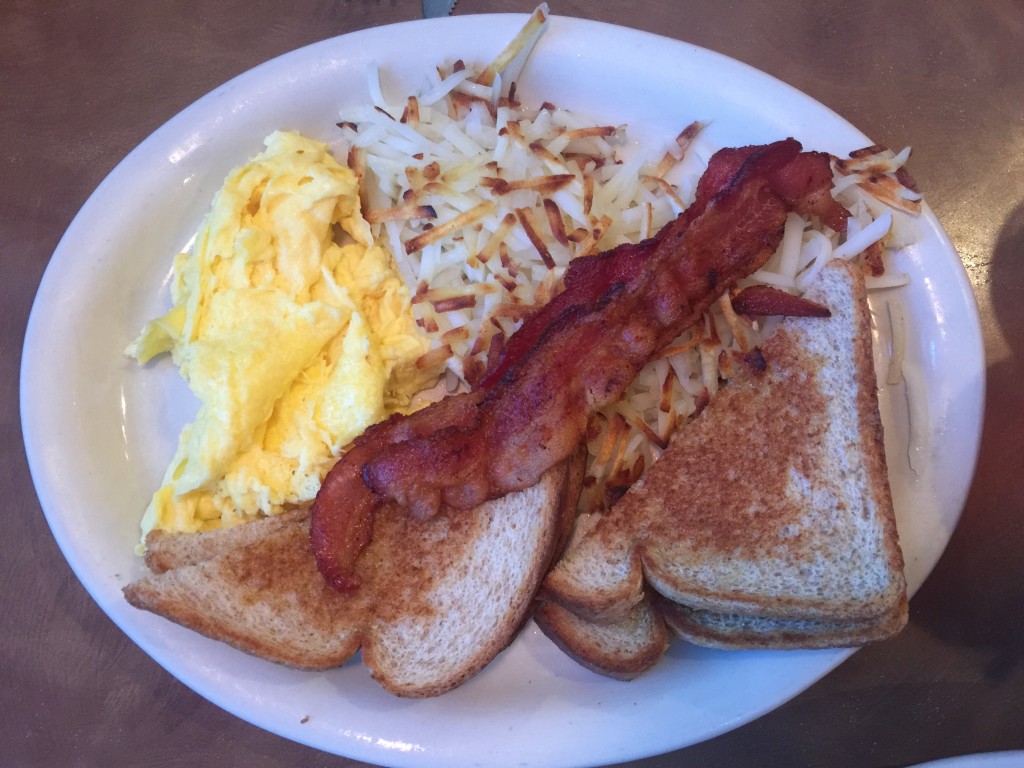 The Java plate is customizable with lots of options – but a great homestyle breakfast option.
As I said, they are known for their coffee and they have a large variety of drinks to choose from.  I ordered way too soon – just a plain latte – as on the chalkboard there are some pretty inventive drinks to try.  We liked that they served them in these giant mugs too.
We all thought it was a very filling and tasty breakfast.  Prices were reasonable, especially for the quantity of food you get.
Cafe Java Service
Our service was great – a young group of wait staff who were very attentive and were always there to refill coffee or clear our plates.  They are pretty experienced at turning a table quickly, as there was always a wait while we were there.
Cafe Java Things to Know
Be prepared for a wait – it's a popular spot to eat breakfast at, especially on weekends.  One insider mentioned ordering your food to go and taking it home to enjoy rather than waiting in line.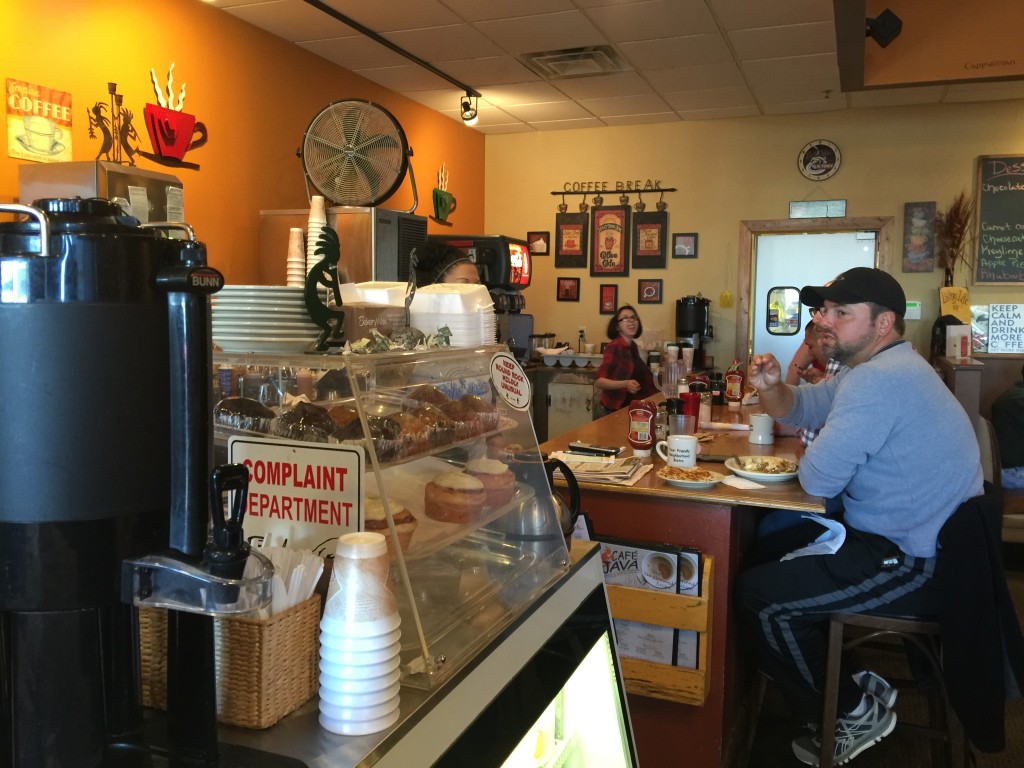 Sit at the counter and gab with the wait staff  – they seemed totally friendly!
This is a very kid-friendly restaurant, with coloring sheets & a kid's menu.  Though a few readers wished they had a changing table in the women's restroom.  Rumor has it there is one in the men's restroom (though I did not personally verify it), so let your hubby change the diaper!
I love that they give you a cup to fill with coffee to go!
And don't miss the fun saying of the day on the sign next to the register: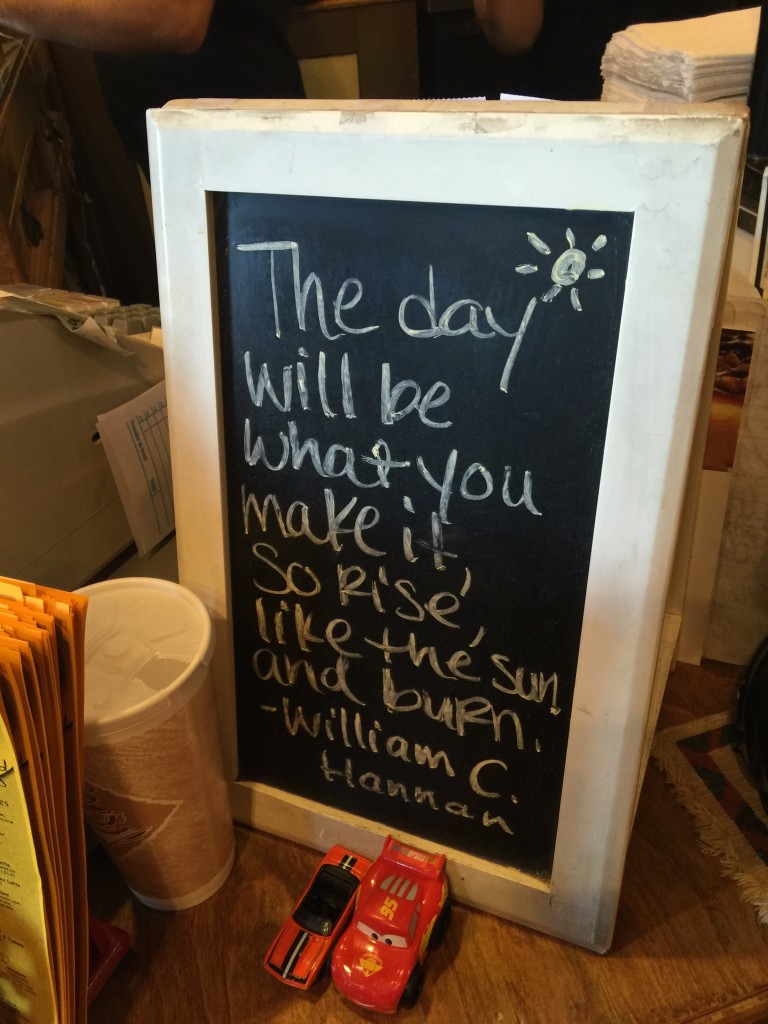 Cafe Java serves breakfast, lunch & dinner seven days a week.  They rotate specials each day, including a special coffee of the day.  Follow them on Facebook to learn more.
Cafe Java
2015 Gattis School Rd Ste 120
Round Rock
More Round Rock Breakfast reviews:
Speedy Tacos