National Donut Day Deals in Round Rock | June 7, 2019
Here's to National Donut Day – cause who doesn't love a good donut?  And to all the places in North Austin where you can find a freebie on National Donut Day!
What is National Donut Day?
National Donut Day is Friday, June 7 this year. The Salvation Army officially established National Donut Day in 1938.  According to Apple News, The holiday was a way to honor the women who used what minimal resources they had to make donuts for soldiers and cheer them up during World War I. (At their peak, they made and delivered up to 9,000 donuts per day!) Since then, it's been celebrated on the first Friday of June.
As with most National Holidays, you can find a variety of freebies or incentives to get out and celebrate.  Check out some of the deals we found in the North Austin area to celebrate National Donut Day!
National Donut Day: Shipleys
Shipleys is offering a free glazed donuts with any purchase on June 7.
National Donut Day: Dunkin Donuts
Buy any drink at Dunkin' on National Donut Day to get a free classic donut of your choice―options include Boston Kreme, Glazed, Glazed Chocolate, Strawberry Frosted with Sprinkles, and more. Locations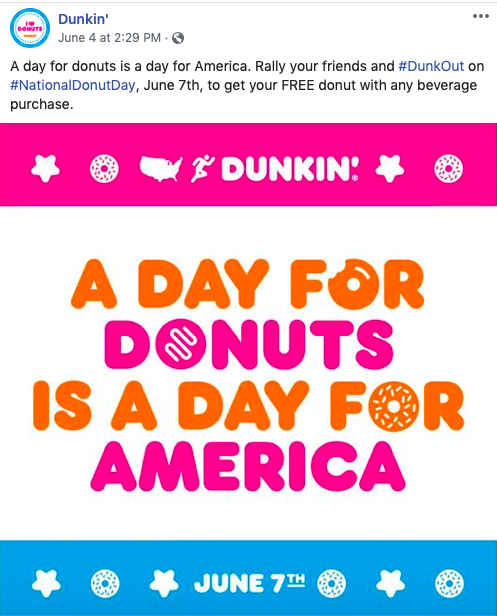 National Donut Day: Krispie Kreme
Krispy Kreme's National Donut Day deal is any doughnut off the Krispy Kreme menu for free―no other purchase necessary. The donut company also made a bet that if it gives away one million free donuts that day, customers will have the opportunity to get a second donut.
National Donut Day: Walmart
Walmart is giving away 1.2 million donuts on National Donut Day. Simply head to the bakery section at a participating store and you'll get one glazed donut for free (limited to one per person).
National Donut Day: Catch Air
Come celebrate a day started by The Salvation Army in honor of the Donut Lassies who served donuts and provided care to US soldiers during WWI. We will be a donation drop off site all day in honor of Salvation Army's Summer Camp. Catch Air will offer $2 off admission for each donation item.  Items needed include (need to be new): Sunscreen SPF 30+, children and adult size baseball caps, children's sunglasses and beach towels. We'll have FREE donuts with paid general admission while supplies last.
We are including our article on the Top Places for Donuts in Round Rock – I looked to see if there were any deals for these locations, but couldn't find any.  However, it's great to know that there are so many possibilities to find great donuts in Round Rock!
And while we are at it, here is the list of Top Coffee Shops in Round Rock too!