PS35: A New York Style Pizzeria Opens in Round Rock
Last week, we had the opportunity to try the new pizza restaurant in town, PS35. Have you been yet?  Cool decor, rockin' 80's music and a diverse pizza menu await you.
Located on the west side of Interstate 35 in Round Rock, PS 35, is a New York-style pizzeria and venue from Executive Chef Clint Elmore in collaboration with newly formed collective SMGB Hospitality Co.
"In New York City, public schools are referred to by a PS number, and since our pies and design are totally a tribute to that city, we took the naming convention and incorporated the 35 from our location off the interstate," said Christian Romero of SMGB. "We can't wait to share Chef Elmore's dishes with Round Rock and open the doors for guests to come experience the food, music, and fun at PS 35."
The decor is most definitely New-York-boogie (is that even a description?) – here's what I mean: We loved how open and light the restaurant is with cool touches that bring it that NYC-feel.  Plain, white, subway tile lines the walls with a splash of graffiti every so often.  Cool 80's hip hop music playing in the background and old school video games for our kids to get confused by – "Dad, did you really play this game for hours??" And then there's that iconic Farrah Fawcett poster……
A public school chalkboard lists the many beers available on tap.
PS35: The Menu
As the press release stated, the PS35 menu is a "fun reimagining of the neighborhood pizza joint, offering something for everyone," and I would agree with that.  The menu is full of fun dishes from creative starters and inventive pizzas and yummy desserts.
PS35: Salads
I really liked the large variety of salads that are full of fun ingredients (think fruit, nuts, cheeses, and more!).  The Italian Chop – romaine, iceberg, radicchio, fried chickpeas, artichoke, grape tomato, olive, salami, sweety drop peppers, parmesan, provolone, and red wine vinaigrette and Spinach – spinach, Gorgonzola, green apple, pomegranate seeds, fried shallot, candied walnut, and sherry-Dijon vinaigrette – both traditional salads with a bit of a spin.
I tried the Arugula salad, which had summer peaches, pistachios, fennel, and a light white balsamic vinaigrette – perfect for summer.
The salads come as a single portion or family style to share with the table.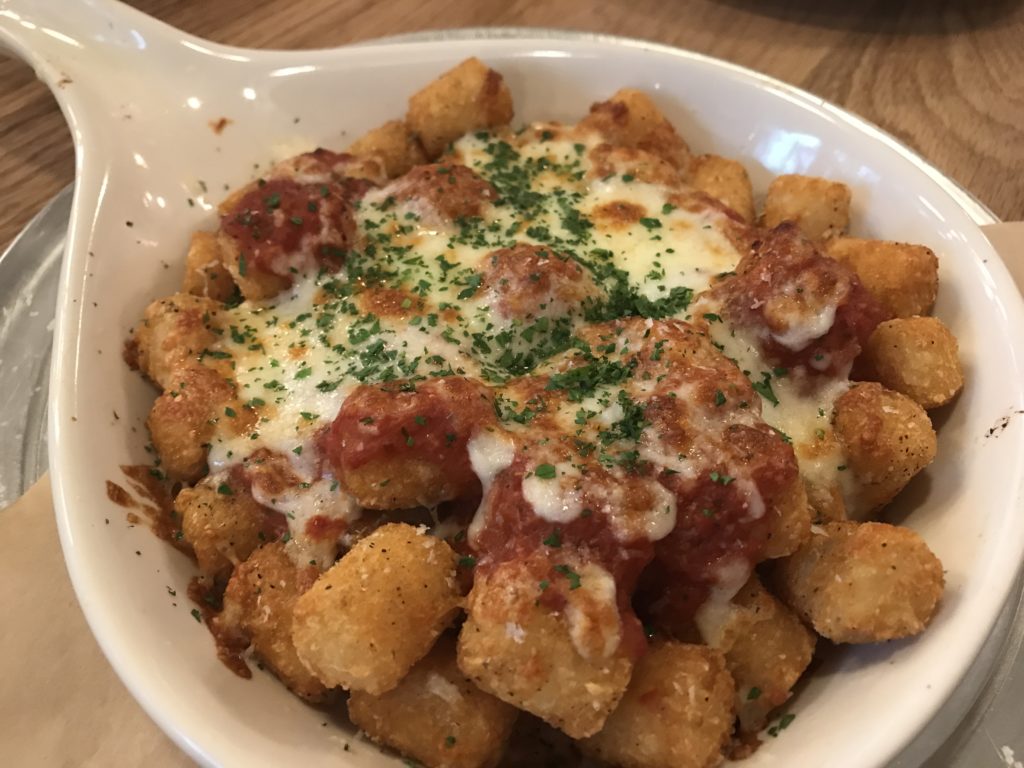 PS35: Starters
Yeah, the Old School Garlic Knots looked amazing, but who could pass up these Loaded Pizza Tots?  Just like they sound – tator tots smothered in pizza sauce and melty cheese – get them with pepperoni & sausage too.  Other staters include mac & cheese and meatballs.
PS35: Sandwiches
The PS35 menu has an extensive list of sandwiches that we are dying to go back in to try.  Try a cold Italian Deli or the hot Chicken Parmesan to Meatball sub.
PS35: Pasta
Does the pasta look amazing??  We ordered the Nonna's Spaghetti-O's as they were reminiscent of childhood for my husband.  He really enjoyed the flavor, but was looking for them to be a bit more saucy.  However, the Baked Ziti reminded us a big plate of lasagna.  Make sure to try this dish sometime when you are not in the mood for pizza.
PS35: Pizza
Cause that's what your here for, right?
And since we are a pretty traditional family, we opted to try the plain cheese. The menu has some pretty inventive pies you can try, but honestly, we love a good slice of cheese pizza.
Our pie arrived hot and the cheese pulled as we grabbed our slices.  The crust is thin and doughy, with a tiny hint of salty-ness.  Not in an overwhelming way, but reminiscent of sourdough and I LOVED IT.  As we look our first few bites, we tried to put our finger on what it tasted like to us.  It wasn't as if the pizza blew us away, but it was very comforting and delicious.  As if we walked into a small pizzeria on the streets of NYC and grabbed a slice to go. It was filling and hit the spot perfectly.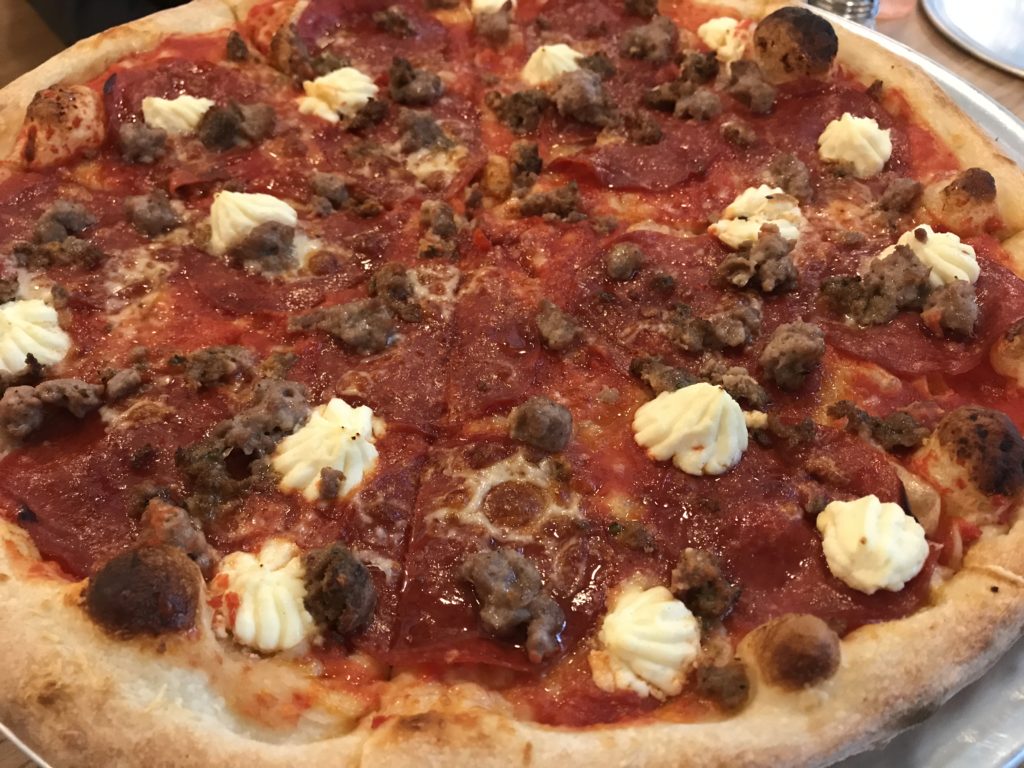 Now I mentioned the inventive pies earlier – here's what I mean.
Along with building your own pizza, Chef Elmore has created some pies of his own, crafting some pretty creative ingredients into his masterpiece's.  The Hot Honey pizza (above) throws together pepperoni, house-made Italian sausage, ricotta, drizzled in Mike's Hot Honey – honey that has been spiced up with special New York peppers. The Dr J's pizza is reminiscent of a Philly Cheesesteak complete with Cheez Whiz.
Chef Elmore's inspiration comes from training in Naples, Italy and a stint at the famed Paulie Gee's in Brooklyn. He then spent time learning all he could about NYC-style pizza on a pizza-eating tour of New York to "test the work of the godfathers."
Pizzas are 18″ in size (8 slices) and you can always try a slice of their pizza of the day (rotating menu).
Overall, we really enjoyed both the atmosphere and the pizza at PS35.  We think the environment is fun and very family-friendly.  The have a large patio that will host live music and more video games. Because we are pretty simple, our family will be very happy with just the plain cheese pizza and I want to try the other salads too.  Honestly, it's the crust that I am dreaming about having more of…..
As of now, PS35 is only open for dinner Monday thru Sunday, but plan to open for lunch and carryout soon (shooting for the end of June).
Disclosure: I was invited to try PS35 on their Media Preview night.  I was not compensated for this article. All opinions are my own.