Dinner at the Hall of Fame Grille | Intel Club at Dell Diamond
The following is a review of the new Hall of Fame Grille at the Intel Club at Dell Diamond in Round Rock, Texas. I was recently invited to try the menu and experience watching a Round Rock Express game from here.
Gone are the days of hot dogs and popcorn at the Ball Park. I mean, don't get me wrong, I love a good ole' sentimental hot dog while watching baseball. But once you take a look at some of the gourmet items you can nosh on at Dell Diamond, you will be saying hot dog who?
Hall of Fame Grille at the Intel Club
Did you even know there was a full service bar & restaurant in the Club Level of the Dell Diamond? And that everyone is invited to dine & watch the game from here? For a nominal fee of $5 per person, in addition to your ball park ticket, you can watch the game in the air conditioned restaurant (which will be pretty nice come July & August) and enjoy their unique ball park foods.
For the past few years, Dell Diamond has hosted a few Round Rock chefs (Jack Allen of Jack Allen Kitchen & Rob Snow from Greenhouse Craft Food) to fill the menu and both bought unique and delicious food to the Intel Club. This year, RS3, the Dining Organization that runs all the food stalls in Dell Diamond, as well as COTA, took on the challenge and created the Hall of Fame Grille.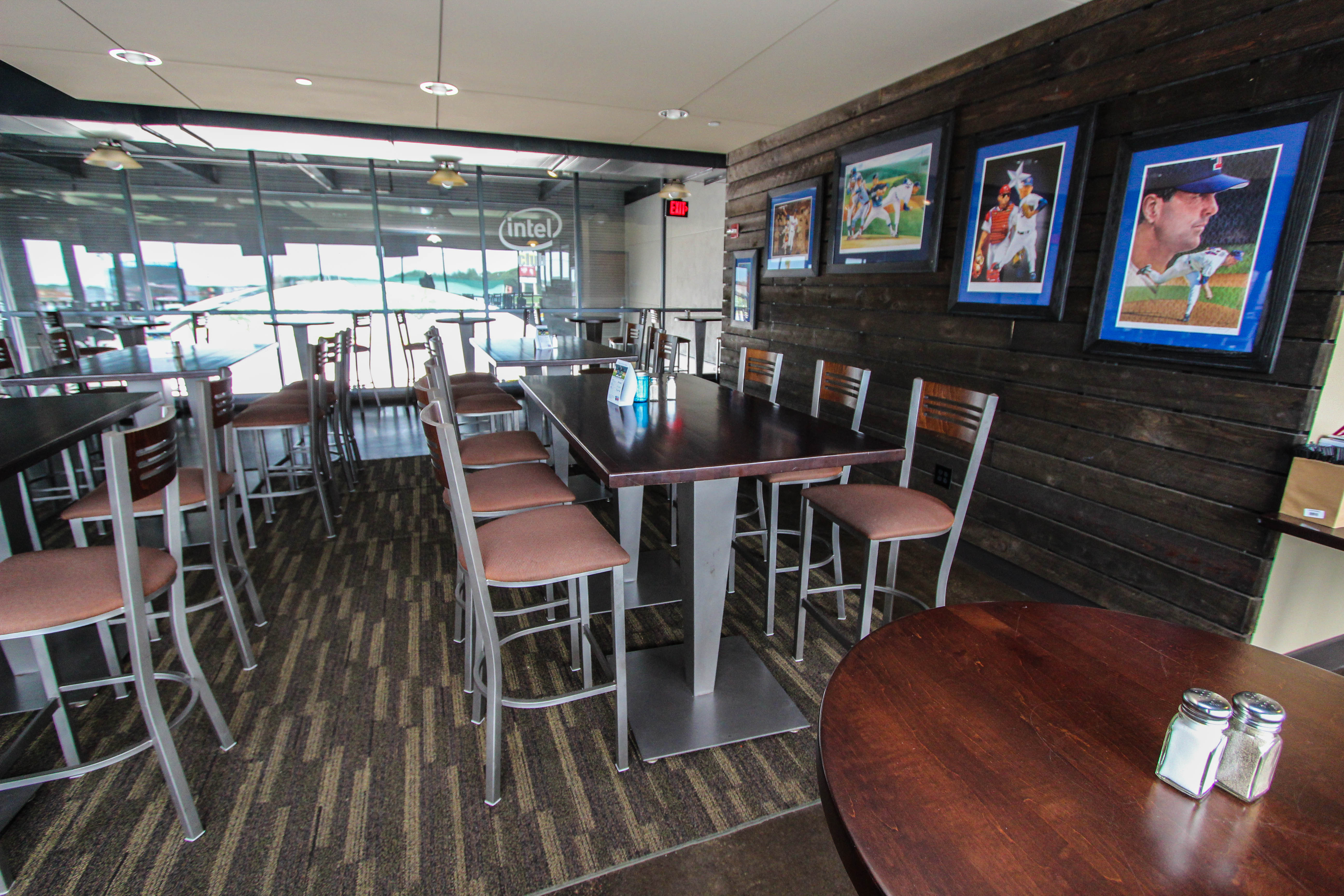 The Hall of Fame Grille is filled with memorabilia from Nolan Ryan's personal collection. Photos, art work and mementos fill the walls. Every baseball fan needs to see Ryan's Hall of Fame Plaque. Near the bar, stand-alone placards are filled with every single ball player that Ryan struck-out during his career – and there is A LOT y'all!
Hall of Fame Grille Menu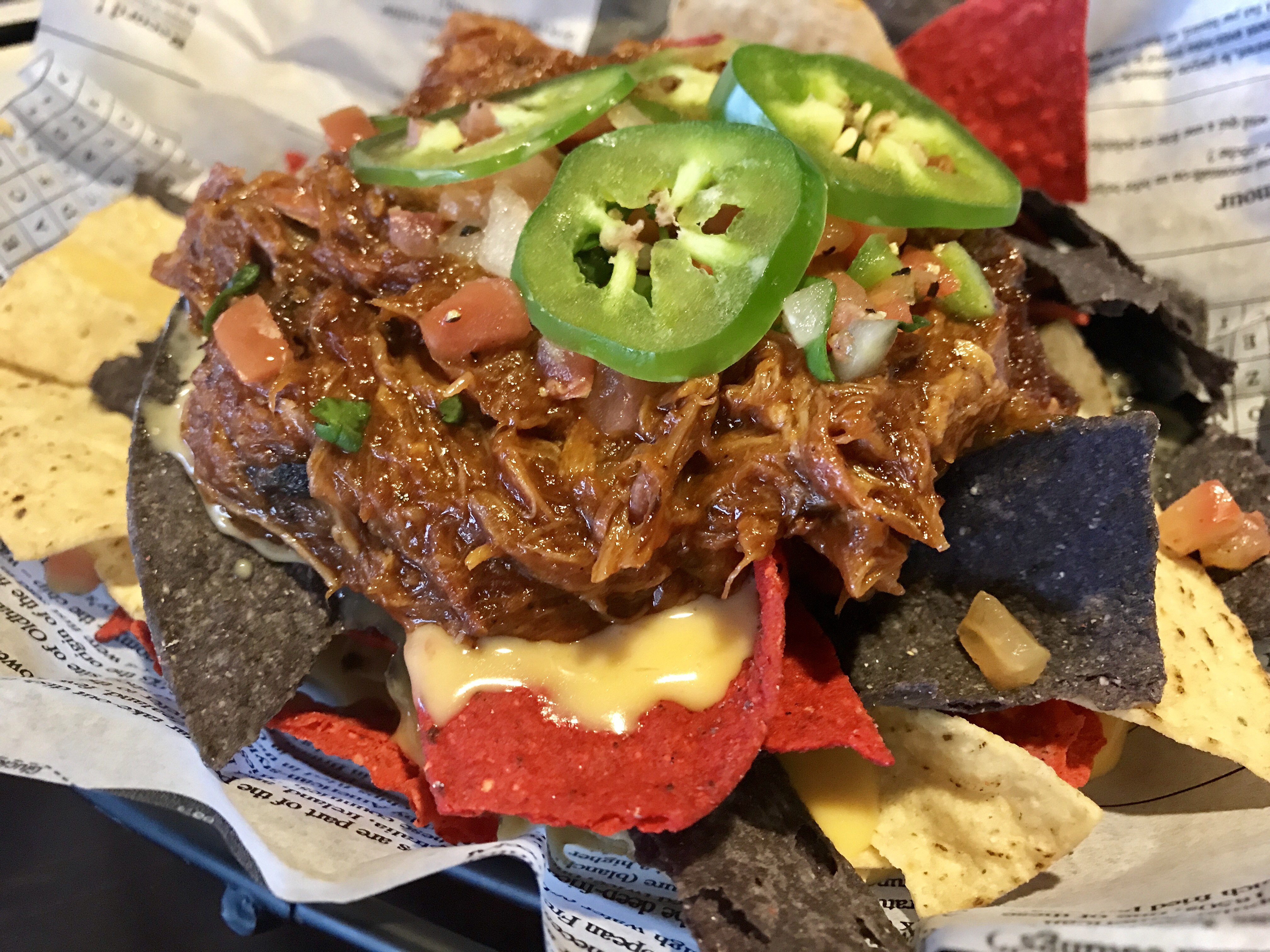 The Home Run Grille Menu is simple, filled with big appetizers to share with a table, yummy salads, and sink-your-teeth into entrees. Choose from Nacho Business (nachos topped with pulled pork & queso chipotle), Waffle-Cut Chili Cheese Fries, or my new favorite, Ooey Gooey Mac & Cheese Bites – panko-coated macaroni & hatch queso cheese. These are definitely shareable or could easily be your meal – so delicious.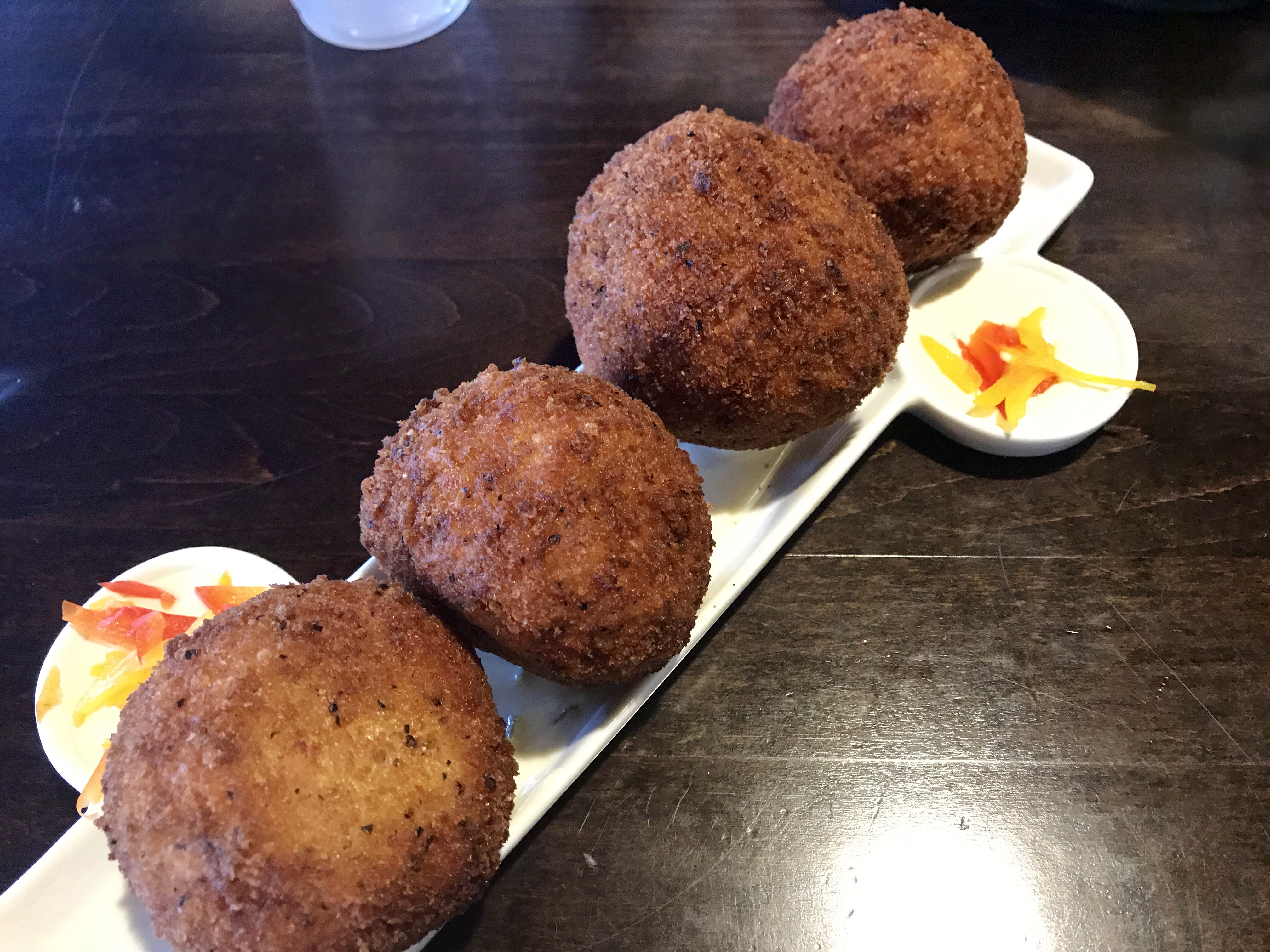 There are three salads available to choose from on the menu and honestly, I wanted to try them all. I settled on the Charred Romaine, where the grilled romaine lettuce and bell poppers have a smokey taste. Next tie, I am going for the Knife-and-Fork Tuxedo Caesar Salad – I saw someone else order it and it looked amazing.
And then there are the entrees. Burgers filled with oozing queso, BBQ pork sliders and chili dogs are the true stand-outs on the menu.
Hall of Fame Grille Bar
The Hall of Fame Bar offers souvenir cocktails in a fun mug you can take home.  These handcrafted drinks were designed especially for the ball park – Watermelon Gimlet, Blood Orange Margaritas, and the Express Mule are just a few of the refreshing choices.  And though we didn't try it, we hear the Bourbon Shake is really good!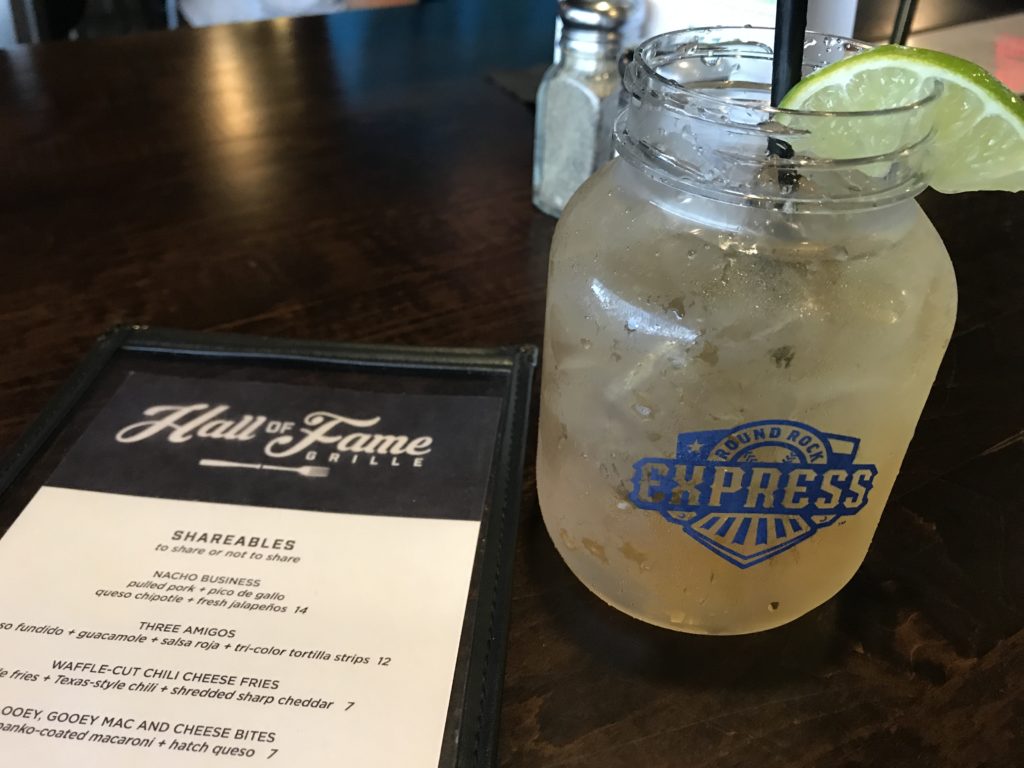 The Hall of Fame Grille Bar is the only place in the stadium with a full bar and it stays open throughout the whole game. If you wanted to take your drink to your seats once you are finished with dinner,you can. And the bar stays open after the game if you are looking for a place to hang out for a bit. On Friday nights, they offer Live Music after the Fireworks and quite frankly, it's a heck of a lot more fun in the Intel Club that trying o get out of the parking lot after the game.
Final Thoughts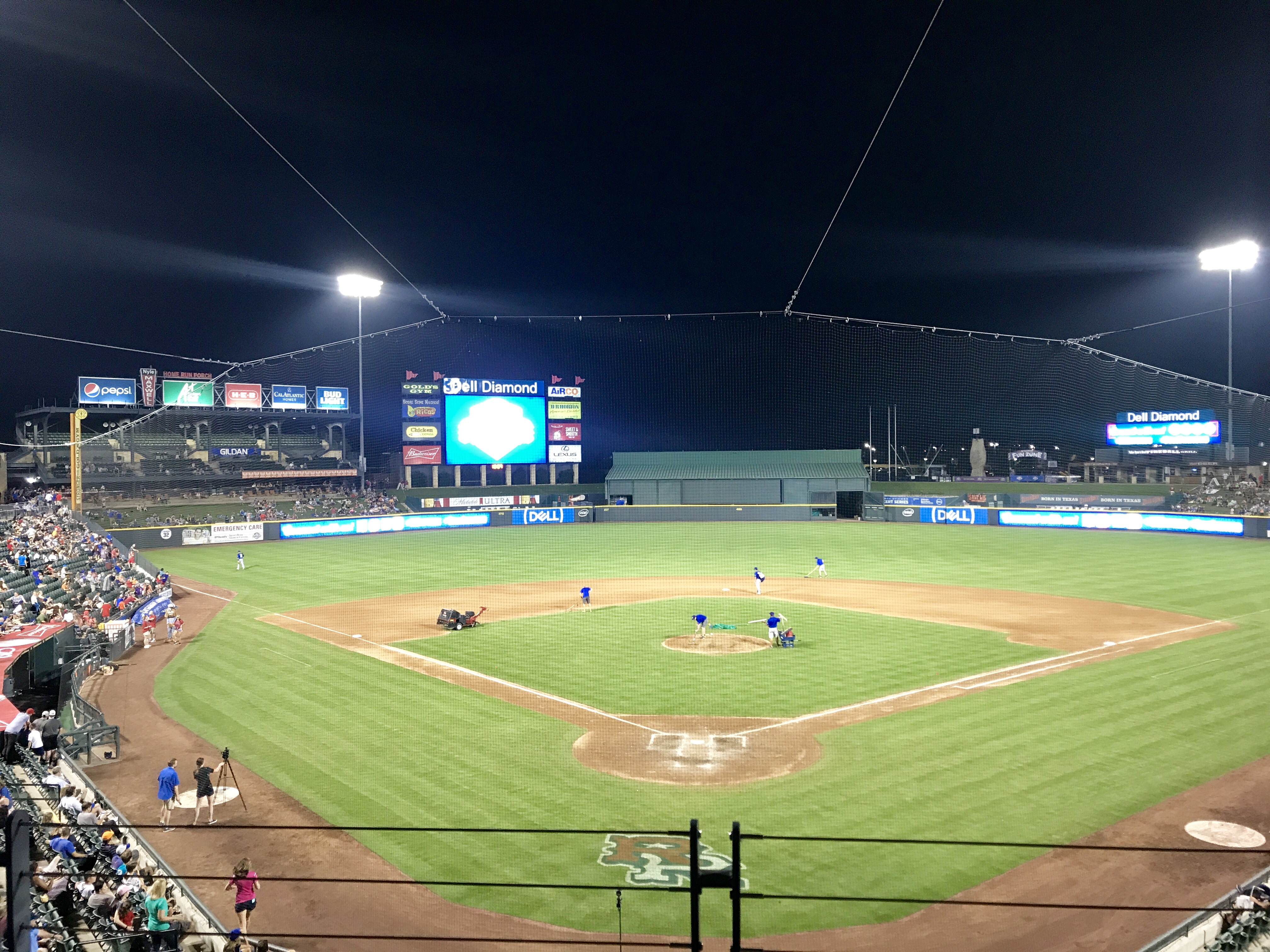 We really liked the atmosphere of the Home Run Grille at the Intel Club. We went with a few friends, so the evening was filed with great conversation and a great meal. But honestly, we almost forgot there was a game happening, we were enjoying ourselves so much. We did watch the end of the game and the Friday Fireworks after dinner, which really made for a fun ending to a great night. Just look at the finale we watched:
If you are looking for a unique experience, maybe a fun date night, or a casual evening with friends, the Hall of Fame Grille is a fun place to be during a game. If you are really wanting to watch the full game, get to the Intel Club an hour before it begins to experience the full meal.
Disclosure: I was invited to experience and meal and game from the Hall of Fame Grille and the Intel Club. I was not compensated for this article.  All opinions are my own.