RS3 Food Options at Dell Diamond
Most ballparks serve hot dogs and popcorn.  Never would you expect a full plate of BBQ brisket from Southside Market in Elgin.  But at the Dell Diamond, you can. Dell Diamond introduces new Food Options this season.
Ryan-Sanders Sports Services, RS3, took over the "kitchen" this year, creating a whole new Ballpark Experience for Express Fans.  Their goal was to make food and beverage as much a part of the experience as the game was.  And with the choices we now have, I would say they succeeded.
This week, I was invited to see & taste all that's new at Dell Diamond.  Now I'm a foodie and will pretty much try anything once.  So I was excited to see all they had to offer.  Let me just start by saying, it's good. Like really good.
Executive Chef, Ed Ebert and Director of Food & Beverage, Jay Kudula (both of RS3) gave us a tour of the ball park, stopping at all the new concessions.  One thing to note, they did a pretty terrific job of themeing out the new stands. They took the drab, concrete walls and turned them into a BBQ restaurant, a 50's diner, and a southwestern grill.  All that's pretty, but what really counts, does the food taste good?
Yes it does.  Here's what we tried.
Southside Market & Barbecue
Coming all the way from Elgin, this brisket is hand-picked from a pitmaster, smoked and steamed and served up on a platter.  They also serve a turkey platter and a BBQ Sandwich.
Rojo's Southwestern Hideaway
Named after the famed baseball player, Rojo, this cantina serves amazing taco flights (we tried the carnitas and it was YUM) and Texas Carnitas Nachos.  Everything is made right as you order it, not sitting under a warming light getting soggy.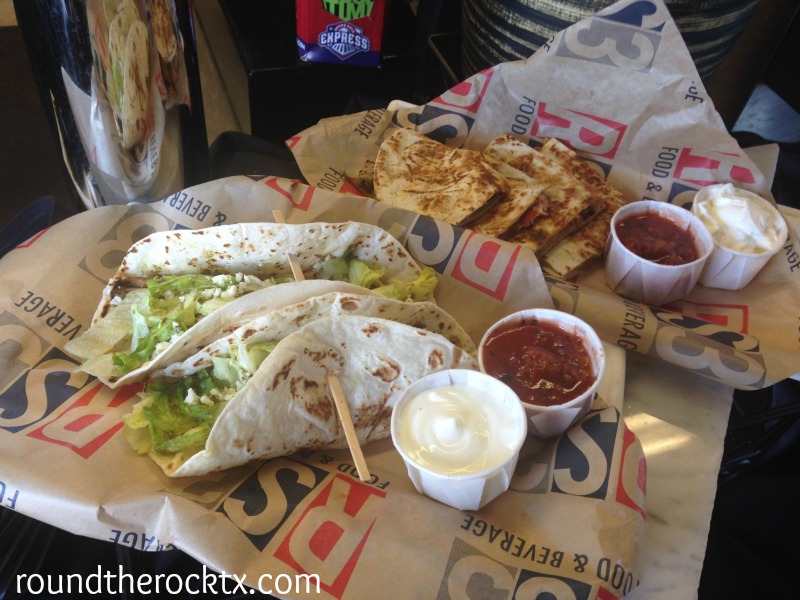 Coop & Kennel Pub
You can get the Olde English Fish & Chips here, but why not go for the grilled cheese hot dog?  It may not look the most appetizing, but when you take a bite of the hotdog and grilled cheese together, it's pretty yummy.  The San Francisco Garlic Fries look pretty good too.
Fairlane's
This 50's-themed diner offers gourmet hotdogs – like the Marilyn Monroe – a ¼ lb Nolan Ryan all beef jumbo dog with neon nuclear relish, red jalapenos and cheese.  They also have the Elvis dog – a banana "hot dog" wrapped around a peanut butter bun drizzled with honey.
Metro Deli
Addressing a need for more gluten-free options, RS3 worked hard to ensure there was gluten-free popcorn, chips, and even sandwiches.  And a little known fact – they had the names of the sandwiches before they created them.  A little backwards, but it works!
Metro Deli also makes 3 different types of salads (Spinach, Cobb, & Caesar) and uses only full muscle meat with no additives or solutions.
Gluten-Free Options: Vidalia Sweet Onion Petals, Boulder Canyon Veggie Crisps, Fruit & Nut Yogurt Bar, Almond & Coconut Bar, Cranberry, Almond & Antioxidants Bar, Blue Corn Chips, and Pirates Booty.
Dell Diamond also has Buffalo Wild Wings, Papa Murphy's Pizza, Kona Ice, Dippin Dots and more of your favorites.
Jack Allen's Kitchen
Another new food offering to the ballpark this year is the opening of Jack Allen's Kitchen in the Intel Club.  Serving a modified menu, the restaurant is open to Intel Members and the general public (for a $10 fee).  They have your favorites – Pimento Cheese, Smashed Guacamole, 5 Cheese Mac & Chicken , and Green Chile Pork Tacos and some new offerings – Fried Boudin Balls anyone?  We tried the Frito Pie (wild boar chile, queso, cojita cheese, and jalapenos) and it was delicious.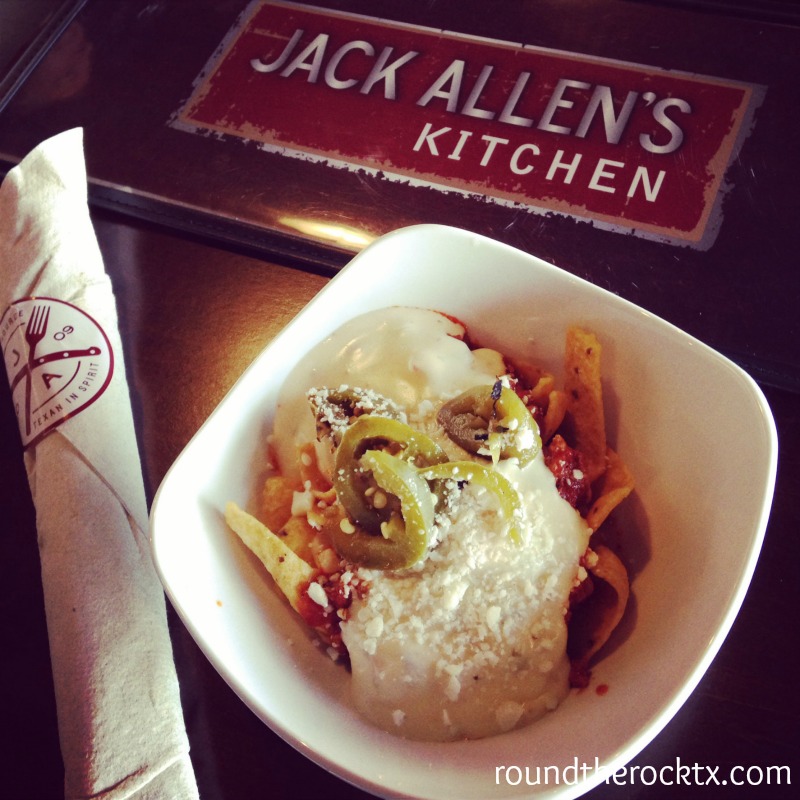 Most visit Jack Allen's around 5:30 for dinner before heading out to their seats for the game. During the game, it takes on a sports-bar type feel.
And to top it all off, Budweiser sponsors a fun beer garden in outer left field.  Brew at the Rock serves mircobrews & craft beers from local breweries.
And speaking of beer – did you hear there is a Beer milkshake?  Don't knock it before you try it!  There were a few different flavors to choose from. The one I tried reminded me of a Kahlua Mudslide.
I love the different options there are now at the ballpark.  Everything tasted fresh and had a ton of great flavor. My concern initially was the price.  It seemed that dining at the ballpark would be expensive for a family of 5.  However, the portions are fairly substantial and they taste really good.
So if you wanted to do the math, you pay roughly the same as if you were getting a typical plate of nachos and plain-jane hot dog anywhere else. Personally, I like getting something that tastes so much better here at Dell Diamond.  And I do like that they still have the hotdogs, burgers and wings that my kids still enjoy too.
Next time you are out for a game, give one of these options a try.  And tell us what YOU think!
Disclosure: I was invited to learn more about the RS3 options at Dell Diamond.  I was not paid for this post.  All opinions are my own.