Restaurants with Playgrounds in Round Rock/ North Austin/Cedar Park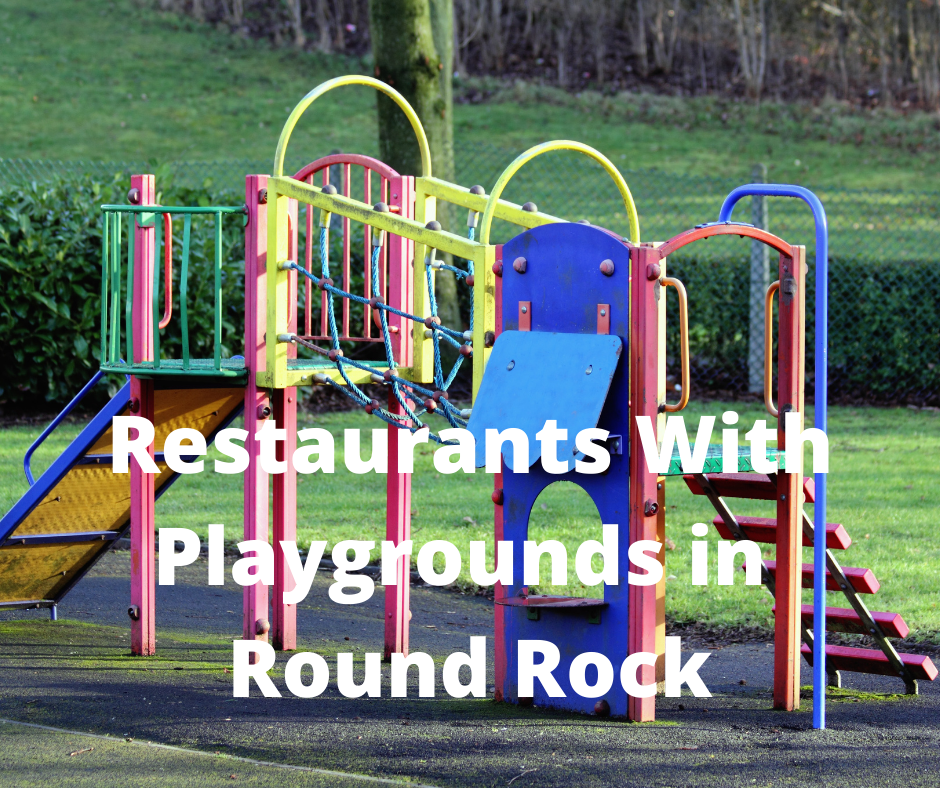 Want to know one of the best parenting hacks of all time? Restaurants with playgrounds. No one likes sitting at a table waiting for the food to arrive while trying to keep the kids entertained, right? Well, at these places, you don't have to! We're so lucky to have these restaurants with playgrounds nearby in Round Rock, North Austin, and Cedar Park.
Round Rock
Kerbey Lane Cafe at 2120 N Mays St, Round Rock has a small playground just off their patio. It's fenced, but right by the parking lot, so watch your kids on this one!
Mesa Rosa at 15515 Ranch Rd 620 N, Austin (basically Round Rock) has an enormous field and playground. Their huge patio is great for meeting up with large groups of friends and sipping margs while the kids run and play. Pro tip: bring a soccer ball!
Salt Lick at 3350 E Palm Valley Blvd, Round Rock has a little playground next to the patio.
Hat Creek at 3700 E Palm Valley Blvd, Round Rock has a brand new playground with the famous red slide.
Mighty Fine at 201 University Oaks Blvd #1380, Round Rock shares a playground with other nearby restaurants, so everyone can get what they want and eat on the patio while the kids play.
Joe's Crab Shack at 2401 S IH 35 Frontage Rd, Round Rock has a huge playground and sand pit. Watch the kids play from above on the patio.
Pinthouse Pizza at 2800 Hoppe Trail, Round Rock doesn't have a playground, but the kids will be entertained by the indoor games like Foosball.
Cork & Barrel at 4000 E Palm Valley Blvd, Round Rock doesn't have a playground, but they do have an expansive patio with yard games like corn hole.
North Austin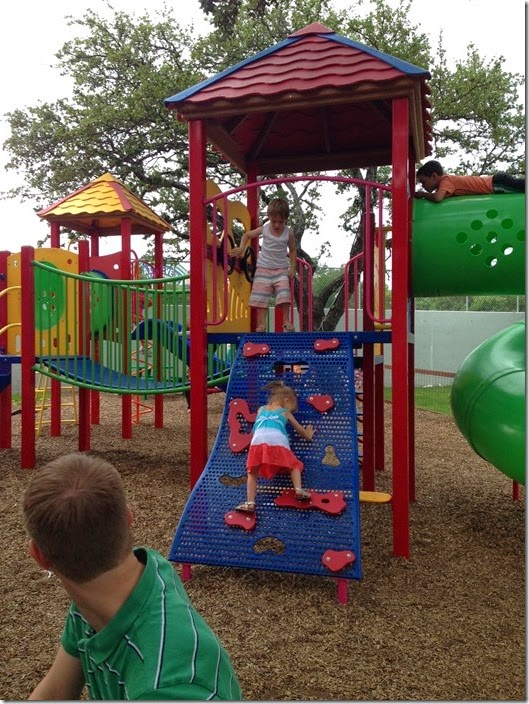 Phil's/Amy's at 13265 US-183 N, Austin is the best. Teamwork makes the dream work here while Phil's provides the burgers and Amy's dishes out the ice cream. Their joint playground keeps the kids happy for hours. Snag a table on the patio to keep an eye on the kids.
Culinary Dropout at 11721 Rock Rose Ave Ste #100, Austin has yard games on their fun patio.
Whole Foods at 11920 Domain Dr, Austin has a little play area for the kids and plenty of food options inside for everyone.
Cedar Park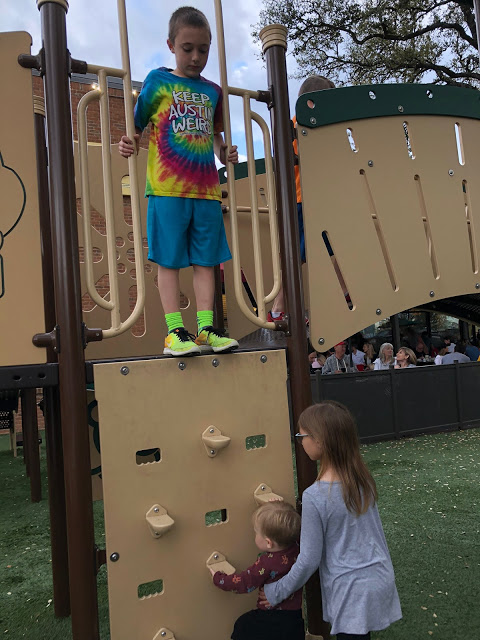 Mandola's at 12100 W Parmer Ln #200, Cedar Park has a beautiful patio next to a fun playground. Kids get free gelato if ordering off the kid's menu!
Lucy's Fried Chicken at 401 E Whitestone Blvd #108, Cedar Park has a playground and yummy fried chicken.
Santa Catarina at 500 Cypress Creek Road #170, Cedar Park has fun Mexican food and a playground.
Dahlia Cafe at 2450 Ranch Rd 1869, Liberty Hill (just past Cedar Park!) has a big patio and unique play equipment for the kids, like jumbo tires. Plus, there's pie.
You might also enjoy: