Top 6 Parks in Round Rock for Kids
We have some terrific parks in Round Rock!  Here are our Top 6 Parks in Round Rock for kids!
Round Rock is an amazing place to raise a family. The close proximity to Austin gives us plenty of fun options for things to do, but it's just far enough away to be considered one of the safest cities in the country. We've got great neighborhoods, restaurants, and schools, but my favorite thing about Round Rock has got to be the parks! Here's a list of my favorite parks in Round Rock for kids.
---
Top 6 Parks in Round Rock for Kids: Old Settlers Park
Old Settlers Park (3300 Palm Valley Blvd, Round Rock) is huge and offers so much to do! Here, you can play disc golf, cricket, baseball, softball, soccer, football, tennis, volleyball, go fishing, and more.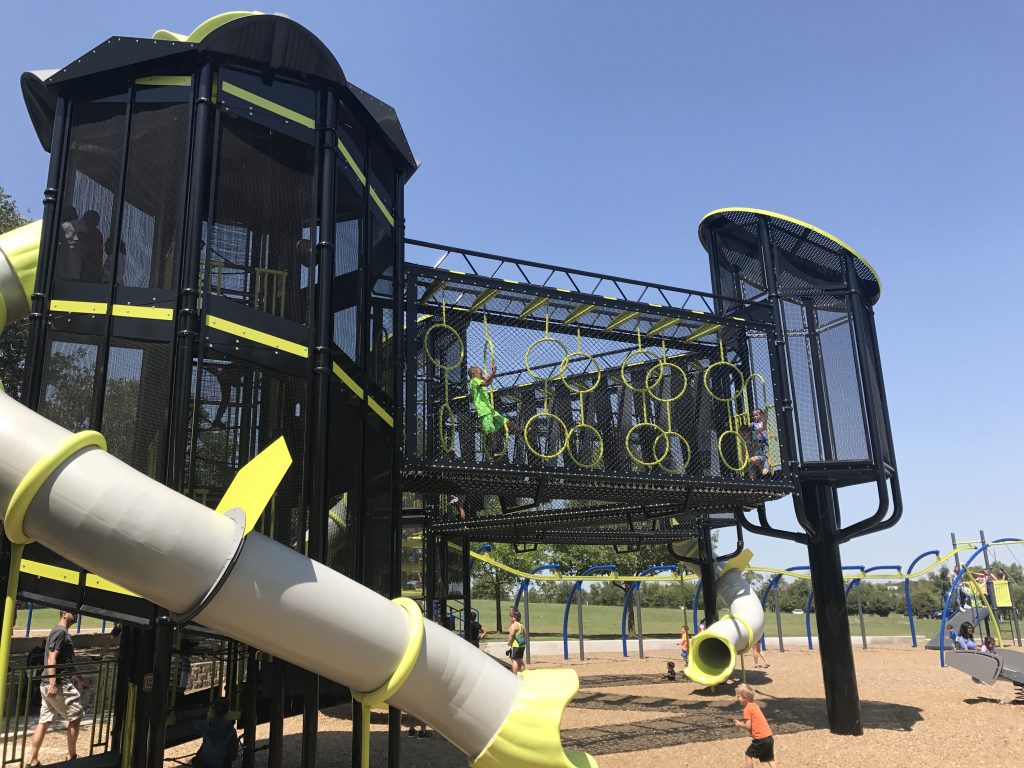 There are currently seven playgrounds within Old Settlers!  But 2 of our favorites are the Joanne Land Playground and the Virg Rabb Playground – both have brand new playscapes!
The Joanne Land Playground features the most unique playground equipment that I've ever seen, complete with a zipline! This playground is quite popular, so expect to see a lot of people there if you go at prime times. Read Rebecca's review of this playground here!
Recently, the Virg Rabb Playground saw a rehab with a brand new playscape and swings.  This playground features fun activities for kids of all sizes.  My 8-year-old especially liked the new rope apparatus. Read Rebecca's review of this playground here!
If you go in the summer, be sure to check out the newly expanded Rock N' River water park! And if you don't bring your munchies with you to Old Settlers, two great nearby options for families are The Salt Lick BBQ and Hat Creek Burger Company. Both restaurants have playgrounds!
Top 6 Parks in Round Rock for Kids: Play For All Abilities Park
Play For All Abilities (151 N A W Grimes Blvd, Round Rock) is one of the most unique parks I've ever been to in my life. And they' just made it even bigger! The park has doubled in size (it's already huge to begin with!) with 3 more themed play areas added, including a racetrack!
You can spend hours here playing in the playscape, sandpit, race track, Brushy Creek Village (a real town for kids to ride bikes and scooters around with streets, working traffic lights, and buildings), a picnic area, bathrooms, a music/sound section, ziplines, and a nature play area that's well shaded with trees.
The expansive size of this park can make it intimidating for some parents, especially when bringing a stampeding herd of excited kids, as they tend to quickly disperse and you could easily lose sight of them. Fortunately, the park is enclosed all the way around, which makes me feel better about it.
This park was carefully designed with special-needs kids in mind, and the new expansion offers even more options. To maximize your fun when you go, bring bikes/scooters/ride-on toys and sand toys!
Top 6 Parks in Round Rock for Kids: Brushy Creek Trail Parks
One of our favorite things to do as a family is to bike along the Brushy Creek Trail. There are 6 playgrounds along the trail, which technically runs through Round Rock and Cedar Park. But I'm including all the parks on here because they're not really that far away from Round Rock.
The three Round Rock parks along the trail are the Shirley McDonald Park (4390 Brushy Creek Rd, Round Rock), Creekside Park (4300 Brushy Creek Rd, Round Rock), and Olsen Meadows Park (4200 Brushy Creek Rd, Round Rock).
The Shirley McDonald Park was recently updated with a shade cover and is located right next to a turtle and duck pond. Or, as we like to call it, a turduckle pond. Head west a little ways down the trail and you'll discover the little playground behind the Creekside Pool.
A bit further west along the trail, you'll find one of my favorite parks: Olsen Meadows. One nice thing about the playscape is that it's mostly shaded, but the coolest thing about the park is the tiny creek that runs just beyond the playground. The kids love searching for little critters (like crawfish) in the water. Head's up: there are no public restrooms at this park. You need a key to access them.
Continuing along the trail west, you will officially enter Cedar Park. But we love Champion Park (3830 Brushy Creek Rd, Cedar Park) so much that I'm going to include it here as well. It's basically on the border of Round Rock and Cedar Park. The mini splash pad is gone now, but they replaced it with a small playscape. There are lots of climbing areas here too, but my kids' favorite part is the shaded dino-dig sand pit! There are "real" dinosaur fossils to discover here, so be sure to bring some shovels and brushes for your aspiring paleontologists. Bonus: the restrooms are open to the public here and there are usually good opportunities to take some bluebonnet photos in the spring!
Top 6 Parks in Round Rock for Kids: Cat Hollow Park
Cat Hollow Park (8600 O'Connor Dr, Round Rock) has a playground, a pool, basketball courts, sand volleyball courts, tennis courts, baseball fields, party pavilions, disc golf, and more. The cool thing about this playground is the old-school merry-go-round (you don't see too many of those these days)! This is a great park to have a kid's birthday party!
Top 6 Parks in Round Rock for Kids: Chisholm Valley Park
Chisholm Valley Park (1201 Trey, Round Rock) is probably the best kept secret in Round Rock. It's not very big, but the playground equipment is so unique that I had to include it. There isn't a parking lot, but there's usually plenty of street parking available. There also are no public restrooms, so plan accordingly before you go. There are two see-saws, cool climbing structures, a sand pit, and more. There's also cute little running track just beyond the playground that my kids love to run around and pretend to be racing in the Olympics. A large field beyond the playground is a perfect place to practice soccer!
Top 6 Parks in Round Rock for Kids: Memorial Park
Memorial Park (600 North Lee St, Round Rock) is situated next to the Brushy Creek, which you can follow all the way down to the legendary "round rock" for which the town is named. The newly updated playground is fun for kids of all ages, and there are plenty of picnic tables for you to enjoy a peaceful picnic next to the water.
What fantastic parks would you add to this list? 
Other Articles You May Be Interested In