Joanne Land Playground at Old Settlers Park
We were thrilled to see the new Joanne Land Playground at Old Settlers Park open last week.  It is located next to the Lakeside Pavilion in the park.  Here's some photos of what you can expect:
The main playscape at the Joanne Land Playground is multi-leveled with new & innovative climbing apparatuses.  My son loved swinging on the rings and I liked the netting that was all around the playscape.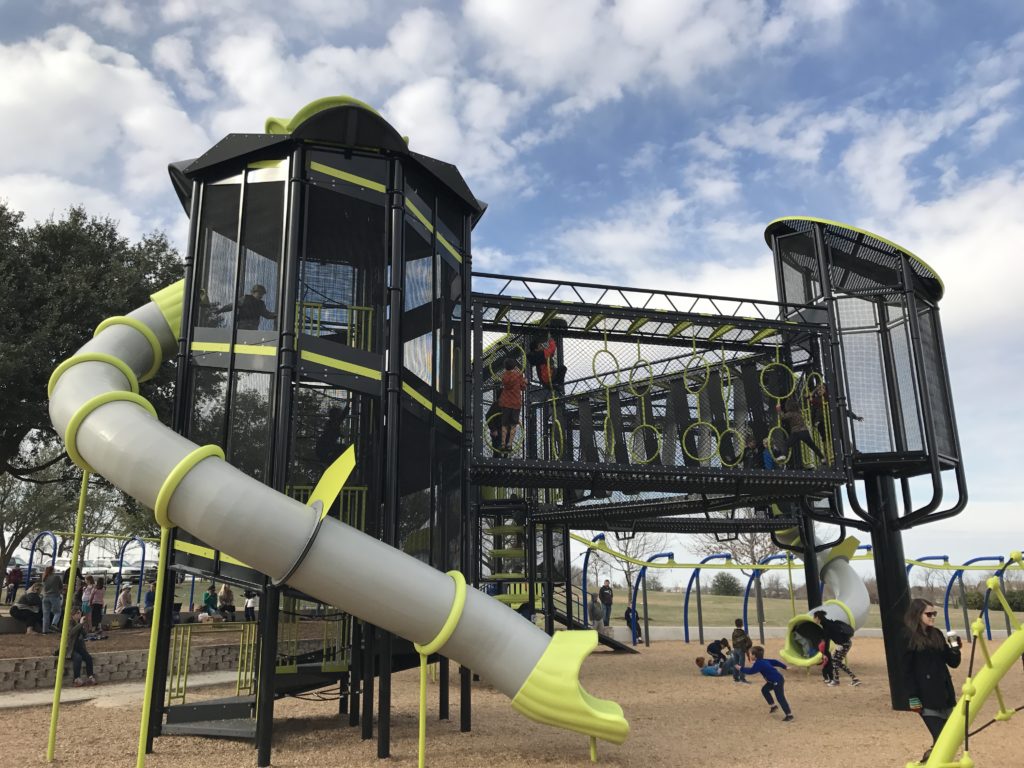 There was so much to do on the Joanne Land Playground – and plenty of space to do it all in. 

The Joanne Land Playground also has a great playscape for the younger kids too.
This rope swing was really cool as multiple kids (or adults) can swing at the same time.
We liked how different all the climbing apparatus were from any other park we had been to before.
But by far, the most popular and coolest thing to play on at the new Joanne Land Playground is this zip-line swing that zooms you across the playground to the other side.  My son wanted to do it over & over again.  I was amazed at how patient and orderly the kids were for this ride – there were even 2 kids that were helping bring the swing to the kids waiting at the top and then running alongside with them.  The giggles that ensued from all the kids riding and waiting to ride was infectious.  Pure fun!

Afterwards, we walked down to the nearby duck pond to watch the ducks & geese.  If you wanted to add in a bit of a hike for your outing, there are a few trails that go around the park too.
Altogether, we are so happy to see this park open as it will be a nice place for kids to play while older siblings might be playing soccer or football or baseball as Old Settlers Park expands over the next year.
Other Great Parks in Round Rock: