RRISD Elementary School On-Campus Re-Entry Virtual Town hall Key Takeaways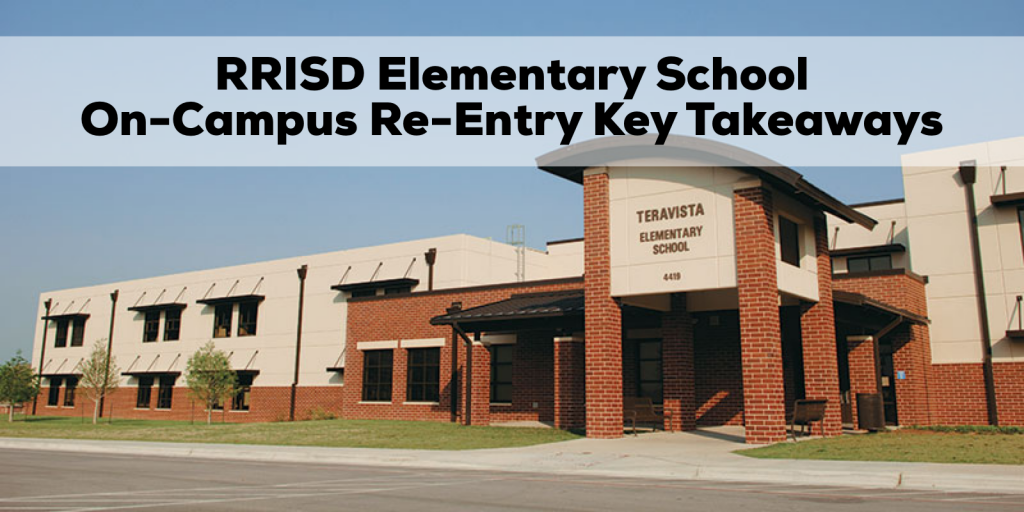 The Round Rock ISD Elementary School On-Campus Re-Entry Virtual Town Hall was held on Tuesday, July 28, 2020.
Here are a few highlights from the presentation and some questions that were answered.
Aug 20-Sept 10 – Virtual Classes
homeroom classes will be created and students will be introduced to all the grade level teachers
While they will try to keep children with the same homeroom teachers, there will be opportunities to be taught by the other teachers
Sept 10 – welcome kids in building
interactions will be limited within a classroom community
"tight family unit" with limited access to other people in the school
they will have a dedicated teacher
Later – movement will increase on campus
"Later" was not given a certain date.
Round Rock ISD will offer virtual online learning all year for families that would like to continue. If on-campus instruction needs to cease, they will move to online environment easily.
Both Virtual & On-Campus will experience many of the same things:
Class Meeting/ Circle Time
Interactive Reading & Writing
Whole Group Reading
Small Group Reading
Whole Group Math
Small Group Math
Science & Social Studies
Art, Music, & Wellness/PE
Special Support Services
Schoology
Schoology will be used for both virtual & on-campus. Some of the programs begin used this year include:
Reading – Benchmark, iStation
Math – Dreambox
Science – STEMScopes
Pre-K – Ready Rosie
Specials After September 10 Will Happen
All students will be receiving art, music and the 135 minutes of movement required for each student per week. The rotations of the past will not happen. It may be a combination of video, livestream and interactions.
Differences When You come back to Campus
Smaller class groupings
hand sanitizing
masks required
the way the kids sit will be different
limited amount of interactions with adults beyond their teacher
refraining from high-fives, hugs, circle time, etc.
No large assemblies or gatherings – but will find other ways to celebrate the children.
This is going to be a very welcoming, nurturing environment. We will be building relationships with kids to help support them any way we can. All of the schools are ready to have kids back and they will know we are happy to see them.
Whether you are learning at home or on-campus, the instruction will be rigorous.
On-Campus Re-Entry Q&A
Will schools have library services?
Librarians are working on a curbside pickup for our virtual learners and a way for on-campus learners to check out books. They will be sanitizing books between students.
When will we get class schedules?
Traditionally, you would receive a schedule when you meet your teachers. Principals are coming up with creative ways for teachers to meet their new students. So the timing of receiving the schedules will be similar as in years past.
How will the Dual Language Program be effected?
They will still be implementing the dual-language program both virtually and on-campus.
How will new students be socialized into the new school?
For the first 3 weeks, there will be an embedded social/emotional time for each schedule with get to know you games & icebreakers. Just like a teacher would go out of their way to make everyone feel comfortable, they will be doing this virtually as well.
When will we know how many children are returning to campus after Spet 10?
Once campuses know how many students will be returning, they will know this – more to come.
Will recess be happening?
Yes. On-campus learning will have recess. It may look a little different.
Will daily temperature checks occur each day?
No. It will be up to the individual families and staff to self-monitor before sending their child to school.
How will teachers teach online and monitor their classes at the same time?
Beginning Sept 10, students will be assigned to a virtual teacher and on-campus teacher based on where they are learning. The on-campus teacher is dedicated to their on-campus kids.
What happens if a child comes down with COVID in my student's classroom?
We have asked the health authorities in Williamson & Travis counties to work together to come up with the protocol. They are currently working on that. More info to come.
The same guidance will come from them as to when it is fully safe to open the schools to normal capacity.
Where will students eat lunch?
This will depend on the size of the campus and the amount of children in school. Smaller campuses may be able to fit 2 classes at a time in the cafeteria where as larger campuses will not. It will be up to each campus to make that decision.
SUPERINTENDENT'S UPDATE: ON-CAMPUS LEARNING
On Friday, July 17, Superintendent Steve Flores sent the following letter to parents:
Dear Round Rock ISD Family,
I long for the day that our campuses can look and feel as they did "way back when." I'm not speaking of 10 years ago; I'm referring to four months ago. We can all agree that we want our campuses open, receiving our students and staff while providing all the extracurricular activities that define our proud public schools. As a district, we are not at a point where we can design an educational delivery model that we all can agree on 100 percent. We can, however, rest assured that our model will afford us the ability to adapt and work our way toward the expansive, world-class education you expect from our district. We will do so when it is safe to do so. Our world, nation, state and community must continue to make progress during this global pandemic caused by COVID-19. And throughout this time, our top priority will remain the safety and well-being of our students and staff.
This week, you received a link to a parent choice form asking for important information to help us plan for the upcoming school year. A key question we are asking is whether you will choose on-campus learning or at-home virtual learning for your student once we open campuses again. Our current plan is to allow students to return for on-campus learning on September 10.
As our school year officially begins August 20 (with the first three weeks 100 percent virtual) we do need as accurate a count as possible in order to make staffing decisions and plan for on-campus learning. However, we also understand that with so many unknowns, including exactly what on-campus learning may look like, you may not be ready to make a choice.
Throughout these challenging times, we have been grounded in our guiding principles established in March as we first transitioned to at-home learning. Those principles include:
-Prioritize student and staff safety and wellbeing
-Focus on equity
-Stay flexible
In the spirit of remaining flexible, we want to assure you that your current choice does not lock you into that decision. If you choose on-campus learning, but determine later that the decision is not in the best interest of your student, you can choose to go back to at-home virtual learning. While we are asking parents to commit for a grading period, we will also consider changing circumstances. For example, if a parent has chosen at-home virtual learning, but a job change makes on-campus learning a better option, we will allow for that transition.
Next week, we will be hosting two more Virtual Town Halls focusing on how on-campus learning will look. Tuesday's town hall will cover elementary schools and Thursday's will center on middle and high school campuses.
At the elementary school level, on-campus learning will look much the same as in normal conditions, as elementary classes are generally self-contained with little movement around campus. Students will wear masks and social distancing will be practiced within the classroom. Teachers will be providing in-person instruction, but students will also continue to use Schoology, the learning management system that is serving as our platform for virtual learning. This is important because we need to be able to seamlessly transition between in-person and at-home learning in case local or state orders necessitate school closures. You will hear more details on the day in the life on an elementary school campus from elementary principals and district leaders on Tuesday.
Middle and high schools present a greater challenge because traditionally students transition several times a day, making their way through crowded hallways and interacting with hundreds or perhaps thousands of fellow students. Our initial approach for in-person instruction at the secondary level represents the most conservative, cautious approach, but allows for flexibility by campus and for progressing to more typical conditions, with students transitioning throughout the day, as circumstances improve.
Our campus administrators are hard at work creating cohorts of students who will do the bulk of their work in one classroom during the school day. Each cohort will be assigned a teacher/mentor to guide them and help familiarize students with new campus procedures and how virtual classrooms will work. Students will still transition to a limited number of classes such as Fine Arts, Athletics, or Career Technical Education (CTE) classes when it is safe to do so. Breaks will be built into the day where cohort teachers focus on social-emotional learning and when students will have the opportunity for outside activities when appropriate.
This approach aligns with the latest recommendations from the CDC and allows students to build friendships within their cohorts and rely on their teacher/mentor for individualized support. Students will also benefit from targeted support and intervention from their subject area teachers. As is the case with elementary, it also allows for seamless transition to virtual.Again, this is the most cautious approach and one that places the highest priority on student and staff safety. As conditions improve, we will move in phases to allow more transition throughout the day. We are also allowing flexibility at the campus level knowing that environmental factors such as available facilities and the number of students participating in on-campus learning will make it easier for some schools to allow class-to-class transition more safely. We will have more details on what on-campus learning will look like at Thursday's Virtual Town Hall, where middle and high school principals will join district administrators as panelists. For families interested in watching, the meeting will be livestreamed on the Board Meeting website and available to watch the next day on the Reimagining Education website.
I hope this update has been helpful. Please know that we are working diligently to welcome our students back and provide a safe, engaging, rigorous, nurturing environment for all of our students. We appreciate your support, patience and partnership in this endeavor.
Respectfully, Dr. Steve Flores Superintendent of Schools
Other Articles You May Be Interested In