10 Questions Answered from the RRISD Public Health Guidelines Safety Measure Virtual Town Hall
The Round Rock ISD Public Health Guidelines Safety Measures Virtual Town Hall was held on Monday, July 20, 2020. We listened to the entire presentation, which consisted of a brief Public Health Guidelines Safety Measure presentation and then the panel answered questions from the virtual audience.
The presentation began with a welcome from Round Rock ISD Superintendent Steve Flores, PhD. "The purpose of these Town Halls are to create a safe re-opening tool for our students and staff." Flores explained.
The presentation was similar to what had been released to the public on Friday, July 17. It was the 40 minus of questions that we learned more about the safety measures and protocols that RRISD is planning for this next school year.
10 Questions Answered from the RRISD Public Health Guidelines Safety Measure Virtual Town Hall
Safety Measures
What safety measures will be used at school?
Face Covers – the district is trying to collect student-sized and adult-sized face coverings for the students and staff.
Hands free Thermometers will be used at each campus.
Germ-blast sanitation – lasts for months, so they will be doing this before in-person learning begins.
Covid-19 Campus Contact – there will be a coordinator for each campus to ensure safety measures occur and to perform contact tracing when a case happens.
Hands-free Sanitizers will be installed throughout the school.
Hospital-grade disinfectant to continuously clean high touch areas and routinely fog classrooms.
Train all district and campus staff in the sanitation and cleaning of high touch surfaces and other areas throughout the day
Everyone will be required to wear a face covering – mask – cloth, hospital-grade and/or shields
Visitors
Will visitors be allowed at school?
Visitors and volunteers will be limited and required to wear face coverings at all times.
Campuses will utilize electronic video intercom systems – so possibly visitors do not need to come into the school at all.
athletics – subject to local (city & country) & state guidelines (UIL, TEA, & Governor) but when students are involved in high-intensity exercise, they will be socially distanced and not required to wear a mask
Fine Arts
What will Fine Arts look like this year?
The protocols will be different based on the different fine arts (band, choir, etc) and elementary versus higher level learning. Some will be asynchronous and some will be in person. More info will come later.
Food & Services
What will the cafeteria & lunch time look like?
Grab & Go style of cafeteria and students will be eating within their classrooms. Decals for line-up and plexiglass shields will be used in the cafeteria pick-up area. Touch-less transactions will be utilized as well.
A simplified menu will be available to simplify options – there will be vegetarian options as well.
No off-campus lunches will be allowed.
Transportation
What will student transportation look like?
Parents will be asked via a survey if their child will be utilizing the bus to get to school. Based on these numbers, RRISD Transportation can reduce the number of students on a route, utilize hand sanitizer & face covering will be required. The main thing they want to d is reduce the amount of students per bus – will eb asking parents to let them know
Students will not be required to take temperatures prior to getting on the bus. They will be required to use hand sanitizers and wear a mask.
Change in Start Date
What factors will cause you to move the start date for in person learning?
Our hope is to start virtual for the first 3 weeks. We want to start in person as soon as we feel safe to do so. TEA has allowed for we want to hold steady and continue to monitor the local daily Covid-19 rates. We will do so virtually as long as we feel comfortable. We will follow the strictest country guidelines in order to have equitiblity.
Fall Sports
Will Fall Sports happen this year?
They are waiting to hear from UIL to see what could potentially happen. They are hopeful to hear this week. UIL is working on potential practice start dates and games, but the district is in a wait and see mode since they will be following protocols from UIL & TEA.
UIL is working hard to try to field some opportunities for competitions to happen for our student athletes. Once they hear from UIL, they will know know better how they will move forward.
Recess at Elementary Level
What will recess look like for Elementary Schools?
The committee is looking at how they can effectively clean the playground equipment. This will depend on how many students are enrolling, what schedules look like and how many custodians are available to do the cleaning. They are also looking into indoor games and indoor activities for recess time.
How Many Students?
Is there a cap for how many students can come to In-Person learning?
From a safety standpoint, they are looking from campus to campus and classroom to classroom. And it will be dependent on what the guidelines that are given to the committee. Right now, it's based on what guidelines that are in place today and how many will actually sign up for in-person learning. Since all these variables can and will change, there was not an actual number given.
Specials for Elementary
Will specials (Art, PE, Music) happen for Elementary?
They are looking to be asynchronous but still exist throughout the day. More info will be coming.
Positive Case on Campus
What happens if there is a positive case on campus?
"We will notify the whole school if a Covid-19 case is confirmed at school."
The Campus Covid Coordinator will do contact tracing for the student and based on the last day student was there, those that were exposed in a close contact will be excluded from campus for 14 days. Close contact means anyone directly exposed to their secretions or within 6 feet of anyone for longer 10 minutes. But the goal of each campus is trying to keep all these protocols in place to limit the close contact.
For more information, you can download the Reimaging Education plans from the RRISD website here.
Other Articles You May Enjoy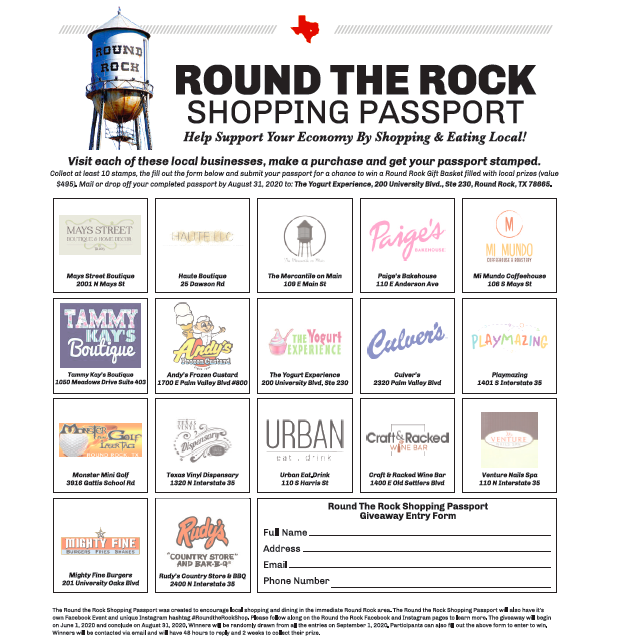 Support local Round Rock Businesses by picking up a copy of the new Round the Rock Magazine and participating in the Shopping Passport. Earn local prizes by getting stamps from local businesses. Learn more here.
Have you picked up a copy of our new magazine? It's available at all area H-E-B's. Or you can read it online here.